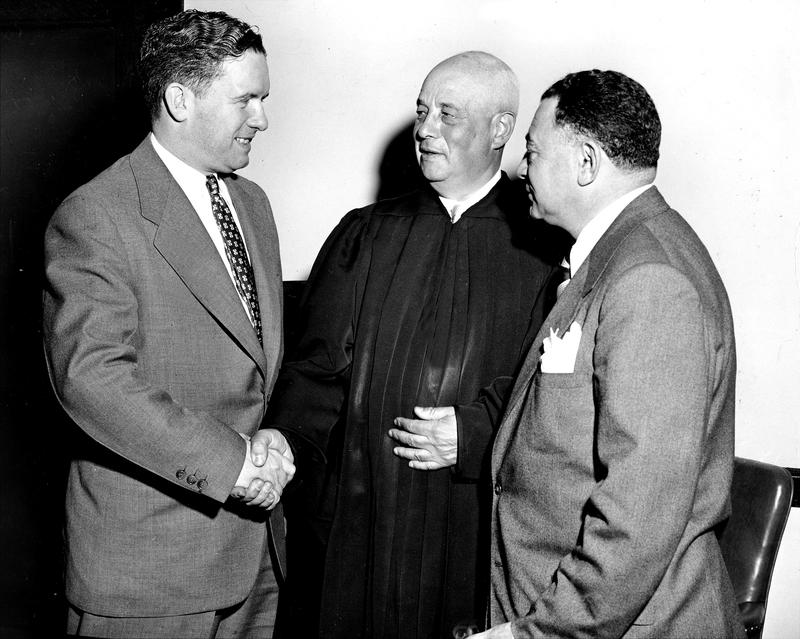 Summary
This episode is from the WNYC archives. It may contain language which is no longer politically or socially appropriate.
"Do you consider an addict a sick person or a criminal?
Do you plan any new anti-scofflaw tactics?
Has the proportion of youthful narcotics offenders increased?"

Editors of college newspapers interview Judge
John M. Murtagh on "the problems confronting
the City of New York and those of his court in
particular", with particular emphasis on drugs and narcotics laws.

Panelists include Ruth Corsnick, Columbia University Graduate School of Journalism; Jim Farrell, Fordham Lexigram; and Peter Franklin, City College Observation Post.

WNYC's Mary McDonald moderates.

Damaged disc.

Audio courtesy of the NYC Municipal Archives WNYC Collection
WNYC archives id: 73517
Municipal archives id: LT7936
Transcript
This is a machine-generated transcript. Text is unformatted and may contain errors.
Do you consider an addict a sick person or a criminal do you plan any new anti scofflaw tactics as the reporting of youthful narcotics offenders increased the answers to these and other questions listen now to your city stations campus press conference each week at this time in this transcribed discussion editors of college newspapers question a newsworthy personality live in Sleeper our regular moderator is unable to be here tonight and instead our moderator is MARY MCDONALD I W N Y C now to introduce the panel and tonight's guest here is Miss McDonald Good evening ladies and gentlemen our guest tonight is a man who barely needs an introduction he is Chief Magistrate John M.R. Tom was outstanding legal career has kept his name before the public for many years and native New Yorker judge Murtaugh is a product of our own city college from whence he went on to Harvard Law School prior to appointment as chief magistrate in one nine hundred fifty and reappointment one nine hundred fifty five Mr Mark MURTAUGH had already made headlines as assistant New York state attorney general in the Kings County bribery investigation during the years one nine hundred thirty eight forty and later in the Queens County paving investigation in one nine hundred forty one in one thousand nine hundred two he was special assistant attorney general of the United States and from one thousand nine hundred sixty nine hundred fifty served as commissioner of investigations for the city of New York here to interview judge America on some of the problems confronting the city and his courts in particular our panel of college newspaper editors our panel includes risk or is Nick at Columbia Graduate School of Journalism Jim foul of the forum lexigram and Peter Franklin of the City College observation vacation post let's have the first question from you Pete. Judge do you consider an addict person or a criminal. Definitely not a criminal Pete and now addict and is a very disturbed person in many respects in the sense that he has got a compulsion which in the main is Arizona's irresistible and I would definitely say that he's a sick person serve is not a criminal why do we continually deal with him as a criminal. Well Jim you probably know that I regard that as an error as to why we do it it's very difficult to describe it precisely the reason for it historically we began with the Harrison Narcotics Act just before World War One and that we intensified the effort to deal with the problem through the Harrison Act and through criminal procedures immediately after World War One the emphasis in large measure curiously appears to have come from the medical profession itself why the medical profession should have called upon the police officer the enforcement officer the criminal courts to deal with the medical problem is difficult to explain I think the motivation came from their great sensitivity to the improper conduct of members of their own profession who were exploiting the dispensation of drugs and the organized profession sought an answer to this dilemma by requesting the community to legislate the medical profession out of the field Kartik addiction this I think was a grave error and fortunately today many distinguished members of the medical profession recognize that it was closer than if you would have us get out of the treating the narcotic as a criminal of the narcotic consumer as a criminal would you suggest that we would take the same course with narcotics as we have done with alcohol namely doing away with prohibition any legal prohibition on the consumption of our comics. Well narcotics is a difficult problem we don't yet understand it very well I would favor continuing regulation of narcotic. Use but I definitely would say that permitting the medical profession and its complete discretion to treat the addict just as any other sick person I would not shackle the doctor he was trained professionally to treat the sick and for us by legislation to. Affirmatively. Encourage him not to practice that phase of his profession I think is a grave injustice to the community as a whole and to the addict in particular. Question. Yes Judge Matsch How do you think that the law can. Play its part in the control of narcotics by more severely penalizing the narcotics hours while cause we've gone a long way in that direction already rolled with disastrous results the entire emphasis since the early one nine hundred twenty S. has been legislating and narcotics out of our society by stiffer append penalties particularly by legislation requiring or promoting more severe penalties we've accomplished little or nothing so I would end any event for the time being prefer to port the accent on seeking an answer elsewhere than through the severe penalties we already have the death penalty. Written into federal legislation that kind of thing just because the issue it enables us to get a degree of self-satisfaction in thinking that we are progressing toward the elimination of the problem when in point of fact in the main We are only aggravating the problem I don't think any single thing has done more mischief than the Harrison Act or at least its interpretation by the Treasury Department and the and tire and Forstmann program that has flowed from that interpretation of the Harrison Act also why Amtrak playing. DOCTOR do away with this don't peddler as we did away with the bootlegger by making alcohol more accessible to the person that really needs it and yes. By its interpretation of the Harrison Act In my opinion the federal Treasury Department in effect through these helpless people into the hands of the underworld it made it profitable for the rag. Do undertake to smuggle narcotics into this country in addition. Put the addict in a position where he found it almost imperative to become a pusher to become a higher laying of organized crime so that in two respects it was disastrous number one it insured the smuggler the dull bracketed air of a hard core of addicts who would. Constitute a minimum market for him in addition it provided him with his messenger boys the pushers and that's why I have such quarreling with the criminal approach to this problem most of our effort in the courts of the city of New York is directed against the addict pusher necessity you tend to get the small fry and that is the person we're dealing with so that when we talk theoretically in terms of stiffer jail sentences we are not speaking realistically because the people who are before our criminal courts are the addicts and by continuing to torture be devil them we are only intensifying the problem rather than solving it. You said we're not facing the problem we are listing what realistically what would be a realistic approach a realistic approach would be to recognize that the addict has a compulsion that is virtually irresistible and a compulsion whose treatment lies if at all in the hands of the medical practitioner so realistic approach would be to start by legalizing the practice of medicine in this sphere of activity. Do you think that the state should have a role in the actual. Making available of drugs to narcotics through such a system as a possible rehabilitation center such as has been proposed here Ellis Island. Yes but. I hasten to add that there's very little evidence that any particular form of therapy as yet is effective so I don't put my primary emphasis as yet on the treatment and rehabilitation of the addict I put my emphasis rather on easing the plight of the hopeless addict to the end that he won't furnish. Support for organized racketeering sure we should have clinics surely we should have hospitals but first and foremost we must have a recognition that you don't stop a compulsion that is pathological in nature by passing a criminal law well what then is the point at which society can step in and minimize the number of future narcotics addicts and where does this begin. Well of course any social problem finds its solution primarily in an improved society a society that doesn't breed more misfits down over the years and that cause here as in other related social problems is the fundamental answer but immediately we are faced with a group of addicts throughout the United States that variously estimated usually in the neighborhood of sixty thousand now with respect to that group we should provide provide narcotic. Well I would say either free if they are indigent or at reasonable prices the kind that they could meet and that would rescue them from dealing with the underworld Now when we start there we at least start to control the market in drugs it would no longer be nearly so profitable for people to risk the penalties of smuggling we could then begin to deal from a enforcement standpoint more effectively with racketeering I do not want to be understood as condoning the activities of the Mafia or anyone else that engages in narcotics smuggling they are a menace to our youth and to our people but far from. Putting an end O. them I think that we are encouraging them and that we have made it possible for them to exist successfully and by our erroneous approach to the problem just as we created to a great extent organized crime in the United States by the enactment of the eighteenth Amendment and Vanstone act so we are continuing to maintain and finance an underworld by the Harrison Act and by our in Forstmann policies. How closely connected is the dog problem with the juvenile delinquency problem it's very definitely related many of the disturbed delinquents of our community are dope addicts and of course once they're addicted to whether they have criminal tendencies before on not they tend to engage in criminal activity in the main it is not a serious nature. In the main it's petty thievery or it's selling engaged in on a small scale to support their habit but it definitely. Brings these people into will be underworld is teenage addiction still the same serious problem as it was four years ago in New York City why has it been less a question that's a difficult question to answer Miss McDonald because in the first place no one authoritatively knew the extent of it four years ago and I'm afraid I must confess we don't yet know the extent of drug addiction among the youth of our city some years ago around one nine hundred fifty or fifty one when there was a particular. Accent on the problem of dog addiction and you when there was much newspaper published city parents who are induced by this concern over the problem to bring forward the youthful addict more recently. There hasn't been nearly as great a tendency for underprivileged parents parents who are in poor economic straits and in difficult circumstances to show sufficient concern about the problem and they tend to live with the problem and they don't. Tend to bring them to the these two as great an extent as they did during that period of concern so it would be actually impossible to estimate the extent of the addiction in this city today question from you Jim was our last idea of treating people as criminals that would be treated as such what is your opinion on man suspension of students in the spirit of what was a problem. It is difficult from my vantage point to assess that decision certainly that kind of thing. Terry you as a routine practice I'm referring to suspensions that is when a student. Is a problem. Within the school system it certainly is preferable to recognize that at an earlier date and to either suspend them or are better yet still use the threat of suspension in order to get him to conform to standards of decent conduct more readily. Than. Most difficult problem and as a member of the judiciary I hesitate to express an opinion on their decision because I know that they are dealing with it from a day to day standpoint and their problem is not a small problem they do point out the fact that much of the messages come from one percent of the school population I am inclined to believe that because from a judicial standpoint I recognize that the core problem comes from a very small minority of the population in the main roughly one percent you can even say that with regard to as serious a problem as the problem of the traffic courts the scofflaws numerous though they'd be represent only about one percent of the school population we're also going to venture to say as a member of the. Well these suspensions would stand up on appeal to the courts No I prefer not to express an opinion on that. So while you're speaking as a member of the judiciary could I ask you how you feel the proposed twenty Commission's revision of the functions of the magistrates courts well affect treatment of such offenders and why they favor some of these revisions but I favor the court proposal I think the consolidation of courts in line with the proposals of the tweet commission would substantially improve the administration of justice throughout the city and state. And use the commission's proposal regarding a youth court no I had reservations with respect to the earth court specifically Webster I think that you know the court problem could be better handled in a court such as the proposed general court and I think that that is the present trend and Ackman to the effective date of the Youth Court Act has been postponed and. I anticipate that when. The tweak or program is implemented. The U.S. problem will be given to the General Court to deal with it and I think they will be better equipped to deal with it than the court proposed by the Youth Court Act Also another person with a compulsion to do things or is treated by our courts as a criminal is that damn like you think our law is a bit backward as to gambling in this state extremely what precisely should be done in this line certainly Congressman phenols idea and a lot of research you could comment on that but I hesitate to do I say anything as specific as that basically I would say that your attempt. Just laid gambling out of existence has never been successful and more important the effort has invariably done much positive harm. Basically I don't think it is immoral to gamble to a degree and so I don't think that fundamentally any more than in the case of prohibition. That society has a right to attempt to legislate against it but in any event. When an attempt of that kind to promote morality through legislation. Tend to corrupt the enforcement of these tends to be futile I don't think we should attempt to enact legislation I think most of our gambling laws in the state of New York are in the state. How would you ever successfully implement a public policy design of protecting the old homestead which is underlying most certainly some of the philosophy behind our anti Gamli loss. Would simply I wouldn't be so concerned. With that aspect of it for the simple reason that we're not protecting it today and I don't think by leg