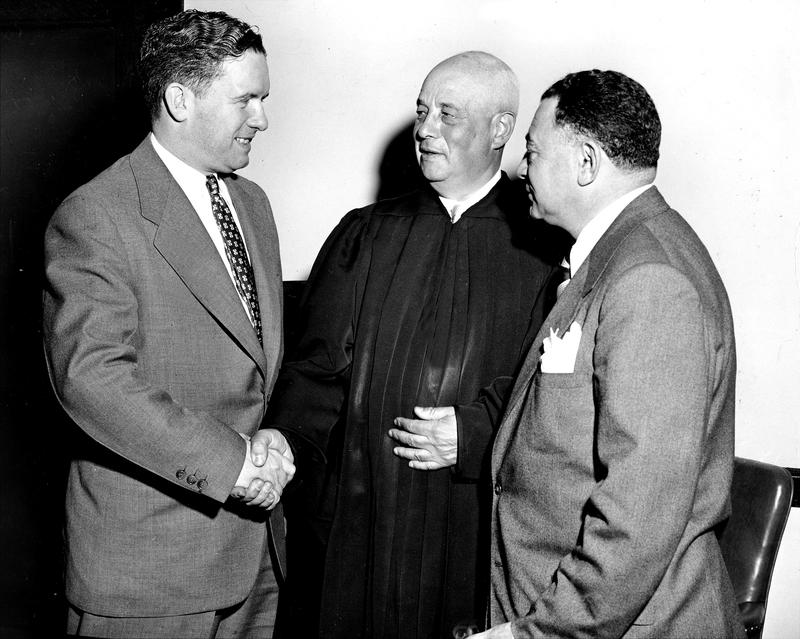 Summary
This episode is from the WNYC archives. It may contain language which is no longer politically or socially appropriate.
Jay Nelson Tuck moderates.
Guest is Judge John M. Murtagh, who discusses the drug problem and prostitution.
Panelists include Stan Siegel, Barbara Benmolche, Lillian Affan.
Questions:
Judge Murtagh discusses current laws (based on the Harrison Narcotic Act) which restrict a doctor's ability to treat drug addicts. He speaks in general about the drug trade and the role of "pushers." He believes that the money must be pulled out of the drug trade by providing hospitals and clinics for addicts.
Murtagh speaks specifically about current laws and a leading official, whose policies he disagrees with.
Currently, there are only two treatment hospitals in the United States, and these are inadequate, as the in patient stay is only thirty days. It provides a time to withdrawal, and though they offer psychological services few patients use these services. Murtagh believes the roots of addiction need further probing to discover the underlying causes.
Asked about the addictive nature of marijuana, Murtagh points out that this drug does not have the physical addiction seen in other drugs, such as heroin, and even tobacco. The problem he sees is the potential that a marijuana addict may go on to use heroin. Though he does not view this relationship is a hard and fast rule.
The drug "king pins" are difficult to catch and convict. He also thinks it is more important to get at the main problem - addiction, not dealers. Specifically mention Lucky Luciano, and the Mafia.
They move on to questions of prostitution. While Murtagh is morally opposed to prostitution, he does not believe that arresting the "misguided girls" is the best method. He feels better therapeutic skills would solve more problems than arrest.
Audio courtesy of the NYC Municipal Archives WNYC Collection
WNYC archives id: 72097
Municipal archives id: LT8424
Transcript
This is a machine-generated transcript. Text is unformatted and may contain errors.
Are the police in cahoots with the kingpins of drug traffic what's wrong with our narcotic laws should we stop arresting prostitutes for the answers to these and other questions listen all to Capital Prep conference every Sunday evening in this program editors of college newspapers question a newsworthy personality our moderator on campus press conference is the noted newspaper man and editor Jane Elson talk now to introduce the panel and this evening's guest here is Mr Tucker Good evening our guest this week of all city officials is perhaps the one that was most concerned with the problems of the ordinary citizen when he gets into trouble the man who gets a parking ticket the following requirements too loudly with his neighbor or the one who becomes a temporary nuisance because he's had one too many these people are the concern of the city's magistrates courts. Our guest is New York's chief magistrate John and my time Judge Martin has long had a special interest in two of the problems with which his courts deal narcotics and prostitution with a well known saucy ologist Mrs Sarah Harris has written books about each of these subjects. Cast the first stone which dealt with prostitution was published two years ago. The judge's book on narcotics called who live in shadow has just been published and immediately got the judge and broiled in a lively dispute with the federal narcotics Commissioner how are you doing on Sluggo on how to handle the problem of dope. Here tonight to question Judge Mark I'll only on from Bob about both of the How to college. And stands to go the N.Y.U. square Journal stand you want to ask the first question John Mark Karr in your recent book you mentioned the present drug laws are immoral in principle and in a factual and operation what is wrong with these laws. Juggle what the laws is that they proceed on the assumption that this is a problem to be solved by a criminal or a penal approach. And even more fundamental than the error in the law is the interpretation by the enforcement agencies of the existing laws specifically the cornerstone of existing legislation Stan is the house an Act the federal Harrisson act. By Harrison Act actually says nothing with regard to medical practice and yet since the early one nine hundred twenty S. It has been the position of the Federal Bureau of Narcotics that a medical doctor treats an addict at his peril that it is not legal under the house an act for him to administer dosage of drugs during the course of therapy either to quiet the patient in order to enable him to be properly diagnosed or to alleviate his suffering and enable him to develop a. Degree so that he can be his underlying difficulties can be dealt with. Now there's nothing actually in the Harrison Act that says that and indeed the Supreme Court of the United States categorically stated that there was nothing in the Hanson act to that effect nonetheless the Federal Bureau of Narcotics persists in that interpretation and quite understandably the medical profession has accordingly withdrawn from this field of medical practice and we have the anomalous condition today that any sick person with the exception of an addict is free to go to a medical doctor but if the patient is an addict he has not got access to a medical doctor that curious misinterpretation that curious. Erroneous lay directed and Forstmann policy has done more in my opinion to create the the existing problem than anything else rather than solve our narcotic dilemma we are creating it but because in the nature of things the addict still has a pathological condition he has a pathological craving for drugs. Is going to get his drugs in some area if he can't get it from a medical doctor if he cannot get it from a legal market he's going to get it from an illegal market so in effect we have given the Underworld a hard core of addicts addict customers on a silver platter worse than that we've given them a hard core of addict pushers we've created the situation that we are pretending to solve them. I don't I mean cases on record of medical doctors being prosecuted for treating drug addicts in the method in which you stated previously Yes there are a considerable number of. Gods the house an act itself was enacted in one nine hundred fourteen. With the interruption of the First World War It lay largely Daum and until nineteen twenty at about that time a series of prosecutions ground to take and there was a wave of hysteria about drugs in public opinion was. Erroneous Lemole did add to a point where the menace of drug addiction was greatly over emphasized indeed there was a report emanating from a federal agency to the effect that there were a million addicts in the United States at the time the result was that even the courts themselves. Gained a misconception and in several instances medical doctors work convicted. And on appeal to as high as the Supreme Court of the United States those convictions were sustained but eventually public opinion regained its balance the court had self began to see the problem in a proper light another doctor Dr Charles all and I was convicted where the others and eventually his case came before the Supreme Court of the United States and by this time the problem was being put in its proper perspective the Supreme Court of the United States in the case of Dr Linda reversed the conviction unanimously referred to its prior rowing's and suggested that they be accepted in the narrow application to the facts involved there and in effect overruled them. Barbara on judgment on just what program do you propose for dealing with narcotics addicts I mean I don't know what I was under the impression perhaps it was something similar to the one that they haven't and when can you explain this yes I can explain that to Barbara. When you say the system in England now there are people that say that there is no British system and in a real sense they have a point. There is no system as such and there is simply the application of common sense and the English never lost their balance in this. Respect to this problem the result is that the treatment of drug addicts by medical doctors has never been interfered with and today there are no more than three to four hundred known addict in England now what I suggest is that we retrace our steps and recognize the fundamental fact that a pathological condition is an appropriate subject only for the medical profession having recognized that and recognized the right of an addict to seek out a medical practitioner and have him treat the addict in his best medical judgment we then go further and recognize that through our own stupidity we have created the present condition where we have a considerable number of addicts estimated variously between forty thousand and three hundred thousand throughout the nation and mobilize to help and to treat them now in order to deal with them I suggest that we have a federal hospital in principle dope center like New York Chicago Detroit Los Angeles and we have those hospitals supplemented by outpatient clinics that initially. The patient can go to a hospital for a diagnosis but with drug treatment and after a limited period of time go back into ordinary society to be sustained intelligently and medically by an outpatient clinic and by therapists for what trained to deal with a medical problem basically what I am saying is that this is not a problem for launch bossman this is a problem for medicine to the degree that we continue to have criminals preying on addicts more power to those vested with the enforcement of laws I say hold no punches so far as the criminal is concerned but I do say do not continue to keep pounding the sick person to the end that he must inevitably But come a prey for the underworld judge some people who support your point of view argue that clinics such as you suggest would do a great deal to decrease crime but the pusher would have nobody to sell to so the narcotics trade would stop. And that the addict would no longer have the drive necessity to raise so much money to buy dope and he himself would be less likely to commit crime as well do you believe that would be a consequence of the very definitely. Hear you say the pusher what not have the customer I go further and I say that in the main there would be no punches because the criminal elements do not in the main expose themselves to arrested present they use addicts there this entire program would go a long way to taking the money out of. The drug trade and thereby to dry up the illegal market so that if a not aked can needed to continue to have drugs his only were a cost would be to the medical profession profession and in the main there wouldn't be an illegal market to infect other other non addict. Barbara both question let's take a lesson from this how do you suggest that these clinics and hospitals be organized and subsidized Well essentially say that they'd be subsidized financed by the federal government because I think this is a vast problem measure it's been created in large measure it's been created by the Federal Government policy. In any event I think only the federal government is adequate to deal with it now as to the blow point print of administration I of course would defer to the public health administrators My suggestion is. That the Top program they vested in the authority of a distinguished public health administrator who is experienced in dealing with the sect and who could develop the kind of control is necessary to keep that a minimum leaks of drugs into illegal channels Barbara. Well I think this is a very good idea and I'm really heartily in favor of this program but I'd like to know how you propose to put this program into effect and the violent opposition of Commissioner and slung on those of his ilk. Bob. There's an honest difference of opinion that tween people like myself and people. Such as commissioner Anslinger. Actually in the book. While I did call for the commissioner's retirement I was not especially harsh or in any to any degree harsh with reference to him and I didn't intend to be. He is a dedicated servant who in my opinion is misguided but he has been molding our policy for some thirty years and I don't think we can bring about change without his bedtime and what I do suggest is that he be retired and be replaced by a person with a new viewpoint and that person I think should be a public health administrator a scientifically trained person who has sympathy and understanding for the addict. Stand on top what is the present treatment that is available to addicts under the present law. The treatment program if such can be called consists primarily in the. Operation to federal hospitals at Lexington Kentucky and another at Fort Worth Texas and of course here in the city of New York the facilities for those under twenty one years of age that exists at Riverside on North brothers island that is limited programs are essentially the total program throughout the United States they are woefully inadequate at your to federal hospitals the great bulk of those who voluntarily go there stay less than thirty days no one even makes a pretense that the hospital has a real treatment program what is the nature of the treatment this is this is well it consists of most people almost entirely in withdrawal there is available and certain amount of psychotherapy with very few of them the patients avail themselves of it and there's a curious lack of knowledge not alone among the personnel at these institutions but in the profession as a home with regard to the nature of addiction. I would buy by traditional policy I think we have deferred interest. And learning in this bail I say this despite the fact that I am urging a. Scientific approach to the problem cause I feel that only as doctors begin to deal with the addict well a gained knowledge of the nature of his ailment and develop a therapeutic approach course I should point out that in my opinion and in the opinion of most who have studied this with a degree of scientific competency. Addiction while it can properly be described as pathological is primarily merely symptomatic of a much more deep seated and complex pathology and it's that underlying pathological condition at which the doctor should be free to get the nature of things and if he can't begin his treatment where they said degree of freedom to sustain the addict on minimum dosages he can't even begin to probe for the real underlying causes. Many people maintain Maulana is not narcotic proper sense it's not possible to become addicted again and there are varying. Attitudes toward it. I think the main distinction between marijuana on a drug such as heroin and marijuana does not involve a physical dependency the marijuana addict who was suddenly withdrawn does not go through the withdrawal pains that we associate with the heroin addict or you so you're right. You say that in jest not and why yes mongery wasn't able to stop. I don't know whether they suffer even as much as that Jay that there are many respectable scientists scientists maintain that the smoking habit is worth than the marijuana habit and the evidence to integrate tends to bad amount in fact the only. Evidence that I've seen that tends to discredit that notion is the fact that so many Maulana addicts become eventually become heroin addict a lot of the stronger but I'm not sure by any means that there's a real relationship I think rather that it may be coincidental both the marijuana addict and the heroin addict addict are apt to be very emotionally disturbed people and it may well be. And that the marijuana addict to eventually becomes a heroin addict one have but come a heroin addict and whether or not he initially became a marijuana. It is an understandable progression but I don't think the one is necessarily the precipitating factor. I guess while in accord with your view that this is more humanitarian problem than a criminal one nevertheless it seems disgraceful to me that the so-called kingpins of the drug traffic are not dealt with to any large degree was a self simply because of the difficulty in getting evidence and I want to be understood very clearly as one who does not. Suggest for one moment that we relax our efforts to get at the so called thing Ben ten on the contrary I think we should redouble our efforts but I am suggesting that by this sane approach to the addict we can buy much more effectively than through any enforcement program deal at deathblow we should continue our enforcement efforts but we should supplement them by getting at the main road the difficulty namely the increase in addiction speaking of caring friends judge every three weeks it seems to me I see a star in the papers saying police seize million dollar dope cash Luciano involved always trace it back to Lucky Luciano do you believe he is sti