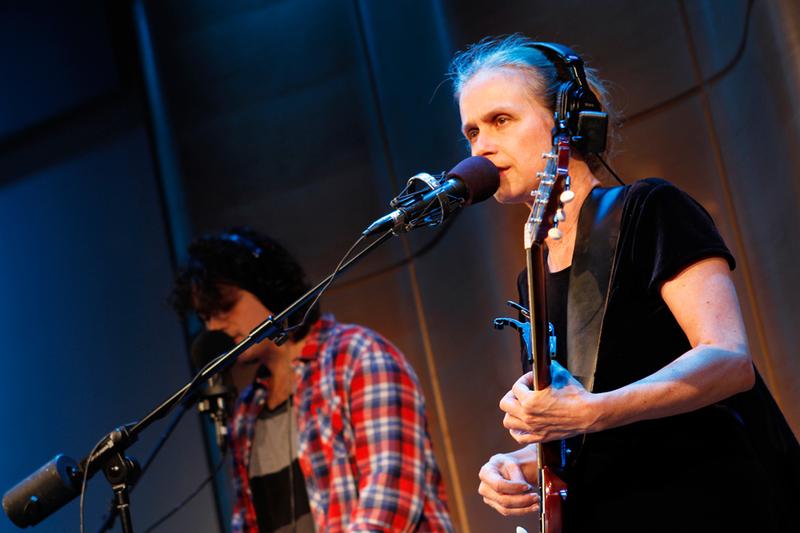 The annual Latin Alternative Music Conference (LAMC) brings tons of young, up-and-coming bands and established artists from all over descend upon New York City to play concerts and attend panels about the art of performance and the state of creativity in Latin America today. In the spirit of LAMC, Soundcheck and Latino USA teamed up to showcase a fantastic bill from two acts who re-imagine Latin roots sounds in extraordinary ways: psychedelic salsa band La Mecánica Popular and the sonically adventurous songwriter Juana Molina.
Juana Molina stands out as one of the most innovative Argentinian singer-composers of her generation. Raised in a family of tango musicians, Molina first made her name as an actress, starring in the quirky and popular sketch comedy show, Juana y Sus Hermanas. Since 1996, she's released six albums as a musician to great acclaim in South America, the U.S. and Europe – most recently, 2013's Wed 21. Her music skirts many lines: both experimental and pop, electronic and acoustic, contemporary, yet rooted in Argentinean folk music.
Watch Juana Molina and her band perform selections from Wed 21, as well as a favorite older track "Un Día," recorded live at WNYC's Greene Space on July 11, 2014.
For more photos, visit Soundcheck's Tumblr page.
Set List: