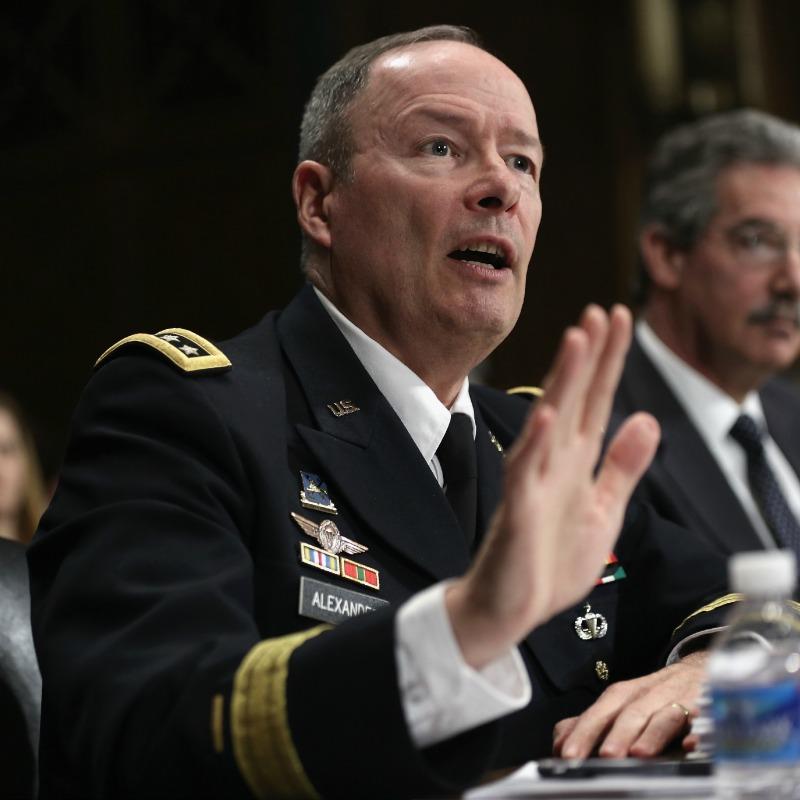 Summary
Last Sunday's 60 Minutes profile of the NSA was almost universally reviled. But 60 Minutes is not the only outlet that has spent time at the agency's headquarters in Maryland. Brooke talks to Daniel Drezner, who wrote about his trip to the NSA's headquarters and the agency's new PR push for Foreign Policy.
Shigeto - Ringleader
Transcript
BOB GARFIELD: For years, the National Security Agency was so secret, the government did not acknowledge its existence. Now, in the wake of the Edward Snowden leaks and the revelation that the NSA reportedly tracks every phone call made in the United States, and keeps the caller and recipient information for five years, the NSA is on a PR campaign, trying to persuade nervous citizens that, by golly, [LAUGHS] it's just so darn misunderstood. The charm offensive began last Sunday on CBS's 60 Minutes, whose correspondent John Miller visited NSA headquarters at Maryland's Fort Meade for an unprecedented one-on-one with "eavesdropper-in-chief" General Keith Alexander.
[CLIP]:
JOHN MILLER: General Alexander agreed to talk to us because he believes the NSA has not told its story well.
GENERAL KEITH ALEXANDER: We need to help the American people understand what we're doing and why we're doing it. And, to put it simply, we're doing two things. We're defending this country from future terrorist attacks and we're defending our civil liberties and privacy.
[END CLIP]
BOB GARFIELD: The next day, a federal judge would rule rather the opposite, that the vast vacuuming of telephone metadata is a violation of the Fourth Amendment – more on that, coming up. But, like most of Alexander's claims, some of which have been shown in the past to be misleading or just not true, it went unchallenged. Instead, Miller marveled at just how dedicated and whip smart are the NSA's young analysts, such as with, I swear, a Rubik's Cube.
[CLIP]:
JOHN MILLER: How long would it take you to do this?
JOE, NSA ANALYST: About a minute.
JOHN MILLER: Are you serious?
JOE: Yeah.
JOHN MILLER: Go.
JOE: Go? [CUBE CLICKS]
JOHN MILLER: Many of the cryptologists skipped grades in school, earned masters' degrees and PhDs and look more like belong on a college campus than at the NSA.
WOMAN: Yes.
JOHN MILLER: Actually, the Rubiks cube took him one minute and 35 seconds.
[END CLIP]
BOB GARFIELD: Miller, who has been in and out of network news between stints flacking for the LAPD, the NYPD and the FBI, as recently as two years ago, was himself working for the national Intelligence Directorate. And although he disclosed that, his reporting was dismissed as a love letter and as the latest evidence of journalistic decline at the once-vaunted 60 Minutes.
BROOKE GLADSTONE: But the NSA didn't open its doors only to 60 Minutes. With reports of terrible morale and plummeting recruitment since the Snowden leaks, the agency is aware that it has an image problem, which is how, last week, Daniel Drezner, professor of international politics at Tufts and a contributing editor to Foreign Policy, ended up spending a day at the agency talking to officials. Daniel, welcome to the show.
DANIEL DREZNER: Thank you for having me.
BROOKE GLADSTONE: You spent a day with various NSA officials asking them questions, on background, of course.
DANIEL DREZNER: Mm-hmm.
BROOKE GLADSTONE: Was there a united front?
DANIEL DREZNER: I would say there were some responses where they were clearly unanimous, the rather candid admission that the Snowden affair had really hurt them and had hurt morale. And it was, in some ways, very surprising, how candid they were. The other thing that they were generally in consensus on was that they saw themselves as a very heavily regulated agency, and they kept stressing the idea that they're the only agency with oversight from all three branches of government and that their compliance requirements force them to report what they would consider picayune infractions and mistakes.
BROOKE GLADSTONE: Even if you credit that maybe some things that are counted as infractions shouldn't be counted as infractions, what gets the American public exorcised is the general description of the program –
DANIEL DREZNER: Mm-hmm –
BROOKE GLADSTONE: - which was –
DANIEL DREZNER: Scary.
BROOKE GLADSTONE: And misrepresented mightily in well- documented ways by General Alexander on 60 Minutes. So how can they improve their public relations if their top officials continue to either misdirect or outright lie?
DANIEL DREZNER: In some ways, this is gonna be a case where practice makes perfect. And, and they were very, again, upfront about this and saying we recognize we need to do more schools you know, communicating with the public, and we also recognize were really, really bad at it. So, in some ways, the only way they're gonna get better is when they make these kinds of mistakes, then realize that the press is going to call them on it.
Some of the NSA officials were more forthcoming than others about the sort of need to deal with the sort of changed climate, as it were, and others seem to have a worldview that was closed in an amber in, in 2002, where they simply thought that all they had to do was say, it's a dangerous world out there, it's getting more dangerous, leave us alone and let us do our job.
BROOKE GLADSTONE: You also suggested in the piece that the higher you went up the NSA food chain that day, when you were doing with those interviews, the more walled off the officials were and the more tone deaf their remarks.
DANIEL DREZNER: Yes, I would say that was a fair statement. The officials who had been there the least amount of time were clearly the ones most sensitive to what had happened in the public. And I would argue they were also the NSA's most effective advocates in trying to explain their position, contra Snowden and contra other press leaks.
On the other hand, the, the higher up you went up, I think these people have spent far more time at the NSA and spar – far less time engaging in the rest of the world. So they would make statements that would cause you to shudder every once in a while, like one official in particular joking about wanting to make some reforms to the First Amendment.
[BROOKE LAUGHS]
I, I think this person was joking. I'm honestly not sure. Either way, it really was not funny.
BROOKE GLADSTONE: Right. And you said, in particular, the agency's attitude towards the press –
DANIEL DREZNER: Yeah.
BROOKE GLADSTONE: - was not funny.
DANIEL DREZNER: No. A lot of the complaints were the fact that they thought the reporting of this program or that program was stripped of context. Now, anyone who's ever interviewed any government official knows that this is sort of a standard complaint by most government officials.
On the other hand, again, further up on the food chain, it was surprising how many complaints there were of the press, according to them, willfully misrepresenting programs, and which is a more serious accusation. It's not to say the reporting has been flawless. They're in a situation where they're often reporting on programs that they don't completely understand.
BROOKE GLADSTONE: Right.
DANIEL DREZNER: So one understands why the NSA might be aggrieved. But the idea that they're willfully misrepresenting these kinds of reports seems to me a ludicrous charge. The problem is the NSA is deeply reluctant to talk about exactly what it's doing.
And the other issue, I think, is that there's a philosophical disagreement over what exactly constitutes a privacy violation. In the NSA' perspective, the metadata collection, which they talk about, doesn't really constitute a privacy violation. We're – we're operating in a technological world where, in fact, even the metadata constitutes a remarkably large footprint or signature on what people do. And that's, in some ways, the way in which the, the world has changed in a way that the law has not.
BROOKE GLADSTONE: I think the issue is, is that we shouldn't be having this debate with the NSA, to begin with. It really is the government with whom we should be having this conversation, the White House, the courts, the Congress, everyone but the NSA.
DANIEL DREZNER: The, the issue is there are two ways you can frame this. The first way is to say this is a question about intelligence and what's the best way to protect the threats, ostensibly, against the United States. And I think that's the way the NSA would like it framed, because that means you rely on the NSA as an expert to give you an answer.
The second and, clearly, way that it's evolving is the values tradeoff of to what extent do you have to protect national security at the expense of civil liberties. There, I agree. That debate happens above the NSA's pay grade. And, in some way, the NSA's greatest dissents about what it did was this notion of, Trust us, we are not going to interfere with your privacy, and we're really good at what we do." And you can argue that the last 10 years of the way the US has conducted homeland security has essentially eroded that trust.
BROOKE GLADSTONE: I think the NSA needs an HBO series.
DANIEL DREZNER: [LAUGHS] Or you could just add NSA to the Game of Thrones.
[BROOKE LAUGHS]
That would be interesting too.
BROOKE GLADSTONE: [LAUGHS] Daniel, thank you very much.
DANIEL DREZNER: Thanks for having me.
BROOKE GLADSTONE: Daniel Drezner is professor of international politics at Tufts, and a contributing editor to Foreign Policy. He wrote about his trip to Fort Meade in Foreign Policy.