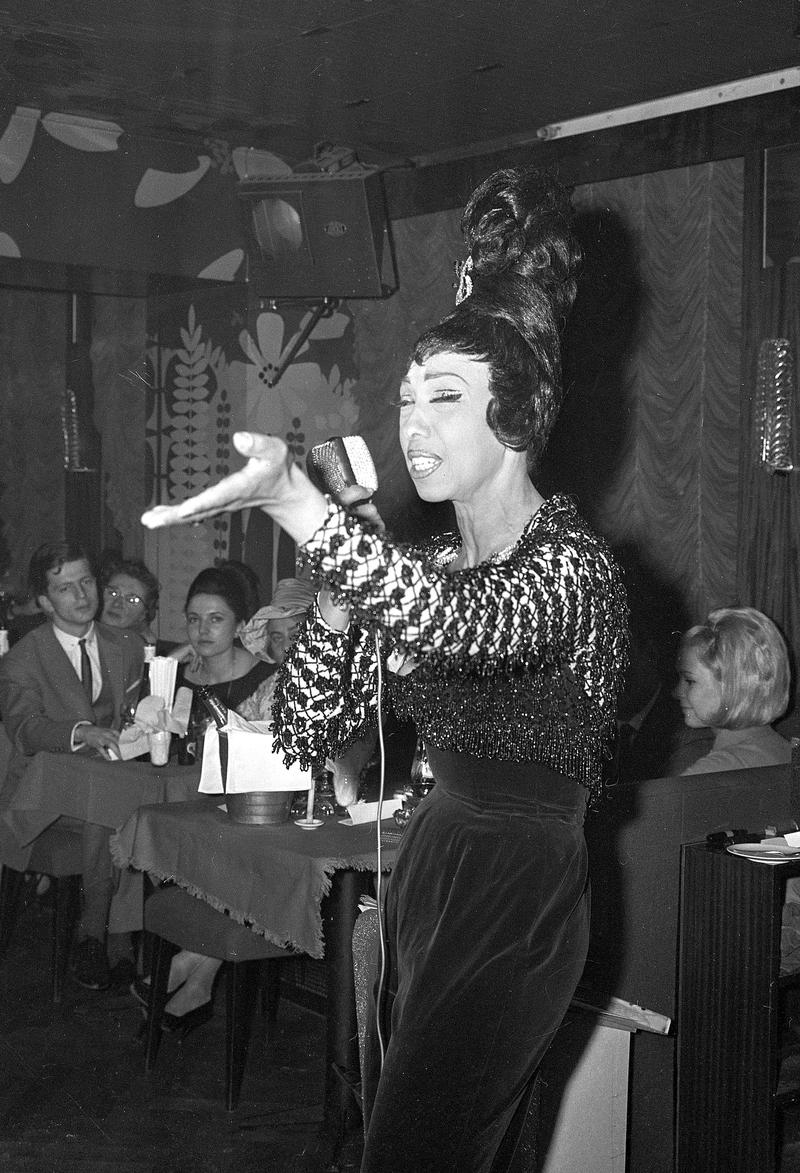 Summary
This episode is from the WNYC archives. It may contain language which is no longer politically or socially appropriate.
This marks the 25th anniversary week of the Overseas Press Club.

Josephine begins by talking about her dieting techniques.

Josephine Baker, 64, tells the story of her adoption of 11 children of different ethnic heritages: Akio (Korean son), Jeannot (Japanese son), Luis (Colombian son), Jari (Finnish son), Jean-Claude (French son), Moise (Israeli son), Brahim (Algerian son), Marianne (French daughter), Koffi (Ivorian son), Mara (Venezuelan son), and Noel (French son).
Audio courtesy of the NYC Municipal Archives WNYC Collection
WNYC archives id: 5757
Municipal archives id: T199
Transcript
This is a machine-generated transcript. Text is unformatted and may contain errors.
In this twenty fifth anniversary week we have a very great pleasure. They always used to tell us in Paris that when good Americans die they go to Paris and the spirit of Paris for. More years than is believable has always been synonymous with our guest I'm on it today before the pleasure of making the introduction I would like to make two announcements one is that I hope that all of us will be together Tuesday next Tuesday for our weekly lunch and it will be the regular weekly luncheon but moved one day early to Tuesday at twelve thirty when our guest will be surrounded Guinness who is now appearing here in New York in Dillon and also on Tuesday it's going to be a very busy day and I hope that we'll see all of your periodic leave through the course of the day at six thirty P.M. We will have cocktails and at seven thirty dinner at eight o'clock a book Night discussion centering on Jack Raymond's new book Power in the Pentagon and Jack has been the New York Times Pentagon correspondent for a decade and has done a book on the implications of military power which I know profoundly concerned the United States a country which never considered itself militarist is now faced with the fact that it does have the most powerful military machine with many political repercussions all of which Jack has spelled out in his book. We hope the general Gavin will be with us on the panel that evening the arrangements are not completed but it is certain that it will be one of our most brilliant book evenings of the season all of us who have had the very special unhappy experience of adopting children have always looked to Josephine Baker with or because of her unique experience and she is going to talk to us about this experience now she's going to tell us what it is like to be the mother of a Keogh a twelve year old Korean Jari a ten year old in which young Claude who is a ten year old Frenchmen Johnno who is a nine year old Japanese Louis who is a ten year old Colombian noise a who is a nine year old Israeli Brahim was an eight year old Algerian Mara who was a seven year old Venezuelan coffee who was a six year old child of the Ivory Coast merienda one girl in a family of thirteen with eleven one family of in a family of eleven Marianne who is a seven year old French woman and know well who is a. Know well who is a three year old Frenchmen all of them united by the fact that a week ago when Miss Baker took the week before Easter to rush home they were all united by the fact that when they saw those extraordinary American Easter eggs. Not the ordinary painted ones not the ordinary chocolate ones but extraordinary transparent ones with little scenes of. Rabbits and all of them are united by saying Mummy This is wonderful Miss Baker. Well. I must say it seems strange to. Have so much enthusiasm at this time of day usually. Usually many people like you gentleman and ladies of the press who are often running around or have you might be trying to find new found news getting quickly back to the press to get to be the first one to get it. So sometimes this caused you to be a little sleepy a little tired or maybe you've had a hangover for having just one too many the night before but I know today all this enthusiasm and smiles on everybody's faces is it because ladies and gentlemen that you've had a good lunch today lucky you. I'm not able to think about this because if I too much I would get fat. In the wrong place of course I can let some of the ladies troubles I didn't ladies we always afraid of getting fat or bubbling out in the wrong place and we have to go and be rubbed down or rolled down or something to get it off all in my case I don't I'm not rubbed down the road the route I just stopped eating for forty eight hours and I must say that Mary many many times people have said after you've had your wonderful dinner were very often having been lucky enough to be invited to people who make good foods and I must say that I like good food all the were not able to eat it or to enjoy it I sometimes say look here they say how do you do it I say I just forget to eat forty eight hours but how you're able to not eat forty eight hours or to drink in the same time I said I just have to do it and I do it that's the same way when many times many of our our friends say why you're on the stage when you have sometimes and very often said goodbye to the stage I'm going off for this time for sure and I'll never come back again and here I am back again is because I just have to do it and I do it and I think that somebody else everybody is same problem when you have to do things you do it and the reason that I have to be on the stage is because well that's the only job that I know more or less I don't say very well but that I know more or less what I've been doing a long time this young girl is looking at me with him to see as I'm Duke and holding on to her coffin I'll be careful drink your coffin don't let it fall in the same time be under talk about my children and she looks like he she might be a young lady the loves children don't you that you do yes you do like most people in the world and very often. People have said to me how all full of women they say women who leave their children and. I see. One of these persons that are very happy because I'm selfish if there were no women because mothers I have heard don't leave their children but women in general who will leave a child is just a woman and I said I'm very happy about a woman living their child because because of this I have become a very happy mother of eleven children ten little boys and one girl so you see I have nothing bad to say about a woman who leaves a child but I have all the nice things to say about a mother who has been able to bring a child in the world and I have been able to take the child on from then so ladies and gentleman me I talk about my heartstrings I'm going to have them in just a trickle for a few minutes and I'm sure that all of us will understand I. Am very happy to be a mother because I have never had that privilege many and most letter say ninety nine percent perhaps of women in the world or females we might say have that wonderful privilege of being a mother and I'm one of those one percent of the world who has not have that privilege and the honor to be a mother in the sense of the word that we understand naturally and I was a well and many mothers have to take what they get I must say that I was a lucky one to be able to choose that's a privilege to to be able to go on the world and choose a country with which you would like to have a child and find so many little Stein it'll babies just come into the world and be able to take it in your arms and and say this is my child. There's nothing more beautiful than that feeling and not think about anything but this little tiny slobbering mouth or a little hands being trembling not a little head turning around as Mammy as Marianne said when we got our last little boy a little know well she went with me to Paris when I was called by one of our friends from the press. And he said Josephine come quick I'm I must see you and of course I want to see him because as you know at my age I must know a lot of people of the press in Paris they've always been my boosters and hadn't been for them I wouldn't even be in existence at this moment and he asked me to come talk to him he said come to the corner because I know you're going to be shocked sit down you're the only person that I can talk to about this I just had a very shocking experience I was called in by the police at Paris and they had found a little baby that they thought was Sullivan Dall in the garbage can and want to come down to see it and I ran quickly down to the police station because then went from the police station to the hospital and I saw this tiny little thing of three hours old that head some of the parts of his body started to swell from the beginning of being frozen and I looked at that little tiny thing that couldn't move and at once the man who founded was a reg picker and I asked him if he would become the father of this child and naturally I the mother then we took the baby to the hospital and all the it was just on the eve of Christmas and I named him nowhere because of that you know that no means Christmas in the French language and the first godmothers that this child had were they nurses around it who took care each were doing something it had no clothes and nothing at all so quickly I ran out to get to buy a few little things in the first five and ten something of America it was still there and it was very convenient to find a way of doing it cheap and we put on his little clothes and I took him in my arms and I went home and I telephoned down because my children live in the southwest of France near Bordeaux and to lose it's called the Me alone and I asked the lady who takes. Of my children she would be good enough to bring Mary and being a little mother I've always called her the little mother because she loves children so and Marianne came right away on the next train and we want to see our new born she and I and she said Mommy why is it that he doesn't move he's sleeping always my little brother is sleeping why does he sleep always and she took his tiny little hand in hers and kissed it and kissed it and at that moment you see she I and the baby become one. We became one flesh of body and then that was the very very beginning of little nowheres coming into our family and this reminds me if you don't mind me telling you about another story. When we went to South America to get our little Indian baby we went from one tribe to the other one city to the other it was very hard to find an Indian and I have so far have tried to find as pure as possible as pure as possible talking about human beings that saying a lot and then when it comes to people's blood and. We went very far away and we found a little baby and when we were ready to take it away. There were crowds of people who had come and say No This child can't leave in Marianne was behind the man was who wanted to take the baby away and said putting on him said No you can't take this little baby because he's my mother's he's my mother's little baby and she from then on I called her the little mother that's why Marianne when she goes on the streets and she sees other little babies in little. Weygand babies cart How do you call the baby's carriages she has to go to see them and she has to kiss their hands and I think she deserves the title of being the little mother don't you think so and now I suppose you want to know why these children were adopted Well let us say I use the word option to you but at home we don't we say we just met each other on the road of life and we both needed love and were growing up together but I would use the word of adoption to you they were adopted because of my many experiences in life of carrying a wrong going around in the world running from one corner of the world to the other saying that people were misunderstanding each other in some sent to war the unity of mankind and they were saying they were being separated or separating themselves instead of uniting and I knew that that was a necessity. I knew that something had to happen because if not people might become overbalanced and wrong can come from that so I decided to United to unite from different parts of the world little small children who were innocent before they had come in contact with influences be they good or bad and to find out if it were really possible for people of different countries and continents and religions and colors to live together in as much as we have all known and through our experiences in life throughout the world that it has been said and believed unfortunately that people of different colors or different legends cannot live together because of these little natural things well I got these children from the different parts of the world together. And believe me ladies and gentleman they hadn't been together more than a year or two I see in more than a year or two because when you when you get a little children of few days old you must give them time to grow up to begin to have their own little ways of living and minds and characters and I have can tell you truthfully that all men can live together if they wish to and this I don't say experience because I don't dare to I don't dare to say that I am having an experience with human beings because many years ago a man called Hitler used human beings as an experience and to me is a shame in the name of humanity and mankind to use the same expert expression so according to what I believe in I always say that this. Example might be say that I have tried to to show one give to the world has been a wonderful success and it has been such a success that people throughout the world now those who were just adopting May I use the expression that I don't like a white child because I don't think that such a thing as a white child would be such an ugly color of people white everybody so pink and beautiful that exact color and I think that's much nicer don't you and blue eyes or black eyes or or brown skins or brought all colors of skins Mother Nature is the best painter of all painters I think don't you she knows the best so I have taken these different children from the different continents together. And they live together and they absolutely believe deep inside that they are brothers in their right to because they or little brothers and sisters now I have come to my native land I have come here through wanting to come for a long time and you know the story I haven't been able to because some parties some people thought that I was well at a certain time a little bit too broad minded door frankly speaking words or saying expressions and doing the things but wasn't at that time very well accepted and I wasn't able to come back to this land with which I was born which I love because I think everybody loves their land and I have one thing in common with many people that I love all lanes because I love and appreciate all people and I love them because they have accepted me and in my way adopted me I've had the privilege of seeing today many people who have come and say hello Josephine I remember you've come to such and such a country and it's wonderful like that don't you think it's the right way of thinking of respecting people's whom from from different lands don't you think it's how it should be I think so because it's nobody's fault if somebody is like an egg and just hatched in one part of the world or the other doesn't let make him less a human being or a respectable person so here I am here in New York which to me is the cradle of all humanity because in this town one can see all peoples and one can appreciate all people and love them too and with this great broad minded way of thinking in New York City I came back I came back here because I thought that right here when I was allowed to come back. I knew that I would be understood I knew that I would not be Christmas criticized and I knew that people would try to understand why I'm still on the stage trying to make a living in an honest way for my children because these are my children they belong to you but they are mine and I don't care what color they are I think all their colors are most beautiful because I am my nature and I don't care what religion they might be practicing because they EACH OTHER own and are brought up in their office which can't Canton continent with which they came all of these things make me respect mankind all the more because isn't it not true that this planet of ours is a great big planet in some way and nobody can live on just well if everybody start coming to New York and the whole world there would be no place for anybody else in the other world and then the same time it shouldn't be like that because it makes us understand each other and appreciate each other all the more when we can contact each other and learn to love and understand each other so I'm here you've given me the possibility of talking about our children and you've known you have understood or learned now from what I've been telling you why I have adopted these children. And you know why I'm carrying on at sixty years old sometimes perhaps being a stupid fool on that stage because I have a sense of humor too and don't think for one moment that I'm when I'm trying to stretch across the stage that I don't know that our pop up perhaps in some eyes or some mind might be stupid and ridiculous doing it but nothing is ridiculous and nothing is stupid when you do it in the sense of helping humanity I think it's quite natural that I should even be food a fool if necessary in some people's sense if it's good for my children if it's bringing people together and making people understand that it can be if we want to so I put myself at your disposal at your feet as we say and I'm telling you this from the bottom of my heart that I'm very happy and very grateful that all of you received me so beautifully and you have helped me don't think that when you wrote such lovely things in the papers about my performance that I didn't know that some of you were helping me no it's not really that you were thinking these things it's just maybe what I'm trying to do touched your heartstrings and you know that I by helping me in your way is helping these children and their way later on because these children are tomorrow and we have to look to tomorrow and not any more today and thank you very much cool. To it. But your eleven children have a sixty sixty year old mother but all of us know that they have a mother a very young and hard and very very lovely and beautiful and looks to you are there any questions from us but. Yes I do question. Yes I do of course I do for the simple reason that all that we see were sort of united in some parts of the world everywhere that there's somebody who has adopted children of different continents. We know about it because we are happy that is getting on and on and on and making progress so you know I know about her and I'm so happy too because I know and there are other people's truth and thank God we might say throughout the world are doing the same thing their S.O.'s homes being established in Switzerland and Germany and so on so forth and there are a lot of peoples and in the entire world who are doing the same thing and adopting colored and white together when I say that negro and I have to say the white again I'm sorry ladies and gentlemen and and Indian or as the Arctic and so on so forth but you see I have the five different parts of the world the representatives the five not two or three the five because I wanted the five to be together because it's not true that they represent our globe. Yes or. Well I would do that in the US How did I or the two and I happened to drop ten boys and one girl I must say so that's one of the things that people been asking me a long time and it's a long but a short story I'll try to explain to you when I started to adopting children I first started with five the for each representative of the five corners of the world then. I don't like say races because I don't like to use the the word race or races because we all know that human beings belong to the same race that is a human race Well I did because first I got those five children five little boys then where ever I went people are saying now look here Joseph in unity on you're in our country and you want to baby take a baby so I took another baby and then I was going on and on and on and on till I got ten boys so finally I said to my husband Well Joe you've got ten little boys you can have a. Football Team me with one more but I must have a girl for myself because one of these days these boys are going to leave us and they're going to have families of their own when they were in the little girl if she grows up and when she grows up she will marry but she will always come home and stay with mother I was a little selfish of course but I have only one girl because of that and ten big boys because that everybody wanted to give me a child now when I was recently in Italy. For many many years the Italian people have wanted me to adopt as you say and I say to come in contact with another baby Italian baby and finally I did because my little girl keeps saying Mama I Want another little brother or a little sister well that happens and many families they want smaller ones She's because she wants to play dull with them and be the little mother so we went there Marianne myself and two or three of the other little boys little or little brothers and when we got there we went to this. Adoption Center and we looked through their windows where their little newborn babies because we like little tiny babies the ones that can hardly move and because we feel that we can do for more for them than they can do more for us by making each other understand each other and love each other and their merry way Marianne was looking and she chose a little baby who had a little tiny dress on little yellow dress and we asked the lady to bring the baby out the nurse of course and the baby came to sit all right that's the one that's going to be our little brother and sister the new one and because we didn't know at that time it was a little girl our little boy and they were taking the baby to be dressed then came a lady and she took me by by the by my shoulders and she started crying. And she was desperate and she was stroking the hair of the heads of my little boys around me and they were all looking at her and we didn't know why I thought it was because she was just there and and seeing the babies and all might be emotional of scum some come some way anyway. She went away and the lady came and said to me the nurse I'm sorry you can't have this baby because the lady who was just crying near you was the mother of the baby and she had just well she just left that little baby was only some days old and the baby's name was Stella. Which is means Little Star and. The mother took the baby in her arms and she went away with it and Marianne started crying she said she's taking our little baby but I told her that Stella you know was a little bit too small that we have to wait till she grew up a little bit more and that when she got big enough we would come and get her so now stealin or found her mother again which is much nicer I suppose and she finding us but Marianne is still putting her clothes her little dolls and toys and the clothes that get too small for her side and a great big box so that when one day still in it comes home she will be able to dress be dressed with her clothes so that's the stories are of all these ten boys and one little girl. I am. I don't regret. You know we are great.