Jonathan's Top 5 Female Songwriters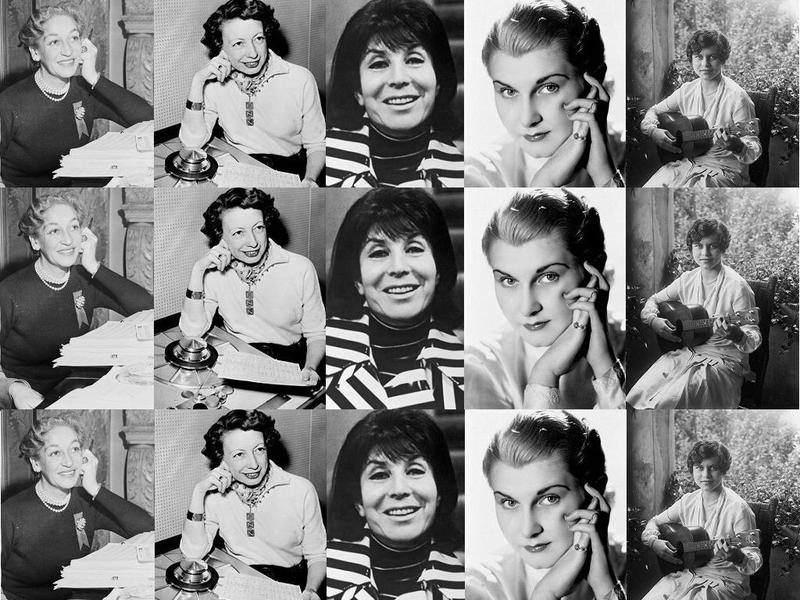 In honor of International Women's Day, we're demonstrating that The Great American Songbook is not a "boys only" club. Here are just five of many of Jonathan's favorite female songwriters. Learn more about them and the songs that place them top of Jonathan's list: 
Dorothy Fields
Though he was an entertainer himself, Dorothy Fields' father disapproved of her perusing a career in show business. Instead of obeying his wishes, Fields went on to have a 48-year career in the business. She co-wrote more than 400 songs and worked on 15 stage musicals and 26 films. Her words were paired with the music of songwriters such as Arthur Schwartz, Cy Colemand, and Jimmy McHugh. One of her most famous collaborations was with Jerome Kern on their 1936 Academy Award-winning song, "The Way You Look Tonight."  
Betty Comden
If Betty Comden would have been born in the second half of the 20th Century, she would have likely been a cast member/writer on Saturday Night Live. She was as funny with her pen as she was on the stage. Luckily, for her writing partner Adolph Green, she was born in 1917. Their's was one of the longest partnerships in entertainment history. They wrote together for over 60 years, creating hit shows like Bells Are Ringing, timeless movies like Singin' In the Rain, and beautiful songs like "Lonely Town." 
Ann Ronell
When Ann Rosenblatt of Omaha, Nebraska, met George Gershwin through an interview for Radcliffe College's newspaper, he gave her some sound advice. To him there were two ways to get into the business of Broadway: "Dancing in the chorus or playing piano for rehearsals." Later he offered her a little more advice, she should change her name from Rosenblatt to Ronell. The two remained friends and when Ronell wrote her most famous song "Willow Weep For Me," she dedicated it to her mentor, George.
Ruth Lowe
Sinatra may owe it all to Ruth Lowe. It was out of the misery of losing her husband that Lowe composed "I'll Never Smile Again." A song she would pass on to one of her favorite band leaders Tommy Dorsey, and who in turn passed on the opportunity to perform it to his new young singer, Frank Sinatra. Out of Lowe's misery came his big break. The song was a hit and launched Sinatra to stardom!
Nancy Hamilton
"The only way to get a show is to write a show," that's what Nancy Hamitlon told author Linda Dahl about her experience in show business. She wrote many shows starting with revues at Smith College and continuing to the Broadway stage. But it was her contribution to The Great American Songbook that places her name on jazz sheet music around the world. That contribution was writing the lyrics to the popular jazz standard, "How High the Moon."