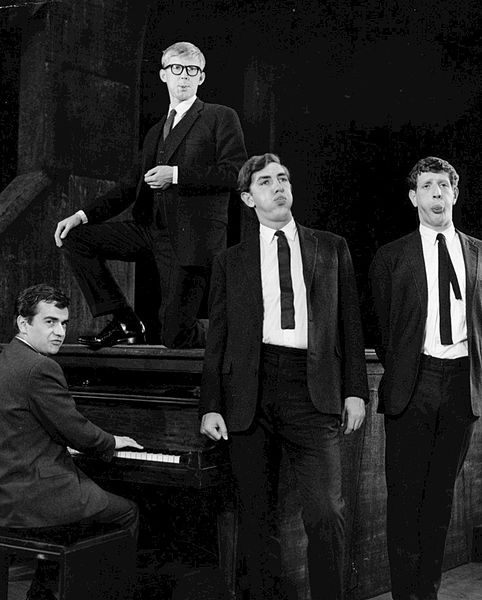 Summary
Patricia Marx interviews Sir Jonathan Miller, the British actor, director, critic, humorist, and medical doctor, who has recently had great success with the satirical stage revue "Beyond the Fringe." In this interview, Dr. Miller discusses what aspects of satire appeal to him, as well as the effect it has had on his medical knowledge, and vice versa. He also touches on the disappointing lack of outstanding satire, television, and criticism in the United States, as well as his plans for the future, which mostly involve continuing the work he has done.
WNYC archives id: 56209
Transcript
This is a machine-generated transcript. Text is unformatted and may contain errors.

Dr Jonathan Miller has packed a lot into his twenty nine years he is a graduate of Cambridge University and a practicing M.D. he became famous in America as one of the four authors and actors in the British city Rekha review beyond the fringe no longer acting he has just collaborated on the new version of the show and is also putting his marvelous wit into print writing criticism of films television theater literature for various magazines that you studied psychiatry before you became a satirist and critic do you find this training helps you directly in your writing. Not directly. In many ways I find that. Experience I've had in writing helps or will help if I go back to psychiatry I think that. If you psychiatrists and few doctors have an adequate literary training and they tend to treat human behavior in terms of clinical categories which distort. The human form in the human mind whereas I think if one comes back to medicine after some years in literature I think one's introduced many more joints and ones thinking. A lot of doctors. Acting in a review is a far cry from the doctor how did you get into Tire I didn't go to satire such. As a rock has been foisted upon me. I got into review and into into comedy because I did it as an amateur when I was at medical school and when I was at university and this particular show came up as an opportunity shortly after I qualified as a chance of doing this show during a vacation and it became more successful than was expected and I was offered the choice therefore of of a new career in many ways breaking away from medicine and trying a career in the theater. I wouldn't want to continue in the theater to the exclusion of medicine I must fight try and find some way of marrying the two if possible what did you learn about satire since you've been creating it yourself. Well really I've learned that there's no such in the there's really no such thing. It's a very diffuse concept I don't think that any anyone is really a satirist or anyone who chooses to be a satirist I think makes a fools and makes a fool of himself I think it's it's. It's two distinct artificially distinct this and this notion. People who are interested in humor by nature will be satirical because human depends on a certain sort of destructive cynicism and certain disbelief in an accepted truth and so that if one deals in laughter at all when it's bound to be upsetting someone that will come out and this really is the way in which that highrises. I think that political satire is a very special and separate. Branch of comedy it's one which I'm not particularly interested in which branch are you most interested I'm much more interested in fantasy and with the bizarre compartments of the back of the human mind which really have nothing to do with politics at all. Do you put this into the beyond I do myself my own personal Solo's are much more concerned with internal fantasy and much less concerned with politics. The pieces which I do in collaboration with the others in some ways are to do with politics some have to do with social aspects of human behavior and some game of purely personal aspects of human behavior what do you mean by fantasy Well I mean those things which are less connected with firm reality. With letting imagination take its own head and controlled by the facts as we find them in the world. And of trying to think of the best example I think the casket is fantasy this is the sort of fantasy this is not a humorous fantasy which I find interesting and particularly. When one is completely free. Associations can flow into the mind without any hindrance and one can one can paint any sort of fantastic bizarre odd grotesque picture of behavior that one wishes to Whereas if one is in the area of political satire one is really bound by the facts as they exist what is its relevance to actual behavior it's very hard to say fantasy really is the enormous play shadow play that goes on behind the behind the public face. And the ordinary human behavior which we see in the street which we see and social behavior is just the version acceptable version. Which is filtered out and censored from that vast fantasy world which we all enjoy inside our head you said that the comedian Lenny Bruce is agonized in the way a real satirist should be I wonder in what way you feel. Should be agonized I think that a real satirist is someone who is genuinely disturbed and agonized and pained by certain absurdities and vileness of the human condition and he uses comedy to expose the most painful edge of these conditions. You see Bruce for example is he's agonized by certain sorts of sexual certain sorts of sexual boundaries that exist between human beings and he uses comedy to break down these barriers and to expose the hypocrisy of some of these barriers. He's agonized by the absurdities of certain racial distinction and by the by the absurdities. Of certain laws laws connected with drug addiction. And he's interested for example in comparing the the stringent cruelty of the law is concerned with drug addiction as compared to the tremendous laxity with which we deal with alcoholism which is a far more serious and damaging problem for society really than drug addiction and he puts these two side by side and exposes what really is an agonizing absurdity and it's just the way you. Well know I don't really because I'm I don't feel myself to be an agonized person in the way that Bruce clearly has. I've had a very comfortable life. I can see certain absurdities but I'm not personally injured by them in the way that Bruce quite clearly is. Bruce I think is a person who is a. Who is raw and exposed and has personally experienced many many of these things in a way which I never have so that in many ways my satire is a very second hand synthetic sort of product. It's marketable but it doesn't spring from any immediate experience which I've had what would you say does spring from well. I think that it's a modern style at the moment it's fashionable for young men with intelligence and education to mock the world of established values. It's an elegant pastime really whereas for Bruce it's a serious and compelling pursuit so much so that he's let himself into total self-destruction by following his his destiny right through to its logical conclusion he never was draws. He's quite wrong come on compromising he takes on the most. Enormous problems on the stage and doesn't flinch from them and he's let himself into. Well into the most appalling positions and as a result of this he's become more agonized as a result of this and then from the agony which he's experienced has built up fresh satire so that he's let himself into a vicious circle. From which he will never escape and this I think really is AM is the original staff of Santa and there are very few people around who are quite like Bruce I think that Bruce really stands alone in this country as a genuine satirist because of the absolute loneliness of his pursuit and I think that there are many groups at the moment who indulge in satire and that's and it is an indulgence they're very good at sometimes people at the second city on the premise. And comedians of that sort. Clever but they are indulging in something in a way that Bruce is not Bruce is. Laying himself open injuring himself because he passionately believes in and exposing certain sorts of absurdity in the in the society which he knows I know you said before you came to America you've been led to believe that. In this country what do you feel about it now. Well I have. I not seen very much more of course now than. When I was available anyway and even then most of the satire which was come from this country was on record anyway Mort Sahl I knew from his from his large number of albums. Seeing him at work doesn't really add very much more I was able to see the second sitting at work who had whose work I admire very much indeed I think that they're brilliant actors they're inventive every comic They have great antic skill and I don't think they're primarily satirists because they're not personally deeply and painfully involved in the subjects which they treat. Their. They're brilliant parodists of society but not I don't think I'm going to satirists. Any issues that you are deeply personally. I suppose there aren't really I would like to say that where I think everyone would like to be swept away by some passionate conviction and I think this is something which we all seek really. I think if I was really honest with myself I would say quite clearly that there are no things for which I would be willing to expose myself. To. Pain or humiliation in the way that Bruce will do and it's really in the end is the ultimate test of a satirist. And that's why I really I put my glass of satire in the category of indulgence and here's in the category of genuine satire. I mean for example I feel strongly about the Negro problem but I'm too much of a coward to do what many of these young Negroes do to go down and offer myself up. To the police dogs and the hoses when you describe the kind of. Destructive cynicism Now does this mean that satire is destructive by nature can have a constructive effect at the same time you know because no humor is constructive humor works by exposing absurdity it's a demolition job in this way it's often the the antecedent of constructive work. It is the ground. It removes hypocrisy it strips unhealthy vegetation from the ground and allows people to come along then afterwards who themselves will not be humorists to build upon the ground which the satirist has cleared but satire itself can never be constructive it must be destructive I think that it's naive when one hears a lot of people talking about a satirist and saying why can't we have a say something constructive it just isn't in the nature it isn't in the logic of satire to be constructive how you feel about demolishing things today when there are so few ideals or purposes that people really believe in are committed to is the demolition job necessary today yes because I think that certain of the edifice is which we attack it is which seriously obscure the moral vistas. While they represent perhaps conviction of some sort the mere fact that they are positive convictions doesn't give them value as irony. They often enshrine an enormous amount of social cruelty and viciousness of one sort or another they both start up certain sorts of social pride and. Arrogance what kind of. Well there are certain absurdities an established religion certain. Certain cruelties an established religion certain embargoes for example on contraception and on human relationships which I think are seriously in injuring two spontaneous and constructive human relationships. And I think that by blowing these sorts of things over one is leading the way to a constructive program which will come on behind Do you believe. Make enormous complex question and I think that things change. And there are sometimes changes for the better which will often involve. Changes for the worse which they carry in their in their wake. I think that there is a tendency towards amelioration. But it's a complex one time head which runs against itself as well. I'm not basically very optimistic about about human affairs as I am very modest lines somewhere in in some essays by Samuel Johnson where he talks about the human condition saying that really the the the basic and alterable state of man is one in which the the reveller going on his way is passing the mourner who is going to bury a friend and this really is the way in which human affairs work and when just tries to keep the trend in the direction of improvement. Whether or not this is going to lead towards an overall progress I guess I think not probably. I don't know I don't think the there is a direction in human affairs. There are currents which which lead off in one direction and then turn back on themselves and make a whirlpool which become static and then which perhaps turn back on themselves and destroy the very progress which they've set up. I don't really see directions or arrows pointing in any one way in human affairs at all. Most of your victims in Beyond the Fringe are English what would you satirizing in the American way of life I think it's very hard to say that. There are so many obvious things which one would satirize. I think in many ways not the most interesting things to satirize. The strange notions of patriotism and it's the spirit of the continental populism which one finds in the Midwest the. Daniel Bell calls the national style the trend which runs away from modernism towards the again away from the interference of federal government away from internationalism. Away from commitment to foreign aid away from all those things which involve direct engagement with the improvements of the modern world. These are things which I don't satirize a very hard to satirize really it's very easy to parody them and to caricature your the the Midwest and the far right. But that's a very subtle paranoid process at work in this continent it goes back right to the very roots of of the American of American History exhibit. Well exhibit itself in all sorts of odd odd ways I mean in the most extreme bizarre and dramatic form I suppose in the things like the behavior of the John Birch Society. And the fanatics of the South. But more subtly in the. In the accepted forms of patriotism which you find in this country in the unquestioning hatred of communism which is not really a hatred of communism so much as a hatred of foreign vague foreign invaders from from outer space which starts at the Atlantic already start of the Hudson. I was very interested in your article on Lenny Bruce for the part of some of you you referred to color bars prudishness and all the others so lacerating hypocrisy is with which America is so unnecessarily tortured Is this the kind of thing that referring to well that's one of the things I think of course I think perhaps I was unwise to limit it to America. Perhaps America being so much larger and. The movements which are kind America being so much bolder the when these things do take place they take place to much more dramatic and the nearing effect than they do in a small country like England. Which has I think much more political and social inertia than America does want to try strange feeling that that as one goes further west there's a dry political Timberland across which huge fires of prejudice and fury can rage unchecked. And therefore I think that a lot of the day progresses and lot of the. Of the prejudices which occur in America can can light up to much more dangerous effect than they have accounting and would you describe these as self lacerating and and torturing the ones that people that. These really don't seem very self tortured whatsoever it doesn't lacerate the individuals but I think it lacerates the lacerates the body politic. It injures the overall maneuverability and political flexibility of the country makes it much more prone to political ineptness and. Clumsiness in international behavior and indeed in. Internal domestic behavior. I think for example that. There are certain sorts of self-deception that hypocrisy which lead to. Self laceration for example in the field of. Of socialized medicine I think the way in which Americans reject socialized medicine and thereby injure themselves really quite severely. Particularly amongst older members of the community I think springs from a self-deception from a belief. A phantom belief in a rugged individual. Who does himself best by they be independent my not being helped by the federal government you've been writing television criticism for The New Yorker and I know you said Television is garbage What is your feeling about the medium itself I think that the media as it exists at the moment the sheer medium I think is capable of very little because it so it comes across so lousy It just looks bad it's small. Its reception is usually pretty bad and it has a very expensive antenna or a very expensive set. It's subject to all sorts of visual uncertainties it flickers and it rolls and it wobbles and it dissolves and it has snowstorms and ghosts and and all the things which everyone knows so well so I think that it's very hard to put high quality products on television because it gets minced in transit. Without that it was if it was full size as large as I said in my screen for example and if it was just clearly focused as a cinema screen and was Muslim subject to the same sort of measles and atmospherics it gets. I think that it would be capable of all the things which the cinema is capable of except that it goes to a large anonymous audience. So that the people who design the programs I think are always forced to average down the material to meet the lowest common denominator. And even those programs which have serious intellectual intentions. Somehow end up by being. Over overinflated and boring and just conscientious and completely uninteresting I want to document what you felt about the American program this is the week that I didn't like it at all. Sounds like sour grapes because I was responsible for directing another program of the same sort on another network but I searched my conscience about this and I think that I do honestly believe that our program is better than theirs. I think there was something very labored about the way in which they worked except of course for that brilliant sketch by Nichols in May which you know was at their usual high standard rest of the program I thought was extremely heavy handed and very self-righteous it was morally on the right lines and. You know appropriate. And boring but do you think this is a kind of satire that Americans just don't do naturally. No I think they do it quite naturally The second is that one sees this sort of that are coming across very spontaneously with a normal sort of facet in freshness. But I think it was approached to deliberately as satire it was decided this was going to be a satirical program and so terrible subjects were dutifully trundled up from the basement and paraded and what the what was paraded in the end was an extremely boring series of expected attitudes What about the same kind of program that you had directed previously do you envision that going on I don't know a vision again at the moment I don't and this is going on in there it's been shelved temporarily and I think suspect permanently. It's very hard to find sponsors for this sort of thing particularly if one is really going to attack the problems rather than just simply dutifully attack them and make a series of token passes at the problems. I think if you really do draw blood if you want to strike to the marrow of affairs it will disappear from television instantly and I think that television is run of the top by a lot of fairly mediocre. Ambitious executives who see that in television and extremely good financial investment and would never risk that investment with any sort of intellectual social or political adventure and also it's television is destroyed I think by being such a massively bureaucratic organization. The ratio of performing and creative staff to the bureaucratic stuff is absurd. And so that anything which ever emerges in the creative area is instantly crushed by the bureaucratic figures you criticism with the bad writing about the literary and television books what do you think of the general level of criticism in the state. It's got my own. I think it's very low I think the theatrical criticism in this city. Is of a very. Pedestrian and middlebrow standard. It seems to me a shame that. Serious and original. Theatrical products should depend for their survival on the tastes and the sensibilities of. Really want to have very really rather boring men I think that the best critic in this country or just in New York is Robert Bruce Stein of the New Republic. I think that he's drama criticisms are. Already of a very very high standard indeed. And there's no one really in the in the in the large circulation papers who approaches his sort of sensitivity or intelligence that are you you still involved in. Writing criticism What are your plans for the future. I don't know really I'd like to I what my plans are very vague first of all they're very vague and need in many ways the successor be on the fringe in the various marginal benefits which that's brought to me has considerably I was upset my plans and it's disturbed my pure professional aims in medicine. And I suppose it's disorganized my life in many ways I welcome the disorganization it's it's broken up certain rigidities which I would otherwise have been bound to for the rest of my life. But on the other hand I've. I've had clear intentions very seriously blunted by that. I would like to continue in some sort of attachment to the theatre I don't ever want to act again but I do not directing. I would like to go on writing as much as I possibly can although I do find it an agony and a pain writing. I would like to have some sort of contact with medicine I think I would feel very very acutely deprived if I was away from it some of the rest of my life I draw a lot of my. Images and sought from my medical experiences but only when I think I don't want to be tied down to an absolute absolutely rigid professional program of medicine it's very demanding and I don't think going from a good doctor if one is playing around with other things at the same time I read somewhere that you think you're writing a novel is this true I would like to have a specific theme or. What I do something of mine but I hate to talk about it because I think it takes the head of steam off it and you can easily top the thing into existence and you also said you want to do academic work as I did once I don't think I don't I don't really think I do know. I think it takes a long time before one shakes off the. Compelling. Images of the. Of the campus. And the ambition is which the university forces on you when you're young it took me a long time to shake off academic ambition and it took me a long time to broaden my horizons. Beyond those determined by one's experience at university. Until recent do nothing more I wanted them just to stay in the university and what on my way up the academic to become a professor but I don't have that now you've got me on the. Thank you very much for.