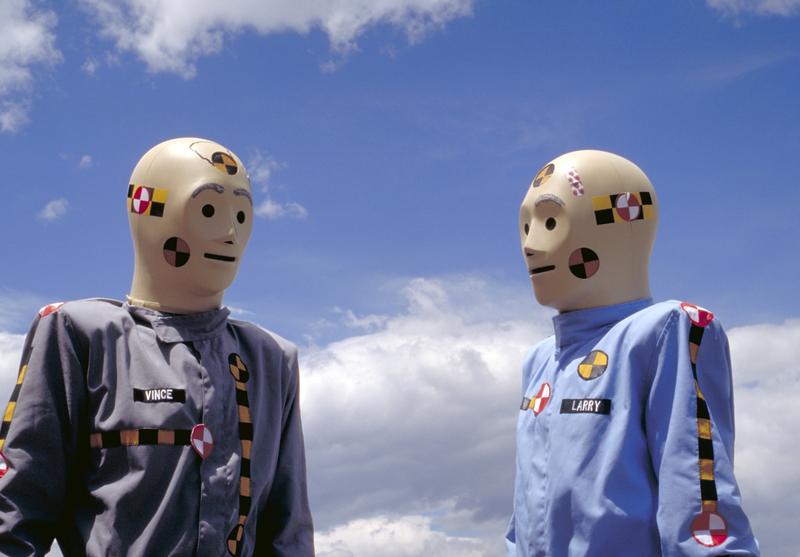 Summary
This episode is from the WNYC archives. It may contain language which is no longer politically or socially appropriate.
Moore, director of Cornell University's automobile crash and injury research, discusses why so many people are killed and hurt in automobile accidents.

Jay Nelson Tuck hosts.

Panelists: Barbara Benmolche, Raymond M. Tierney, Jr., and Farrell O'Brien

Questions:

During Labor Day weekend, about 400 Americans will be killed on highways. The very word "holiday" now means death and injury to far too many of us. Legislation for automobile requirements to reduce fatality in the event of a crash, House resolution 1341. Moore compares regulation of automobile safety to federal food and drug regulation. Disease on the highway is an epidemic .. there are certain ways of inoculating the disease. Door locking mechanism that will reduce the likelihood of the door opening automatically. Ejection has more influence on the severity of an accident than any other aspect. Recessed steering wheel hub and bending spokes. Everything else is installed with an additional charge. Most people don't bother to use seat belts when they're available. Programs to encourage the public to install and use seat belts. Rear end collisions cause whiplash; similar trauma in aircraft is prevented through seat structure. Initiatives to limit the number of cars on the road.

There are more automobiles than tax payers. Any harsh regulation to restrict the number of cars would upset the apple cart of the American economy; the automobile industry controls a large part of the American economy. Federal Safety Program would be very expensive, but the federal government is less likely to be influenced by lobbying than state and local governments. States with enlightenment and knowledge and manufacturers with the same can solve the problem faster than can federal legislation. In the event that action is not taken by these agencies, the Federal government must step in. The government operates a fleet of 275,000 automobiles; equipping these automobiles with safety equipment can have an influence on Detroit auto manufacturers to make this equipment standard for all automobiles. Some regulatory statute must exist to ensure high quality materials.

The more you can bend an automobile, the more energy you are able to absorb in an accident. Accidents and automobiles do not in and of themselves cause injury or death. In fatal automobile accidents, 40 - 45% of the drivers in single car accidents had a blood alcohol level above legal limits. There is no doubt that alcohol plays a great role in accidents. This has no bearing on whether he is injured or killed. In Sweden, the highest level of alcoholism and lowest rate of fatal automobile accidents because of the social unacceptability of driving under the influence. Prohibition proves we can't legally take alcohol away from a driver. We have to approach it on a moral and social plateau. We can't take cigarettes from Americans, but we can take cancer causing agents out of tobacco.
Audio courtesy of the NYC Municipal Archives WNYC Collection
WNYC archives id: 72072
Municipal archives id: LT8795
Transcript
This is a machine-generated transcript. Text is unformatted and may contain errors.
Can the world survive the automobile. Are European cars safer than American ones is there any real cure for the epidemic of slaughter on our highways Well the answers to these and other questions listen now to campus press conference every Sunday at this time editors of college newspapers question a newsworthy personality how a moderator on campus press conference is the noted newspaper man and editor J. Nelson tough now to introduce the panel and today's guest here is Mr Tuck Good afternoon next weekend as the Labor Day weekend during the three days of that holiday about four hundred Americans will be killed on our highways the very word holiday that the supposed to be such a happy and cheerful word now means death and injury to far too many of us a Cornell University here the scientific group is trying to find out why so many of us are killed and hurt in automobile accidents for years now they have been studying accidents and automobiles considering improvements and recommending new designs that might save human life our guest today on campus press conferences Mr John Paul Moore director of Cornell's automobile crash injury research and here to question him Bob or a ben most of the Hunter College arrow and Raymond I'm Tony Jr and Pharrell O'BRIEN Both of the Fordham student bar association right you want to start. Mr Moore just recently in Washington specific legislation was passed concerning basic requirements that automobile manufacturers would be required to have in automobiles would you care to comment on this or. Well the legislation which was passed last Wednesday was false reading resolution thirteen forty one sponsored by kind of the Roberts Congress one of Alabama. Mr Roberts has long been concerned with legislation in the field of human. Preservation of life and has had great influence in our research activities in the field of the National Institutes of Health and other governmental sponsored activities this particular bill requires that the federal government shall not procure any of our automobiles for use in its federal fleet which amounts to about two hundred sixty thousand vehicles unless they use automobiles purchased shall have in them certain devices which we are aware of now that will reduce the possibility of a human occupant being killed or injured when an accident occurs. This we think. Those of us in the research area in any way at any rate in any level think that is. The first step that has been taken that might be like an under the federal intervention in the field of Pure Food and Drug laws which govern our meats all vegetables that we buy in the grocery stores and cans the kind of drugs we buy the purity of a soft vaccine we administer to our patients and things of the sort. This legislation. In essence says that. Disease on the highways is an epidemic and national disgrace and there are certain methods of inoculating are preventing the likelihood of this disease which we medically have such such difficulty in treating them or what kind of specific changes are going to make in these cars what's the government requiring that I wouldn't get if I went out and bought a car tomorrow while the day based on the research that the Cornell group has done over the past six or seven years you will by any standard American automobile a door locking mechanism that will reduce the risk of your door opening about forty percent of the door locks that were made on American automobiles before one thousand nine hundred six we know from research that is that injection has more influence on the grades and the severity of human injury than any single factor that occurs in anonyma Bill accident you will also get on all American automobiles a standard equipment. A steering wheel which has the sort of post all the hub of the steering wheel recessed below the RAM and the spokes of the RAM others and to bend ahead of the crushing of the chest. But then if you want additional items you will have to buy of those as optional equipment and you are offered little sales inducement to purchase the padding of material on the instrument panel and the sun visors which guard the head a strip ahead of the windshield above when she or all the seatbelt which is the one thing that we know will do more than any other thing to prevent the likelihood of disease of injury and death in an accident Barbara you just mentioned I was wondering I have seen cars and have seen thousand I'm reading and I know that most people don't want any of them when they have them now are you have you any suggestions as to how to get the American public to you'll see South once they get some of Bob Ryan My my propriety your question by saying that I think we are faced with a similar problem here that we face. Up to and offer a sing up to the day in the field of the administration to solve vaccine for polio my life this we know that's all vaccine is a specific that will prevent this disease and over ninety five percent of the people to whom we administer it and we are faced with the public and difference for instance in the UK city we have less than fifty percent of the population and not the later with us although we've offered it to them freely now in discussing seatbelts our safety belts whatever term you want to use and we use and research the term restraining device indicating that it will restrain and package people from the forward direction they will travel in when the car stops. We've we unfortunately know that this device will do more than anything else but here is one device that we have to depend upon public education and public communications to get public response to this makes our job very difficult because you should understand that the research man who identifies the new things has no. Charter and no funds which is more important than his charter. To engage in education and therefore we must depend upon public information public media resources we are very pleased that. The American Medical Association the United States Public Health Service and the National Safety Council have agreed to undertake a long range sustained planned out educational program for the public in the area of encouraging the public to install and use seatbelts but the better truth now is that people many people who have seatbelts don't use them at the time they need them well there's another thing I was wondering I've heard of many people who have been in rear end collisions Venezuelan another car comes up behind and bumped the car that they're in and they are sustained anything from broken necks to spring next to back injuries now how I mean this is just a jar even if you package a person how could you overcome this nephew now well. May I call your attention to the fact that we've been making military aircraft for many years and every time aircraft or lands on the deck of a carrier the arresting the Jets the aircraft to a sudden halt which is the same as being hit in the rear. And we don't have power it's what broke next offspring that we control this symptom of a disease of what we call trauma or injury on the force conditions by merely supporting the back of the neck with a seat structure and this can be done in fact one American Automobile Manufacturer offices optional equipment this year I believe it's the Nash Hudson Rambler series. Which has a netting that extends up back of the neck so the neck tends to whip real wood in the rear end collision the neck is trapped and it cannot hyper extended self as we say and that means. We get into this injury pattern we call this injury pattern and the common term for this injury pattern you are describing is permed whiplash. And this is one of the greatest problems that the insurance. Lawyers have to deal with in automobile access particular in our large metropolitan areas where so many of them because of the very density of our traffic our rear end collisions right. Mr Moore with this disease as you call it on the rise it would seem to me that one of the basic problems is one of numbers I was wondering whether anything has ever been done to perhaps restrict the number of automobiles on the American roads I believe in Bermuda for instance the the number of cars per family is limited to one so that if an older brother for instance owns an automobile a younger brother can on one until the other sells it and in the same line a far western local legislator recently proposed that the only automobiles allowed on the roads were the ones completely paid for. That they would take most of them are. About right well I don't know why you people on this panel oppose such. Hard questions for me I can't give you a quick and dirty answer to your prank I must be a little bit wordy about answering it I would start out by saying that the most essential instrument in maintaining the American economy and society is a passenger automobile we have more immobile now than we have income tax payers we have more licensed drivers by far than we have income tax payers in fact everyone complains about taxes but the automobile is more common than tax and more expensive and more expensive but the truth of the matter is that if we were to move in with any harsh legislation to restrict the issuance of licenses to our driving population ought to restrict the number of vehicles on our streets and roads we would completely upset the apple cart of American economy. The automobile industry you must understand it controls America in a fashion that most people don't recognize twenty percent of twenty five percent of all the steel we make goes into automobiles thirty seven percent of all the radios manufactured America each year go into automobiles sixty percent of all our other products are going to automobiles now if we start discussing this matter of harsh restriction and reduction of this then are we willing to take the penalty of the economic bite that comes when we begin to say you can't live in this community because you can't have an automobile and you have to have one to get to your job and get back or you can't take a vacation because you can't have an automobile to get from your home to your vacation spot I'm afraid desperately afraid we move in this direction looking for solutions to this problem that we will up set so many. Vital American structures that this would be like opening Pandora's Box expecting politician opposed to be upset by the voters prefer agri. Farai was not a question that Mr Moore the system or the legislation that was previously referred to I gathered from what you said you were simply regarded as the first step in this fight against what you have so aptly terms a national disease I wonder if you feel that a federal safety program including a uniform federal traffic law is necessary to materially diminish the tragic perennial slaughter on our highways all would you advocate that all such programs remain in the hands and the control of the various states of Pharaoh First let me put myself on record as saying that I'm a Southerner. Ever my head of a trade. And as such I am a fierce they try to make. I one hope that we do not have to turn to fact but just wait and control I think this would represent a inordinate cost to the government to have a C A A C. A B.. C. C. thing for automobiles I believe we would have to look at the range of somewhere around five hundred million dollars a year any appropriations to administer such an apparatus the only reason I'm interested in the federal government's intervention here is that the federal government represents a body politic or a governing body that is less likely to lobbying influences and the minister Paul or state groups are subject to these gigantic. Agencies of American society have a way of influencing local and even state level legislation to an amazing degree. I hope that we don't have to see this day I believe firmly that states within Lighton money and knowledge and manufactures who make the agent which causes this disease with knowledge as to the quality of their product that has to be changed all the characteristics of that product that has to be changed can solve this problem far faster than we can by federal legislation but an event that this disease which threatens the well being of my children and the risk of their growing to adulthood and contributing back to American Society for the investment we have made in those children is not but in event this action is not taken by these agencies then I think we have to look to the federal government to intervene but I hope we don't have to. Post more speaking of this bill just so the government buys two hundred sixty thousand cars. And all these cardiac arrest you they operate a fleet times are two hundred seventy thought thousand but they buy approximately fifteen to eighteen thousand passenger type vehicle after an M R Well are vans going to be a lot of cars to be equipped with padded boards with safety belts and other factors do you think that the very fact of this federal purchase creating such a large percentage of cars being quick this way will encourage the automobile manufacturers to make these things General equipment all of government simply have to buy them as extras the way the rest of us do well and I believe that this will have a major breakthrough almost a sonic various type breakthrough on the decision. Of those people in the try to manufacture automobiles to begin to offer more of this equipment as standard equipment and all. The material which is used to pad dashboards for instance if it's the right type of material it can be the wrong type and look just like you but what are some federal or some regulatory statute here the federal such as the federal government could propose the buying public is sort of like a bunch of suckers they don't know whether they're getting good aspirin or bad aspirin if. You could put sponge rubber on that day's board and spun driver we know research wise is no good at all too soft is too soft it hits bottom long before we run into the range of forcible injure the human skull or damage the brain now we have experimented for years with material at Cornell in collaboration with the chemist and scientist of us rubber Corp we can drop eggs off the twentieth floor in New York hospital on two inches of this padding and never break the shells we don't repeal a drop eggs recently on a television show on Johnny Carson's from the latter about thirty feet high recently I saw Gary Moore use the same technique on one of his shows. This type of material Lol must be spelled out and here we have to turn to some professional Our governmental regulatory group that would specify what the public should get for its money. And not let the public be deluded I do believe that if the federal government requires it and the state governments begin to require for their fleets then the manufacturer will find it efficient to go ahead and equipment and make it