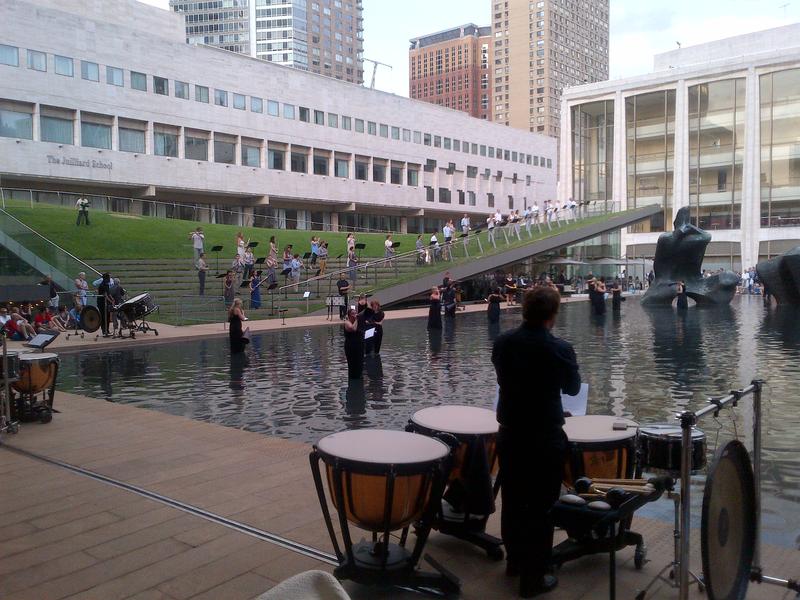 At 7 p.m. on Friday night, I heard a siren on Broadway, outside Lincoln Center. I know this because I confirmed it later with several other people. But for a good 20 seconds or so, I wasn't sure if what I was hearing was in fact a siren, or a part of the music we had gathered to hear at Lincoln Center's Hearst Plaza.
This past weekend saw the premiere of Sila, a new immersive work by this year's Pulitzer Prize-winning composer, John Luther Adams. Adams lived in Alaska for four decades, and a lot of his music has dealt with environmental and ecological concerns. These days he divides his time between New York and Mexico, but his music still grows out of big ideas about our interactions with our landscape, wherever that is. 
So Sila created a kind of alternative urban soundscape in the plaza between Avery Fisher Hall and the Vivian Beaumont Theater on the Lincoln Center campus. Built around the natural overtones of a single, deep B-flat, Sila combines five "choirs" -- one each of brass, winds, strings, percussion, and voices -- in ways that follow the rhythms of the players' breath. (Sila is a Native Alaskan term that means "breath of the world.")
The resulting music has no conventional melody, no recognizably Western harmony, and no obvious pulse. It's not a drone, exactly; more like a drone that's been refracted through a prism and each of its component parts turned over and examined. Sila creates its own sonic world, one that somehow manages to be both self-contained yet completely open to interjections from the larger world around it.
So a siren could almost blend imperceptibly into the rising and falling of the overtones of the piece. A helicopter flying overhead was just another example of sound growing and diminishing, Doppler-style, that characterizes much of Sila. John Luther Adams and I did an interview at the Bruno Walter Auditorium before Saturday's performance of the piece, and he pronounced both of those Friday evening intrusions "magical." He also admitted that when they rehearsed the piece fully, for the first time, at an indoor rehearsal space, "it sounded terrible." But then, it was created specifically to be an outdoor piece.
And while I have to write here that the piece did eventually end, that doesn't really do justice to the way the music seemed to gradually fade away, blurring into and leaving us with the wider music of a summer evening in Manhattan.