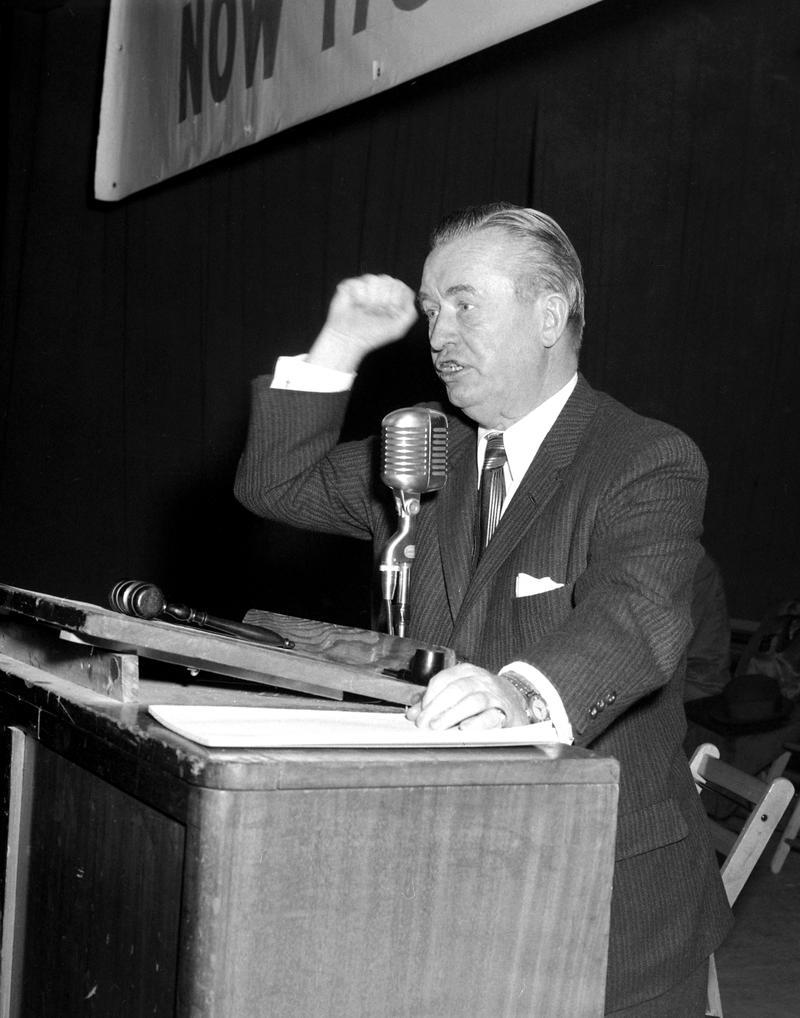 Summary
This episode is from the WNYC archives. It may contain language which is no longer politically or socially appropriate.
Jay Nelson Tuck moderates.
Guest is John J. DeLury, President of Sanitation Men's Association. He discusses questions related to public employees right to strike. The Sanitation Men's Union is part of the International Brotherhood of Teamsters.
Panelists include: Stan Siegel, Henry Kurtz, Jim Farrell, Ed Stover, and Peter Franklin.
Questions:
Jimmy Hoffa will never run Local 831. DeLury has taken stands against Hoffa. Local 831 has exclusive bargaining rights for sanitation workers in the city of New York. DeLury does not believe that the International Brotherhood of Teamsters will be returned to the AFL-CIO while Hoffa remains in control.

DeLury believes that the Senate investigation committee is working with the National Manufacturers Association and the various Chambers of Commerce to destroy the Labor movement - he calls it a plot to bring about the "scab law" (Right to Work law).
The Local 831 recognized five years the need for a more liberal pension system. DeLury got an independent study to confirm that sanitation workers face greater risks that police or firefighters. It was determined to be the second most hazardous job in the country, second to logging.
DeLury believes the sanitation department is being discriminated against - the fire department and police department both enjoy better benefits because there is some "glamor" related to the risks they take. He does not believe the police should be allowed to strike.

Audio courtesy of the NYC Municipal Archives WNYC Collection
WNYC archives id: 72130
Transcript
This is a machine-generated transcript. Text is unformatted and may contain errors.
For the city take back the job of commercial waste disposal as the current campaign to clean up New York City been successful is the sanitation department being discriminated against by the city do sanitation men receive adequate pensions Jayne's half a control the sanitation men's local of the Teamsters Union for the answers to these and other questions listen now to your city stations Kansas press conference each week at this time in this transcribed discussion editors of college newspapers question a news where the personality Jane Olson talk noted editor a newspaper man is moderator of the series now to introduce the panel and tonight's guest here is Mr Good evening a few local questions agitate our city more violently than the problem of public employees and their rights if a group of public employees strikes at the subway motorman that some time ago there are immediately loud outcries they have no right to do so and that they must be punished many public employees agree that they should not strike for famous to also ask themselves another question if they cannot strike how else can they advance the claims that they believe to be just or obtain what they believe to be a fair settlement of their grievances our guest this evening on campus press conference is a man who must wrestle daily with problems like these Here's John J. To Laurie president of the uniformed sanitation Men's Association an organization of city employees with ten thousand members the men who clean our streets and take away our garbage the sanitation mans Union does not stand alone but is a part of one of our most widely known international unions it is local eight thirty one of the International Brotherhood of Teamsters whose international president is James Hoffa here tonight the question Mr De Lorean for editors of the status of colleges papers in New York. They are hungry carts for Columbia Spectator stands for the goal of the N.Y.U. square Journal Jim Farland and stopper both of the Fordham lexigrams and Peter Franklin of the City College observer observation post I'm sorry Peter and Peter has the first question this is Laurie your association is local a thirty one of the International Brotherhood of Teamsters has been said that Mr Harper ruled the Teamsters with an iron fist that the rule your local Jimmy Hoffa will never run local eight thirty one which is the uniforms sanitation sanitation Men's Association of City of civil employees the record of our local ICE clearance been made public by stand in Miami where I was one of the instigators and fighting hard. At my current stand up last February when I took on his lieutenant in the. Johnnie all rock Well sort of your particular department in the city faced the same sort of jurisdictional fight that the Transit Authority had on it and now you are now currently the only union that claims to represent sanitation and I have been the face Union in the city of New York that has been granted exclusive bargaining rights for the members of my represent which are sanitation do you expect any difficulty because a popular name attached to a union do you expect any opposition from particularly from the national A.F.L.-CIO in this regard you know my reputation in this town and in the labor movement in general is pretty clear although I am affiliated with the International Brotherhood of Teamsters before the expulsion of the Teamsters. From the labor movement I was a member of the central Trades and Labor Council executive board member to central trade and Labor Council and I was a member of the legislative committee of New York State and kind of being a Teamster I had to relinquish these jobs but my reputation in the labor movement far transactions and any opinion that people may have with Association for me with coffee. I stand on my record stand most of the Murray how many of the uniformed sanitation of the city are actually represented by the uniformed sanitation Men's Association that's a very difficult question for me to answer because we are on a check off at the present time I say to you about ninety nine percent of the members are on the check off with the union but due to the fact that if a man is off sick or on compensation or a leave of absence we don't get any dues payment from the city on that and I had the last current returns from the city was about nine the four hundred some odd at the present time as nine nine thousand six hundred and forty sanitation man so you'll see that my figures are pretty accurate that Sir do you believe that there is any possibility. Of the Teamsters Union being readmitted back into the merged labor organization so long as Jimmy Hoffa retains the presidency of that union that's a very difficult question I would say answering that question as of this moment I cannot conceive of the International Brotherhood of Teamsters being returning to organized labor but only God knows what will happen tomorrow and extenuating circumstances and economic problems throughout the country and maybe even Congress. Maybe bring us back vested in me would like to take us back that's going to be serious legislature problems passed in Congress as well sir do you consider Mr Hoffa to be an honest labor official that's a bad question so do you always answer your question no no I only know what you know do you think Congress should force me to take you back. I can't answer that question either I don't believe yes I want to answer that question and this way from where I sit the Senate investigating committee is a tool of the National Manufacturers Association com lease and industry and the various chambers of of COM ways throughout the country and they're doing everything to destroy the labor movement I believe this is a plot to bring about that scale and the law which they gave a very nice label to call the right to work law and has astroid the unions throughout the country at the present time there are sixteen states that have passed the right the way for within the next month or two five or six states are going to have it on referendum and when you know the states that are going to vote on this and then he industrial states or some other key and dusty old states throughout the country you can see what might come on and Barry Barry Goldwater from Arizona. It's trying to do Congress still want to bring us back together they want to keep us to the fire that they want to do what Hitler did and every other dictated by keeping the Labor movement of quiet so when we consider our economic strength and start a fight within the Labor movement Well I'm the most to do Laurie one of the A.F.L.-CIO throughout the Teamsters Why did the sanitation men choose to remain in the Teamsters Union rather than with the rights to organize labor in the C.R. all that's a very good question number one I'm an American there's been some times in our country when some of the presidents of this country have done things that were not worthy of the prestige in the office they help does that mean I got to relinquish my Merican citizenship and go to a foreign country and become a subject that now I'm the reason I remained in the Teamsters and direct answer to your question is economically speaking they're the greatest Union in the world and from the days that I was affiliated with it the benefits that the sanitation men have enjoyed. Over the seventy years that I've been affiliated there have been tremendous I did at one other time was a member an international vice president of another International Union and I saw fit at the explaining it to my membership that I want life was not going to be improved by being in it and this International Union and I personally gave up a high national job but I never regretted it because the sanitation men have improved their salary and other benefits that they now enjoy due to the affiliation of the Teamsters and return we can get over now to what the association has been doing for the sanitation I just want to know just what benefits your association has been trying to get for its group and what you have been successful in getting so far and really what you please use the very same association the local. The local union has for five years or six years prevent itself or of fight that we knew when we started it was going to be gigantic and we recognized the need for a more liberal pension system and at the bottom of sanitation and I knew then that we had the toughest job in the country I knew then that the amount of injuries in the Department of Sanitation was far a number beyond the police and fire department combined but knowing it and being able to say it is one thing who is going to believe the Lori who is the spokesman for the sanitation department I recognize that I had to go out and get an Independent of Sardi to substantiate my thinking and I was able to go to Springfield College. So I got to talk to Pete a cop a vege to make a fatigue study of the side of a shipment and after a year and a half study the young my expectations the survey proved that was that it was a greater risk than anything that I even visualized in fact it's the second most difficult job and hazardous job and the country the only one that is tougher is the logging industry we heard this is different right off and there was the that it is the second most difficult job in the country most second most times it is exactly what makes it that the nature of the work when you figure I want to pass that up a minute I feel like I get in my mind and come back to it another time I want to remember the statistics so I can and see across a question correctly if you don't mind please I will be glad to come back to it nicely Henry had something else for you yes well I just want to ask is the sanitation of women in being so we say discriminated against by the city in respect to benefits in other words the police department the fire department being treated better than the sanitation department. There's no question about that we are being discriminated against I told you a few seconds ago that ours was the toughest job in New York City and that takes an oil industries in the SO I haven't been out of the side of the fire department police department as a sideman mounted calamity to what cop can be killed by trying to apprehend a criminal so it makes front page news a fireman can be injured a four alarm fire and screaming headlines in the paper a sanitation man sweeping the streets can be killed by a motorist coming down running into him and you don't even find free weights in the paper so they have glamour and they were able to put this glamour crossed on it just. Several years ago in fact about twelve years ago they got their real break at the look what it took away their original pension understood the city officials for the last five years know the facts that I spoke to them about the study and they also know that the sanitation men in their presence pension there is subsidising the city workers because sanitation men can never enjoy the benefits of a pension system they're in now because the life expectancy is shorter than the expectancy of the rest of the people that are in that system so I would say that's discrimination in fact I only meant what that may have four or five days ago and we have made it and so that missed approach to get made it was the city administrator that sanitation men do not get the full benefits of the New York retirement pension system. What sort of a pension term would you suggest for sanitation members to the lorry one should they be pensions after how many years while I'm going to quote an official of the department sanitation so that you can see that it's not only a union's viewpoint commission amount of rain said the average sanitation man cannot last sixty years almost carve a name I agrees with that statement and this statement was made before the citizens you know your committee and I believe about television show called sites like nobody ever argued on our facts nobody about that night the things I'm saying here always say they may use it's too costly they can always find money to build buildings and replace mechanical equipment but they don't cannot find money that's the human needs of human beings they're expendable. But buildings and machinery are not expected until it's over priced Mr Dury one of the reasons advantage for the opposition to an official union for the policeman is the serious consequences of a strike now since the sanitation men are organized Don't you feel that this same objection applies to your group as well that's a good question I'd say to you you know the history of the proper sanitation and the popping of sanitation over the years is the only department talk about transportation but they only need to plant men where you never had strike action was in at the top of sanitation and I would leave my men out tomorrow Condon waddling or any other right if we can get justice if I had a position like that P.P.A. the P.P.A.. Way can anyone sit down with the representatives of the alleged apartment they would have a problem on their hands on sanitation which you would never even visualize where in title to Slayton basic rights as Americans and I don't care about cotton was a little a call to discipline and it's a popular sanitation I say to you when we went to work for the city we did not become this franchise as American citizens and we have the same rights as every other American work at a might well you know or question for the literally what guarantee do the city have that the policeman or the fireman wouldn't come under the control of thing a man like are for putting them in a position where they could actually control the city. I I. Don't think that either the U.F.A. uniform fireman's association whatever be in the International Brotherhood of Teamsters they have their own international union. Now I know you want to ask me that question do I believe that the he should be an organized labor I will answer that question I don't know if you want to answer that question but I would say to you I'm Elaine the man I believe every worker should be organized with the exception of the police department and the army and they need because in times of strife in economic strife when for our own protection have to have a protective force between two points humans management and union cops should be organized in there and a primary the association such as they have now but they should be given machinery to take care of the have problems and nobody can really dull already or anybody else should be the sole sovereignty on grievances and they should have an appeal a public entity that's Jim Wells or you stand there on the side of Commissioner Kennedy he distinguishes between the proprietary functions of the city he says that every labor force in the city should have the right to unionize except the police department but you've just said that we need the