SchoolBook
Principal's Personal Story Helps Immigrant Students Adjust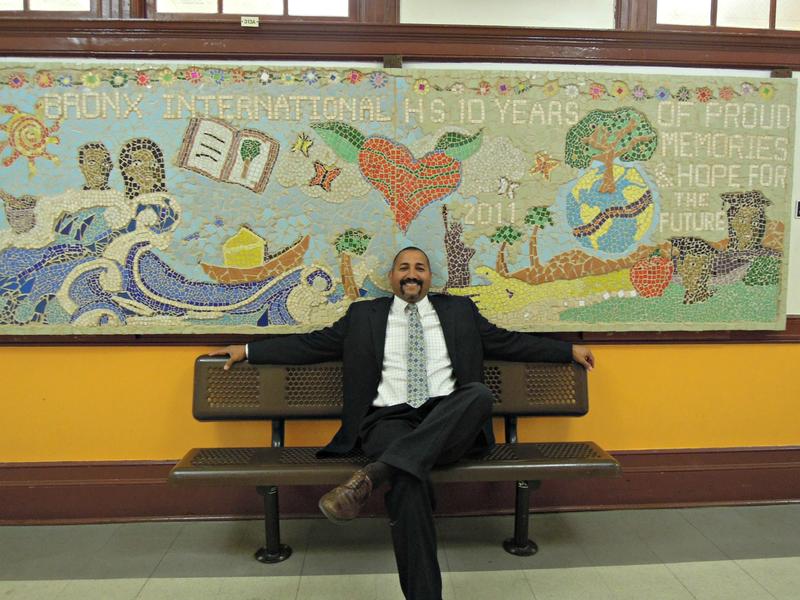 In Principal's Office, a regular feature of SchoolBook, a city school principal is interviewed for insights into school management and the life of a school leader. What do you think makes a good principal? 
Below, Joaquin Vega, principal of Bronx International High School, talks about building community and meeting the needs of high school students from all over the world. Vega's answers have been condensed and edited.

Q: What is unique about leading a school with students from all over the world?
A: I myself was an immigrant. I came here when I was 17 years old from Colombia so I lived through that "how do I better myself coming to a new country?" question.
I feel like giving back to the students and guiding them in how to become students in society. I see what they need. I know their lives at home, coming from a different culture, perhaps coming to live with a grandmother or an aunt. Coming to a new setting is very, very hard. It was a struggle for me, and I see the same struggle for them.
About 70 percent of students are of Hispanic descent, primarily from the Dominican Republic, and we also have some Hondurans and Ecuadorians. And then another 20 percent or so are West African.
Q: What kind of environment are you trying to create at Bronx International High School?
A: We have individualized outcomes for the student, catered to the individual learning needs of the student.
In the 9th and 10th grade we have three teams of about 70 students. And each team is comprised of a math, science, social studies, and English teacher and a guidance counselor. So for two years there's a lot of knowing the students. There are team meetings within the weekly schedule to talk about academics, instructional needs of the student, and the social emotional needs of the student. Because, as you know, if the social-emotional needs are not met it can be hard to address the instructional needs of the students. For instance, students need to get to appointments. My social workers or school guidance counselors will go with them to those appointments.
We follow the international school philosophy which includes flexible grouping, experiential learning, language and literacy acquisition and "learning outside the four walls," like internships and service-learning.
Q: What are some of the biggest barriers to learning that your students come in with?
A: We get a group of students that have never been to school before, so this is first time they go to school. Some of them come in speaking specific dialects. But for the most part they are illiterate in their own language. For those students, based on research, it takes six or seven years to acquire academic language, so we advocate for a six-year cohort for all immigrants coming in.
Q: How would you say the college readiness metric applies to your school, then?
A: A lot of students are not in that clearinghouse. And a lot of students have to go to work, or go to work first in order to pay for college. And sometimes we get the kids who get scholarships. Last year we had a student who received a scholarship to SUNY and her parents said, "You're not going," because of the cost. Last year we had a student go to Mount Holyoke. It was a lot of work with the family. The family wanted their daughter to marry. We had to intervene and push the family. She's at Mount Holyoke now in her second year.
Q: With so many new initiatives, like a new teacher evaluation system and implementing the Common Core standards, how do you keep your head above water?
A: I owe it all to the staff that I have. I think this is by far the best staff in New York City. Just the way we structure things. There's a team leader on each team. I have meetings once a week with the team leaders to discuss academics, logistics of the school, etc.
I think with the teacher evaluation, it's finding ways to comply with the new system but allow our school to continue what we've been doing. For instance, we created a period on Tuesdays where teachers will do peer observations.
Q: What new programs do you see coming down the road for your school?
One thing that we will continue to work on is vocational practices for the students. We started construction, historic preservation and now we're moving to computer hardware. And we're seeing how students gravitate to it, and benefit from it. If they walk out of here they could use those skills to get a job and pay for college -- a good job with a union or with good, decent pay.