Protests Are First Test of New Security Measures at JFK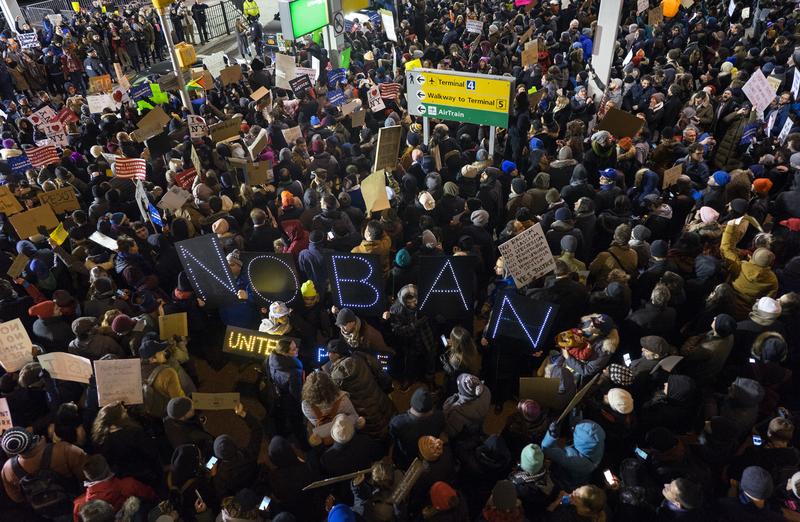 Last Saturday, 5,000 protesters gathered outside of Terminal 4 after news of President Trump's executive order banning refugees from seven Muslim-majority nations went into effect.
It was the first test of recommendations the governor backed following a false report of an active shooter at JFK that led to the chaotic evacuation at three terminals last summer.
With multiple law enforcement agencies working within JFK, Governor Andrew Cuomo recommended a single unified operation center that can lead security efforts. And on Saturday it went into effect at 1:00 p.m., according to a Port Authority spokesman. The Port Authority police took command over a response team that also included the NYPD, state police, the TSA and National Guard.
Protesters gathered on two active roadways for roughly 12 hours, according to the Port Authority. There was one arrest for disorderly conduct.
Despite coordinated efforts, there were still problems. At the AirTrain, for over an hour, the Port Authority only allowed employees and passengers with airline tickets to board. When Governor Andrew Cuomo heard about the AirTrain shut down he ordered the Port Authority to reverse its decision. "The people of New York will have their voices heard," he said in a statement.
Fahd Ahmed, the executive director of DRUM, a south Asian immigrants rights group, said State Police went even further with protesters. "Telling them they can't carry signs, have to get rid of their signs," he said.
A spokesman for the State Police denied the accusation, while the governor's offices said they'll look into the claims.
Other recommendations from the security review, like active-shooter training for civilian airport workers, is still underway.
A prayer vigil is planned at JFK for Friday afternoon, which will be another opportunity to test the security coordination at the airport.