JFK Cracks Jokes About Sweatshops While Dedicating One of Manhattan's Storied Co-Ops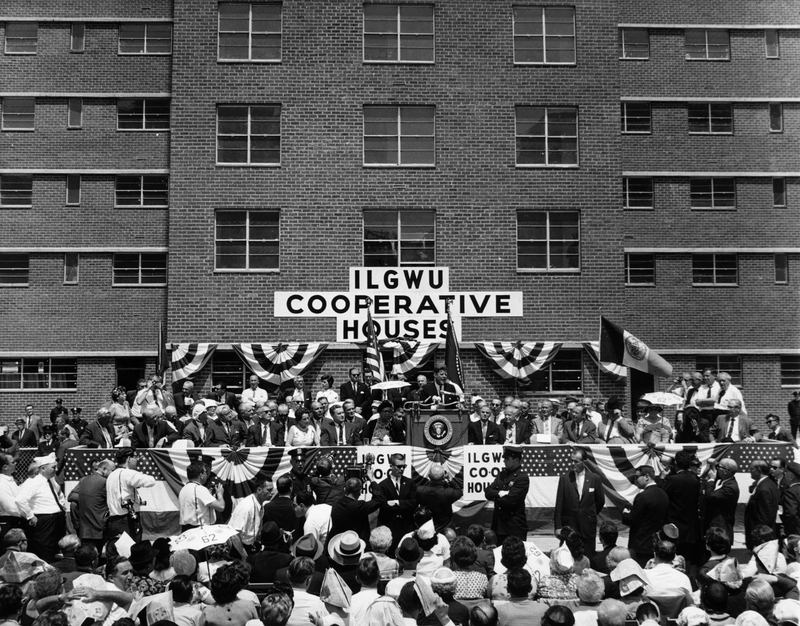 The Penn South Co-Ops in Chelsea are plain brick buildings that don't stand out. But when they were built to house the International Ladies Garment Workers Union in the early 1960s, they represented a huge step forward for a city in urgent need of affordable housing.
President John F. Kennedy dedicated the site in a May 1962 speech that was broadcast on WNYC. The crowd sang him "Happy Birthday," which was coming up on May 29.
But the real highlight came when Kennedy riled up the crowd with rhetoric that would fit right in today:
"It is the task of every generation to build a road for the next generation. And this housing project, the efforts we're making in this city, and state, and in the national government, I believe can provide a better life for the people who come after us, if we meet our responsibility. 

"There are those who say that the job is done, that the function of the federal government is not to govern, that all the things that had to be done were done in the 30s and the 40s and that now our task is merely to administer. I do not accept that view at all, nor can any American who sees what we still have left to do."
 This audio is courtesy of the New York City Municipal Archives.