In Conversations On Mid-East Violence, NY Jews Struggle for Right Words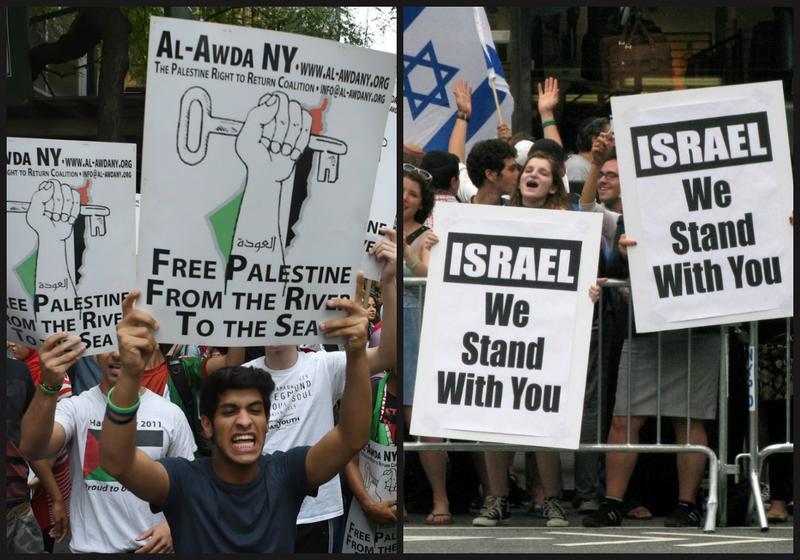 A familiar scene unfolded in front of the Israeli consulate in New York this week: a protest, with the supporters of Israel on one side and Palestinians on the other.
This latest conflict began with the kidnapping and murders of three Israeli boys, and then an apparent revenge killing of a 16-year-old Palestinian boy by Jewish extremists.
More than 100 Palestinians have been killed as Israeli air strikes try to bring a halt to rocket fire from the Gaza strip. And across dinner tables and in synagogues here in New York — home to more than a million Jews — many families have been reflecting on the cost to both sides.
Rabbi Andy Bachman,of the Reform Beth Elohim Congregation in Park Slope, said his community mourned the death of the Israeli teenagers and engaged in a lot of internal reflection about who is to blame for the death of the Palestinian teen.
"What ultimately (happened) … was a kind of internal questioning and a crisis point about how to take responsibility for these kinds of really egregious acts of ultra-nationalism," Bachman said.
Children also struggle with these painful topics. Miriam Wallach, general manager of an online Jewish radio network, says she discussed recent events with her six boys and girls. While a strong supporter of Israel and its leaders, Wallach says she emphasized something else in conversations with her kids.
"We don't hate people," she said. "It's very important to us to make sure that when we speak to our kids … that it's done without that word, so that we are raising a generation of children who can appreciate the importance of the land of Israel and how it is meant to be for the Jewish people without denigrating another society."
Brent Spodek, a rabbi at Beacon Hebrew Alliance, a progressive synagogue in upstate Beacon, said his community has had difficulty starting a conversation about recent events. "It's so painful, it's so discouraging, it's so upsetting that people don't want to talk about it," he said.
Spodek said he's spoken to his community about the importance of listening to the Palestinian interpretation of events.
"Helping people in my community just understand the contexts of what it is to live life in Israel with rockets falling down all the time, what it is to live life in the West Bank and Gaza under military occupation," he said. "It makes the narrative, it makes the conversation more nuanced and hopefully more true and more functional."