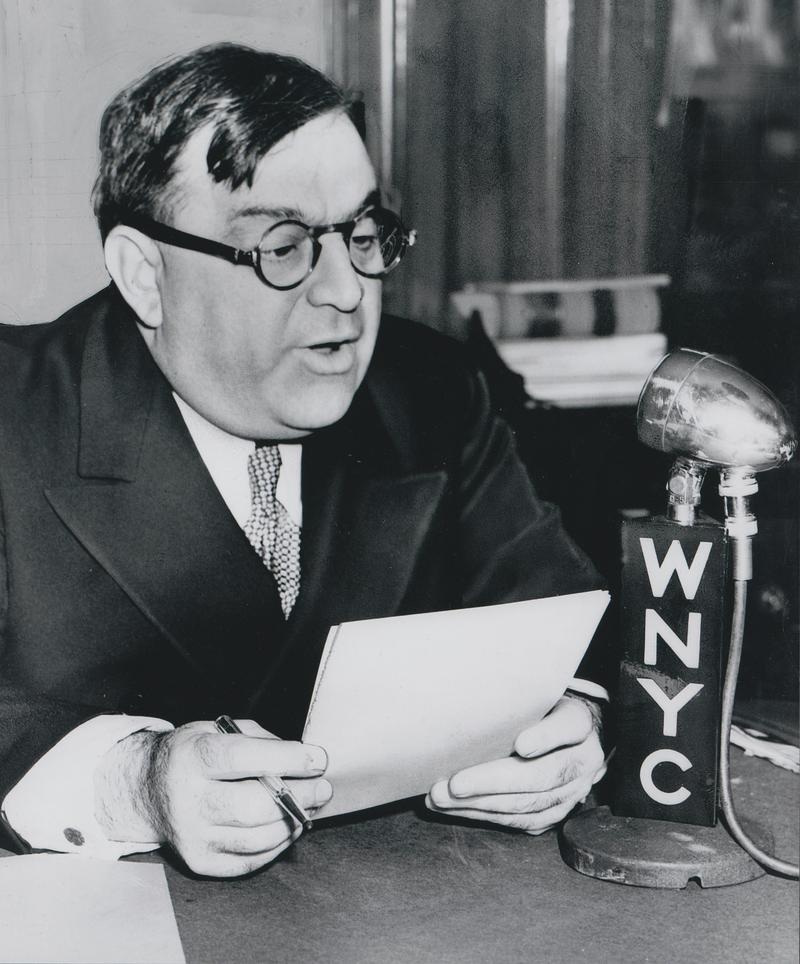 Summary
This episode is from the WNYC archives. It may contain language which is no longer politically or socially appropriate.
War effort. Advances by Russian army. "But don't get the idea the war is over!"

Meatless Tuesdays and Fridays. Efforts to reduce meat consumption to combat the black market.

Meat, fish and fuel situation with coal.

"Have you had trouble getting a telephone?" Shortage of telephones. La Guardia sarcastically suggests it may also be that you've not committed murder or been connected to gambling operations. La Guardia attacks gangster Sammy Shields and his brothers who apparently convinced the phone company to give him a phone despite the shortage.


Audio courtesy of the NYC Municipal Archives WNYC Collection
WNYC archives id: 71126
Municipal archives id: LT4082
Transcript
The original text of the WNYC radio broadcasts are the property of the New York City Department of Records/Municipal Archives. This digital edition is made available for research purposes only. The text may not be duplicated or reproduced without the written permission of the New York City Department of Records/Municipal Archives 31 Chambers Street New York, NY 10007

FOR IMMEDIATE RELEASE SUNDAY, JANUARY 28, 1945

CITY OF NEW YORK OFFICE OF THE MAYOR

TEXT OF MAYOR F. H. LA GUARDIA'S SUNDAY BROADCAST TO THE PEOPLE OF NEW YORK FROM HIS OFFICE AT CITY HALL, JANUARY 28, 1945, BROADCAST OVER WNYC AT 1:00 P.M. FOLLOWS:


Patience and fortitude:


WAR NEWS

I think the last two days in office here have been about the hardest I have had in the past eleven years. There are so many things I want to talk over with you today that I may have to talk rapidly as I go along to crowd in everything. There is always a temptation to start off by reviewing the conditions of the war - there are a great many who could do it much better than I - yet it is comforting when the news is good. Again, I say that you can get the best information and review of the past week in the leading articles of the Review of the Week of the New York Times. I like these articles, they are easier to understand and much easier than the involved military language of the war bulletins. From these articles you learn of the magnificent drive of the Russian Army. Whether or not it has resulted in the complete route of the Nazi Army or whether they are retreating strategically remains to be seen. We will know more about it in a few days. The fact remains that the Russian Army has made great advances and has achieved a brilliant victory. It does not mean that the war is over. I mention that, because every time we get a good headline, good news, there is a letdown. I have noticed it, because I am in a position to know of the reflex and reaction that we get from all City activities.

Please do not get the idea that the war is over. Oh, let us hope it will be over tomorrow but let us stand by until it is over. There was a letdown, and our Army is feeling it now. We need more transportation, we need more material, and therefore these restrictions are being imposed upon us. We will take them willingly and we are going to cooperate because we want this war to end soon. I dwelled on that quite at length last week, and I know that our City will respond to every appeal made by our Government. Oh yes, we may be uncomfortable this winter, we may have to give up what may be called little comforts. Yes, we may be short on necessities, but it is all to the good, So do not grouse, do not complain, just cooperate.


MEAT

I want to talk to you today both about the meat situation, as well as fuel. I guess I will start off with food, that is the regular routine. Well meat is short, as I have told you in the last two or three weeks, and it will continue to be very short for several months. Our Army needs meat and the Army is getting it. I am very glad that they are. But I believe that here in New York City where we have seven and one-half million people, with a consuming public of about ten or eleven million people, I think we should set the example for the rest of the country. At least, we can so arrange our marketing as to reduce consumption. If we can reduce consumption, we will do a great deal to beat the black market. As I started to tell you, meat is short and will continue to be short.


MEATLESS DAYS

I announced last week that we would start meatless Tuesdays and meatless Fridays and that we would have the left-overs at home on Mondays, and specialty dishes or conservation menus in public eating places on Mondays. We will start meatless Tuesday this coming Tuesday. It will not be perfect, but we will have to be fair and give every hotel, restaurant and public eating place an opportunity to get started. But it starts this Tuesday. Tuesdays and Fridays are meatless days, and it means just that - meatless days - no meat or any meat that comes from four-legged animals. Nothing coming from a four-legged animal should be used on Tuesdays or Fridays. That means poultry, turkey, fish and game may be used - so let us understand each other.

Now to those places that sell only hamburgers and frankfurters. For the present, we will compromise on frankfurters -dogs you know - on Tuesdays and Fridays. As to the home left-over Mondays I will leave that entirely to your ingenuity. You can always manage to put away something in your icebox for those Monday left-over dinners and they can be very good indeed. As to the hotels we will leave that to the taste of the chef and the discretion of the management. So watch your Mondays and see what you can do. I want to express my thanks to all the organizations and associations that have cooperated so well.


ENFORCEMENT OF MEATLESS DAYS

I was telling you about enforcement and this is the way we are going to do it. We leave to each association, the policing of its own members. When a complaint comes in that a restaurant or a hotel or a public eating place is serving meat on a Tuesday or a Friday we will report that place to its association and the association will attend to that member. Only when a member is constantly recalcitrant and brazenly refuses to cooperate will we step in. So, as I say, each organization will watch its own members. Of course, there are some places that specialize and brazenly advertise that they have meat. There is only one way to get meat and that is to have the necessary ration points, and if they have no ration points, or I mean to say if they have more meat than ration points, it will be necessary to account and to give the origin of the meat. I have had the promise of full and complete cooperation from Mr. Chester Bowles, Director of OPA in Washington. As I told you we had a conference in Washington which Mr. Paul Ross, the head of the New York City OPA Enforcement Division attended. So I depend upon the cooperation of OPA.


JUDGE MARSH TO AID

As you know, every public eating place in New York must have a permit from the Board of Health. The Board of Health is concerned with the proper distribution of meat in New York City because it affects the health of the people of New York. Permits are issued, on condition that all Federal, State and Municipal laws, rules and regulations are obeyed and complied with by the permittees. Any violation of any Federal law or rule would constitute a violation of the condition on which the permit was issued and would jeopardize that permit. I do not mean to imply that the Board of Health will constitute itself into a kangaroo court - not at all. Every person who cooperates will be given a fair hearing with the opportunity of defending his rights. I am going to reinforce that splendid Board of Health that we have. As you know, it is about the best Board of Health in the whole World. It is composed of men high in the profession; experts in public health. Because of the large interests that may be involved, I think that the Board should be reinforced with legal talent. I am therefore going to provide the Board with legal talent and judicial -experience during the emergency. Mr. Robert McCurdy Marsh, a former Justice of the Supreme Court of our State, has consented to serve as a member of the Board.

The procedure therefore will be first, a report to the organization or association, with an effort to get compliance second, recalcitrant places, places that openly flaunt the law, will be called to an accounting as to the origin and source of their supply. If it is found that they are obtaining their supply unlawfully, that would constitute a violation of the terms under which their permit was issued, and they will be called before the Board of Health and appropriate action will be taken.


BUTCHER SHOP CLOSINGS

We have arranged for the closing of retail butcher shops starting a week from tomorrow. The kosher butchers and the other retailers will operate five days per week. The kosher butchers will be closed on Saturdays, the other butchers will close on Mondays.


MEAT BONERS COOPERATE

Again I want to express my gratitude and thanks for the splendid cooperation on the part of the Retail Butcher's Associations as well as on the part of the butchers unions, both A F of L and CIO. This is interesting - they were both in the office here for several conferences and the A F of L and CIO are going to cooperate to the extent of even working in the same shops. This is the way that we worked it out. On Saturdays, Sundays and Mondays, the men working in retail butcher shops will work as boners in the boning shops where the U. S. Army obtains its meat and has its boning done. You see, the Army is buying millions of pounds of beef and in order to save space and weight on ships, most of its meat is boned before it is shipped overseas. Just to give you an idea, 1000 boners working 8 hours on one day and averaging 150 lbs. per hour will produce 1,200,000 lbs. of boneless beef, which will feed one meal to 5,400,000 men. By boning the meat we save 50% in weights, 40% in space and 1/3 of the shipping. In other words if the meat had not been boned it would have required three ships for every two ships we now use. Therefore you see how important it is that we get all of the boned beef that we possibly can for our soldiers and sailors.

Again I want to thank the CIO and AF of L for putting all differences aside for springing into action because of the critical situation and working together. I also want to thank the retailers who, I understand, have arranged to loan the tools and the knives to their employees so that they can do this work on Saturdays, Sundays and Mondays.


BEEF NECKS USEFUL

In the course of these conferences, you know you can always learn something. I was told by these boners and these large packers that there is a great deal going to waste. For instance, take the neck: after the necks are boned, that is after the meat is taken off the neck, which is a slow process, the remainder is thrown into the barrel along with the rest of the waste that goes into some by-product. These beef necks could be used and we would get tons of thousands of pounds of these beef necks almost every day. Isn't it a pity that they should be thrown into the barrel with the waste bones, going into fertilizer or some fat of some kind? Betty, get me the bones so that I can describe it better. I have a bone here, I did not quite understand it, and I asked to have one here, so I could describe it to you. Of course you will ask why don't we use it. We do not use it for the simple reason that under OPA regulations there does not appear to be any provision for the selling of these bones to the market. Here I have one. Let me describe it to you so that you will understand it. It is the 1st, 2nd, 3rd, 4th, 5th, about the 6th vertebrae of the neck. The piece that I have in my hands has been boned, but there is a real good supply of meat on it. Now take the 6th vertebrae, as they are in one piece, it would make excellent soup with vegetables and you get all of the nutrition. If you would want to take a cleaver and break it into smaller pieces, it would make a good stew in gravy with potatoes or dumplings and the children would like it. Judge Edward C. Maguire was here the other day for the conference and we got talking about this and he told me that his old Irish mother used to use these very pieces of meat to make stew and, of course, we all have in our homes.

If you do want to make that stew, you can make it tasty and the children will like it. If the kids take the pieces up with their fingers and eat it that way, just overlook it. Overlook it for the duration. Watch them because they will become so interested in it that they will wipe their fingers on their shirts. Well that is something that I think you can take care of.

We have a neck here which has not yet been boned and of course it has abundant meat on it and could be sold very cheaply. Remember that this meat that I am talking about is being boned for the Army and is choice beef. It is the very best beef. If we will get OPA to permit us to use the boned parts of the beef neck, it could retail for 6 or 7 or 8 cents a pound. That is very good, isn't it? I wish you would join with mo in asking the OPA to permit the boners to dispose of the beef neck for retail purpose and consumption. And that is true also of shin bones and other soup bones. You remember when we were kids - people of my age I mean - we used to go to the butcher shop and after we would buy a couple of chops or a round steak or whatever it was, we would ask for and got a soup bone. But now it is so scarce that it is expensive. So I am asking the OPA that, if the Army will consent to give us part of the neck not boned, so as to increase our consumption and also to give us all of the boned beef neck, so that we can utilize it for soups and stews and thereby increase our supply, to permit us to do so. In this way 10,000,000 pounds could be obtained daily and it would be of great assistance to us.


CORN MEAL

By the way if you use this for gravy and the kids get tired of potatoes or dumplings, try cornmeal, it is very nutritious and is full of carbohydrates. It takes away the monotony of potatoes and it is very inexpensive. However, you have to be careful in cooking it - get your water boiling, sprinkle it in gradually and keep stirring it because if it is not stirred it gets lumpy. If it does, the children when they bite into the lumps will find the inside kind of raw and they will not like it. You know children are very sensitive about those things. Try cornmeal - stir it all the time until you got it to a good thick consistency and then serve it with gravy made from these beef necks and you will find you have a very nutritious, well balanced, tasty dish.


FISH PRICES

Inasmuch as you are going to have your meatless days on Tuesdays and Fridays, there are some very good bargains in fish. I want to repeat, you can get haddock round 1 1/2 to 2 1/2 lbs for 23 cents a lb. at your retail store or 21 cents in the chain store. You can get cod round -I have been asked to emphasize this, round - for 25 cents in your local store or 21 cents in the chain store. Station WNYC will keep you informed of some very good buys in fish this week.


COAL EMBARGO

I have to talk about heat and that means coal. There has been a three-day embargo placed on all railroads. Let me explain what the embargo is and why it was necessary. You see it was found necessary to increase shipments to our coasts for shipment overseas, you understand the reason why. Well with increased shipments and the recent storms we have had the already difficult situation of transportation became almost impossible. Thus we find miles of tracks congested and distribution points all blocked up because of the slowing up of the movements of trains caused by the storm and increased traffic. In order to clear the tracks and get the trains moving the embargo was ordered. That means that nothing can be loaded or shipped except war shipments for a period of three days. Everything that was on the cars and on wheels kept moving of course. Well that hit us in food pretty hard, but it hit us the hardest in coal because we use thousands of carloads of coal a day and we need a daily supply. Therefore, we were informed by Washington to expect no deliveries for three days. That does not mean that we will be hit the same three days of the embargo because there was some coal in the cars. But it does mean that after the embargo we will be hit for several days because there was no loadings of coal during the embargo period. The situation is critical.


HEALTH EMERGENCY DECLARED

We made a preliminary survey and found the supply was very short. The Board of Health became concerned and on the 25th of January declared an emergency because of the shortage of coal which may impair the health of the people of this City unless we take necessary precautions. On the emergency declared by the Board of Health I am taking the necessary precautions. The Solid Fuels Administrator on the basis of the embargo has issued an emergency directive authorizing theirs and executives of localities to take appropriate action for the distribution of such coal as may be available. You know this is an extreme and critical emergency. When one is faced with an emergency or a crisis it is the time to keep calm, to be deliberate and to use your head, not to lose your head. You know that is one thing that we learn when we learn to fly - in case of an emergency, be calm, use your head, because if you don't, you will not be able to tell somebody else how you got out of it. So we did not rush to close places prematurely. Some other cities did but of course their conditions might have been different. What I did was to issue an Executive Order on the authority given to me by the City Charter and the Laws of the State, to enforce the Order of the Board of Health which gives first priority of coal to homes and dwellings for the protection of health. The Director of the Solid Fuels Administration itemizes certain places that have low priority for coal. We took an inventory and we found that these places had some coal in their bins. That being so, we felt that it was proper to permit them to use what they have and if by the time it is used there is a normal war time supply of coal, there would be no interruption. To have closed them before that time would have been unfair since they would have had that same coal in their bins.


COAL SALES RESTRICTED

Therefore I issued orders to all dealers of coal not to deliver or sell any coal to the following: They are not to sell or deliver any coal to places of amusements, such as theatres, moving picture houses, bowling alleys, night clubs, libraries, museums, colleges, universities, except of course dental and medical colleges. That does not mean, my friends, that any of these places will have to close at all. It does mean that if we do not get enough coal for families for heating purposes for protection of health, for war industries for essential government functions, then we will have to cut off the supply of coal to the activities I have just read. I do not agree with the idea that schools ought to have a low priority. I think that the primary and high schools should have a high priority for the reason that if we can keep a million children in properly regulated heated classrooms during the greater part of the day, that in and of itself saves heat in the apartments and gives a million or more children proper protection. It so happened that in the school calendar for this year, Wednesday, Thursday and Friday of this week was declared fuel conservation days and our public and high schools will be closed on those days. That has nothing to do with the immediate crises. It was already in a program of fuel conservation. Those days, of course, were added to the school calendars in order to have the required number of school days for the school year.

I hope you understand my policy. It is not to cause any inconvenience to anyone at any time but to watch the situation and to keep control. We have it under splendid control. Mr. Tod Salmon is my City Fuel Administrator and he has established some 50 odd coal stations where 100 lbs. of coal may be obtained by those running out or needing it immediately. All dwellings will be controlled and supervised by the Health Department. On certificate of the Health Department dealers will give the highest priority for coal. The places that have no priority such as I have read to you, will fill out a questionnaire and if the normal war supply is available, they will got their supply uninterrupted. If the supply is not available, then we will start cutting off wherever necessary.

We have had suggestions as to why we do not close theatres once a day or why we do not reduce the hours of activities? The answer to that is that at first blush these suggestions may seem very good but they do not save any coal. Closing a building for one day practically saves no coal at all. In the first place you cannot cut out all heat, lest you freeze all of your piping and ruin all of the plumbing. If heat is reduced it takes so much more coal to get it up again that there is no saving. The only way to save coal is not to bum it. The only way to do that is to take a whole building, drain off all of your pipes, winterize your building and cut off the heat entirely. I am hopeful that it will not be necessary to do that.

I want to assure you that your City government is watching the situation and everything that is humanly possible will be done for your comfort. Please cooperate with us, do not waste a bit of heat, do not open the windows if your rooms get too hot, keep your windows closed, keep the curtains and the shades down at night, do not go out and leave your unoccupied rooms with the steam turned on. I have conferred with the New York Steam Company. We know just how much coal they have, we know how much we have in our public buildings, we know how much we have in the yards, so that we are in touch with the situation and will keep daily inventory as to what comes in. I want you to know that I have had splendid cooperation from Washington.


OUTDOOR LIGHTING RESTRICTED

On the first of February you know that the coal conservation program, as to electric advertising and outdoor signs goes into effect. We will have no trouble about that. There is no difficulty of enforcement. It covers outdoor advertising and outdoor promotional lighting, outdoor display lighting, outdoor decorative and outdoor ornamental lighting, show windows. Be careful about the latter. We may have a little trouble about that, and marquee lighting. Marquee lighting will be under the control and supervision of the Police Department under arrangements worked out with the WPB. The Police Officers will give notice to any owner of a store violating the order and I know that we will have strict compliance. That, as I told you, will save quite a bit of coal throughout the country.


SHILLITANI CASE

Say, do you have trouble getting a telephone? There are hundreds of thousands of families and business men trying to get telephones and they have to wait because there is such a shortage of instruments, material, wire and skilled personnel. It is hard to got a telephone these days. Well, the trouble is that if you have asked the Telephone Company and you are waiting for it and cannot get it, maybe it is because you do not belong to the right family - you are not engaged in gambling, no member of your family has committed murder, you haven't sufficiently abused the Police Commissioner and the Mayor. So if you want a telephone get some member of your family to commit murder, open a gambling place, abuse the Police Commissioner and then you will get it. I suppose you read in the newspapers of the decision of the Supreme Court here in New York, ordering the Telephone Company to restore telephone service to an American citizen, entitled to the telephone, by the name of Shillitani. Yes, and the Police Commissioner was abused and the rights of this very fine upright citizen was defended. You know I wish I had been there. Let me tell you, Shillitani is known as alias Sammy Shields, a notorious, cheap, tinhorn gambler. Chief Inspector Murphy himself raided the crap games of this tinhorn gambler several times within the last few years. His brother John, closely associated with him was raided in Astoria only a few days ago where he was conducting a large crap game. Oh wait, I will tell you some more about this fine family. His brother, Orestes, brother of Shillitani, alias Sammy Shields who got his telephone back on order of the Supreme Court, murdered two fine patrolmen, Patrolman Tcaro and Patrolman Heeney "" a few years ago on Mulberry Street. A fine family. Orestes Shillitani was sentenced to the electric chair. He could not even behave in Sing Sing. He shot a keeper in Sing Sing and escaped but was apprehended, brought back and placed in the electric chair and electrocuted. So don't you see that if you have the right kind of a family, it is easy to get a telephone. Do you wonder that it requires Patience and Fortitude for this job.


DAILY NEWS EDITORIAL

By the way talking about gambling, did you read the editorial in the Daily News, I think it was Friday. Well, if you have not and you are interested in your City government, you shouldread it. I am going to ask my friend, Captain Patterson, if he will please reprint that editorial. I do not believe there will be time enough to reprint it for tomorrow's editorial, but look Captain Patterson, I would appreciate it if you would reprint it on Tuesday. Just disregard the personal element in the editorial, but keep it, it may come in handy, and again you will understand why it requires

PATIENCE AND FORTITUDE.