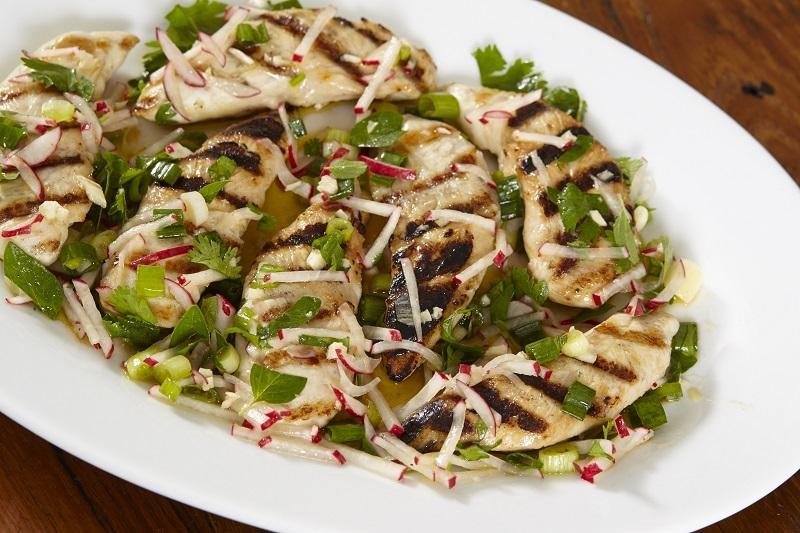 Chef Jacques Pépin talks about his latest cookbook, Poulets & Legumes: My Favorite Chicken & Vegetable Recipes, a collection of his favorite everyday recipes and illustrations that share his simple and elegant approach to cooking. Pépin is the author of 29 cookbooks, and he's been awarded France's highest civilian honor, La Légion d'Honneur, 16 James Beard Foundation Awards, the inaugural Julia Child Foundation Award and many others.
Recipes
Grilled Chicken Tenders with Chimichurri
Serves 4
Chimichurri sauce, originally from Argentina, is a finely chopped mixture of garlic, parsley, oil, and vinegar, usually served with beefsteak. In Mexico, it is made with cilantro and lime juice, and my version contains cilantro, scallions, radishes, and Mexican oregano. If chicken tenders are not available, cut up boneless, skinless chicken breasts for this recipe.
1¼ pounds chicken tenders (about 16)
½ teaspoon salt
1 tablespoon olive oil
Chimicurri Sauce
½ cup coarsely chopped fresh cilantro
⅓ cup minced scallions
1 tablespoon chopped garlic
½ cup julienned radishes
1 teaspoon dried oregano, preferably Mexican
½ teaspoon hot pepper flakes
½ teaspoon salt
2 tablespoons fresh lime juice
⅓ cup olive oil
Preheat the oven to 140 degrees. Heat a grill to hot (or heat a nonstick skillet until very hot).
Put the tenders in a bowl, sprinkle with the salt and oil, and stir until well coated. Arrange the chicken tenders on the hot grill (or in the hot skillet) and cook for about 1½ minutes. Turn and cook for 1 minute on the other side, until just cooked through. Transfer to a platter and keep warm in the oven while you prepare the sauce.
For the chimichurri sauce: Mix all the ingredients together in a bowl. Serve the chicken coated with the sauce. 
Fricassee of Brussels Sprouts and Bacon
Serves 4
When buying your sprouts, remember to buy enough so the trimmed weight is about 1 pound: 1 1⁄4 pounds should do it.
1 pound trimmed and cleaned Brussels sprouts
4 slices bacon, cut crosswise into 1
⁄4-inch pieces (about 3⁄4 cup)
2 tablespoons good olive oil
1
⁄2 teaspoon freshly ground black pepper
Using the slicing blade on your food processor, cut the Brussels sprouts 
into slices about 1⁄4 inch thick. (You should have about 5 cups.) Scatter the bacon pieces in a large skillet, add the oil, cover, and cook over high heat for 2 to 3 minutes, until the pieces are crisp and brown and most of the fat is rendered. Add the sliced sprouts, salt, and pepper, cover, and cook for 1 to 2 minutes to soften the sprouts. Uncover and cook over high heat, tossing occasionally, for about 2 minutes, until the sprouts are tender but still a bit firm. Serve.
All photos and recipes are excerpted from JACQUES PEPIN POULET & LEGUMES: My Favorite Chicken & Vegetable Recipes © 2016 by Jacques Pépin. Reproduced by permission of Houghton Mifflin Harcourt, Rux Martin Books. All rights reserved. ($20/paper over board, August 7, 2016. Sold exclusively at Sur La Table)