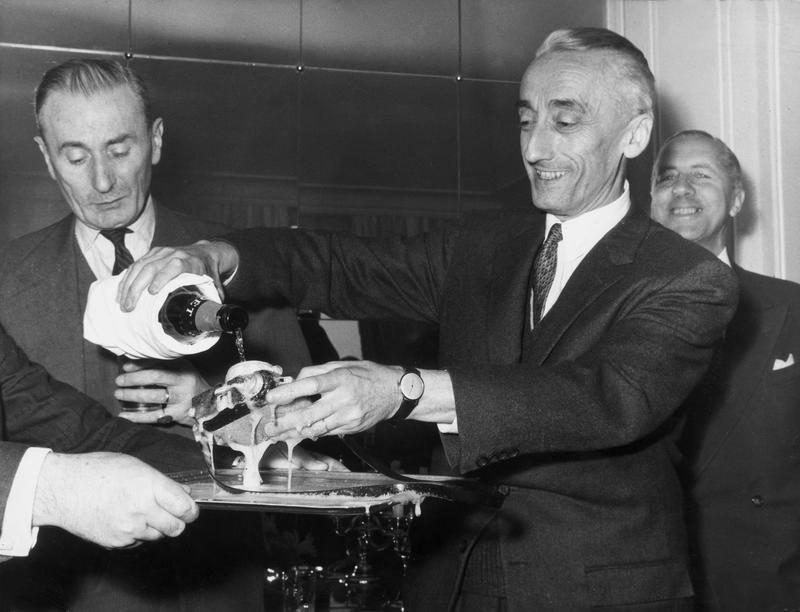 Summary
The exact date of this episode is unknown. We've filled in the date above with a placeholder. What we actually have on record is: 196u-uu-uu.
c. 1964
Patricia Marx interviews Captain Jacques-Yves Cousteau on the recent expeditions of his "oceanaut" team at their underwater station and his new film "World without Sun" (1964). Marx and Cousteau delve deep into the physical and psychological experience of undersea exploration, covering topics such as the restrictive effects of decompression on the body and the ability to develop a richer understanding of the universe through observation of this new, "wet world".
WNYC archives id: 56199
Transcript
Title: Patricia Marx Interviews: Jacques Cousteau
Last Updated: 2016-06-16 7:15PM
Origin: https://opentranscript.herokuapp.com/transcripts/patricia-marx-interviews-jacques-cousteau
This transcript was generated by Open Transcript Editor Pilot and may contain errors.
Read more about how this transcript was created at https://opentranscript.herokuapp.com/

I am honored to have as my guest today a pioneer in a world never before
inhabited by men. Used a renowned scientist Explorer and Academy Award
winning film maker Captain Jackie
Cousteau last year you know his fellow ocean knots. There's a station
underwater where several of them live for a month without ever coming to the surface.
Captain Cousteau has shared with us this historic underwater adventure in his second
film world without
sun getting through so as exploring the sea always been a passion with
you where did yes. I am convinced
that anybody is knowledge conducted by. Things to
happen. For example.
He was always interested by the sea when I was young.
And it is only circumstances that switched and I never call you to.
The and the thought of the self is. What no up out of the self
is what with these circumstances
the circumstances. There were two of them when I remember when I was
a mature man and Indo-China closing on the world
understand
that in the Bay of
Cameron one of the natives
that carried us you know rowboat to
shore and one day at
noon stopped a whole wing went by seeing it
of a
show and then very gently slipped into
the water and came back with a fish and his hand and.
He explained to me that he could only do
this at noon. Because at that place.
And this species of fish was taking a nap.
During the day.
So take me very much and then I forgot about it and then later on
when I was twenty six a fine of nine boards one day eighty
some smaller dive
goggles made of food and grass
and when I tested them I was a good
swimmer but nothing else. When I tested and you have to
learn.
The complete difference between the
jungle type set up. Below and
the highly
serialized affair
selfish and convince me to switch on my free
time as a naval officer too.
I met the undersea exploration and then I understand I
call loose. In the Chinese star and.
And it inspired me that thinks Paul
Grant's respected were going on and on and on the surface and that it would be
worthwhile doing this very seriously take you
both neutral meaning.
Can you tell us the significance of the most recent
establishment of a station underwater when men did for a month. What is the purpose of this
kind of
mission in purpose is to save time
and increase the possibilities of intervention.
Diving with the helmet always and I
quote. With any kind of method. Even in a bear.
I submit the human body. To a certain number of.
Rules blazing stand up pleasure thank you sort
of these gases in the bread into bread carries the sort of gas into most
remote issues of the body.
When one goes back to the surface after I put on stage of.
Depp's.
When has to be very careful about decomposition because if one does not
apply the always gas bubbles can form and buying and bodies
are the
bands so far good
Depp's least said decompression time sell most play B.T.S..
For example
two
and half an hour and
two hundred feet. Would mean more than an hour of the
compression and
decompression steps may be dangerous to do sea state changes.
You cannot stop hanging from a vessel in a storm.
So
this decompression time being very high and
higher if you stay longer and how you know if you go deeper and it took a while to us
that if when did not come back fire very
long
time it would be able one could be able to avoid entirely.
Decompression time until the end of the experiment and then only
and once thought to go slowly to use
decompression that on. And that works very
well
so do I think it's a complete solution in the economy of diving.
What are the psychological effects on underwater for a full month with
never coming to the
surface. Psychological effects are there I faced
some that. It is to detach them.
There from the world very rapidly.
So that that's a little too simple to say that in a few words but that's about
it so in innocence they don't even want to come up to the surface they feel at home in the sea.
They feel very much at home yes.
Now we are liking ICS variance in this here
because you see at the moment. Those people more or
less even if they don't look like it if you like they are here or is that the al beginning in you
we are and that this maybe encourages them to do it.
More than they were doing this just to make their
living as the ones that would follow would
do so that we don't know what lead a fit their attitude is
so seen that it looks like this if it
was sincere and at least a part of the
sincere when when the.
Nomarski news fund that our wives felt cheated I don't know and they don't you know open
their
letters. Maybe not be very sincere when
they say or kept and why do we come back here since
one mounts maybe we could do another mass that is also not very sincere I
think that what is sincere. Is that
nobody asked them for example to abandon their detective stories tend to ask for
more interesting books.
Nobody asked them to stop listening to radio broadcasts
and called a classic
music and that's what happened and I think
that day I became.
Much more interested in and sinking in
discussing quietly about important observations. They are keen
to become part of a new world
that interest them from morning to
evening with living in the sea like this change one's orientation from a
very man centered world we live in on the face of the earth
to a different feeling towards nature a man's place in nature.
I think it does and I think he does maybe more than we
think. I
think
the consequences of
this new
and of this
new the consequences are not yet.
Well determined but with supplies yes.
I think that mankind is going to find many
very important sources of Finn station in underwater world.
And even professionals like myself. Now yet
unable to measure the amount of inspiration that will
be found there.
People use you speak of the resources of the sea you know you don't care about that at all when you say inspiration.
What kind of thing is I talking
about
where when you speak of the finish
and
feel to your vision. Well where do you. Where do you see I'm interviewing you.
I
just picture sculptures. But you
don't you don't think of them paid of the amount
of metal that they were able to forge the tiny.
Measure that one thinks of the alphabet. When thinks of the I said that's of the arts of the god show
the lows of the social system and so
on so the only value of the politics of civilization
are
not. Material output but
the
creative of the creative minds.
So all of these nines whether they
are
painters artists use an edge is later
this. Find only their installation in
the observation of nature when the observation of
nature
and science and you
now was limited to. Our world all by
a world and the style world is has far
less than the way.
For example the total number of species followed by world is not one tenth
of the total via
species in the West well. That's just an example.
So I think that.
Also the absence of God the teeth
body changes so much are parched
two fences that pole raising
to evolutionary self thinking.
So as soon as we would be able to introduce.
People with their brain and with sensitivity and a lot of a long
time I am quite sure they are going to produce unexpected
thinks. So you really forsee a time when artists and
philosophers and and politicians might experience this new world.
Directly interesting and be influenced by it.
When I hope that in a few
centuries maybe. The part of
a far life that will be devoted to.
Activities related to end of life will be part of than the thousand far
less devoted to other activities.
So that generally speaking I'm sure that it will be evolution
of a far poached to life and to the universe.
It's a rather curious concept in a way because it seems that most.
Advances in civilised and technological terrorists now this is of course is
NOT use is not the only tunes we can speak in but they have happened on land.
Are you really asking that evolution take a turn again back to the
sea. No no no no no no no no I don't think that man is going to do like the properties
of the sea then they turn to the sea and forget about life and no that would
be dicey and the stuff that but it hard braided into his
life more than the
yes there has been a divorce between man and the sea in the past.
Already almost or I think there are a few exceptions but I am
not sure that that whole
civilization.
Have legions of men. Most of them
about Janay ting in the sea.
God series ations well or at the origin near Shark and
they went
inland and that is the reason why.
And now we found ourselves on most flight and. They just
thought that we could even. Live underwater.
While the Play Misty for operations rather naming of it.
So I think that this it is high time there is a vast
takes and
and. I know of a different approach
in your film from other films about the sea that I've
seen. In for instance for Disney films there's a feeling of
the violence and the destruction and the danger. And the sense I got
from your film world without sun was one of beauty
and almost of affinity man for
underwater creature is this a feeling you have when you're under the sea yourself.
I do have it. But I know the only one. And the reason why I don't know what it is
now has made many films about the sea but. Anyway he does
know decease or. Was making films about a
subject he didn't know.
It's the same as if I was making a subject about something I don't know space for example.
But people would dive with me whatever they are Gene
Clemmie to find their actual order. Goes
for the same impressionist same category of patients now you
do so I think it is universe so I think the generalities
basically man is very
open to reception
of of the nine
inferences. Are your ocean not as trained and skilled as
the astronauts are just sent up into space.
But not quite you know. Because I
think
I think that's a tremendous part of the training of
the astronauts is useless that it makes
very nice all to go see the
magazines and also the agencies that.
And then when I sponsor for this painting do not want to be a poached.
To mean the king of imagination and I
thought so but I think astronauts in the future would be men
like anybody and Oceano it's our leading man owes anybody.
No special training other than to know how to
dive and. Even so to know at least a little
how to die but not on the edge.
In the first experiment in September of sixty two we had two very well trained
divers to get excited going to their sleep in the second
experimentally why
didn't
they scope out the nature of this people by
taking anybody almost one of them even was I don't want to say name it was in that sort
of legal case he would have been digested by.
The Navy medical examination for days
on did you do this on purpose. Yes I did to or to
see what would happen to such a case he felt very well down it was
very much improved. So I knew he was suffering from heart
and and your god tell us
colleges and
and it worked for Condi also no no no no they were
or mentally
healthy the deal really that song was made
about the second of these experiments was and yes. Have there been more are there going
to be not yet but there will be every you know at least one yes and how will they
expand what was done before going wait for going deeper and.
Changing or so the. Tooling instruments methods of
diving and not necessarily staying longer. We have
no place else to expand we know that too we. So you know it's to
be representative. If people stand two weeks
where they were sent to Mars as well.
What new things do you want to find
out about the man. We want to
know to what depths. There is
no inference of pressure.
On have.
Saw this of course we make some experiments on animals
first and we do not waste our life stuff up people but.
It's just not quite sure even if animal experiments are successful.
And even if people think if you're well he's not quite sure
that there will not be so remote after I think so all of
the people go down are volunteers that accept this small
Leask and it's most interesting to follow
them up to now we have been unable to notice any
difference in their health.
More than one year after the experiment.
So I think it's very encouraging but we must now go to sleep and
to six hundred feet and maybe later much deeper.
You know about the decision the ocean. Your primary
interest in a new kind of species that you discover where life
exists and how did this are there many interests what are the main questions you're asking.
May satisfy I'm glad to be looking through a keyhole.
I'm curious but I don't know what I'm going to see for the key
or so anything interests me whether it is Joe logic
obeyed Hugo as am. Thought funding you needed also and I know
very little about this
matter and I am glad to find
me especially some of the highest I
know genius and specialty. I have apotheosis
of university professors as well as Dr Ph
D. say
and no go east me and interprets what explain
to me a way to where found. So of course we found
many new spacious fish
of marine life. Dozens of them.
Each expanded. But this is not to you cannot count the interest of
things by the number of species discovered the behavior of these animals is much more
interesting and
also to find smaller plagues to
the bigger little sense of
life. I was used to think thank yous.
It's just a spa day
but it's.
I think you need also
pollen What
does direct experience with this life under the water.
Make you feel about a sense of purpose or order when you say the riddle of life I mean does
it give you answers does
it does no no no and so but did more than the
problem and and after all since we.
Since we explore the world with telescopes with.
So this help salvation of ourselves seen so in
all
these efforts. Means so need to increase the sense
of mystery and and just push your dream it's a little
fill there but we. Senoritas all the time you know they're
famous for the infinities of subtlety
Aldershot that.
The Infinity and greatness
and smallness and infinity and complexity. I think
the infinity of complex in complexity is the most
puzzling and of course one when sees the infinite variety
and complexity of various forms of life. You see more vividly than anywhere else because.
Yes. Well at least. Yes I think
so I think so. When you take films of underwater life.
Is there a great deal of distortion just by lighting by film
process is necessary or is it actually quite accurate.
I think now with the new policy as with the new
lances lighting equipment and materials.
I think that we poach there. I
added to a good idea.
There is certainly less than five percent distortion if you wish.
We are because now is the screen exactly what we have seen.
After
all the very sensitive emotions of today.
Of course we don't see as much of the eye
as when. I don't know I left of
sense that but nevertheless the
conflict Very where the car rendering and.
Ourselves when we die that night when we go we're diving source up to one thousand
feet. We need an artificial
lighting to see and dimension.
And I think that provided that we bring salvation to quantity of flight.
There's no distortion days ago today
energy and effectiveness has
been increased tremendously doing the best ten years their technique
of stuffy has been such
progress and he's still making progress I think when I make
myself you know and I would probably have enhanced new tools and new
materials to get even better.
I know when physics is the problem is a lot of influence even the minute they
start testing electrons and others they change their course is this somewhat true
in undersea life the minute you photograph a bright light during the night that you're
changing the life patterns of these
Absolutely. Yes. That is tall and at night
when
we dive in shallow water. A for example. With
now being self right. And we find.
We discover that animals are sleeping sleeping as we
do. And when we put a beam
on
their eyes they are absolutely
hypnotized and they don't move they
stay where they are like air rabbits and I rode in front of a
car. And.
Diving So saw for example
meets Lorien animals that never saw any light in their life.
Because they only see a luminescence Ballymun essence but no light from the center.
So when they see by itself like you I mean to them I'm sure today and they are completely.
Altering their behavior. So we
have a very very mean.
When we do not take front of us so we never asked to
surprise nature. Where ideas.
What would you say is the greatest satisfaction you get from this kind of
work and the greatest satisfaction.
You know to think fast.
Each time I have a meal with my team.
I feel glad to fight because I see that they always ask
me you know I am their leader but they do not behave with me
as employees.
And they do not do that to criticize a thing so I like that
very much and we have a.
Pleasure in feigning else else a
meal. The second greatest thing you know we should I
speak up to
this people and. We know it we are members of
the club and they know it. The
second satisfaction of datasets action from me has been
a series of deep dives in the diving saucer where they were I don't think is going to
fly for nobody had ever.
We've ended it. Thanks to your film. Thank you very much for this interview. Captain Jack.