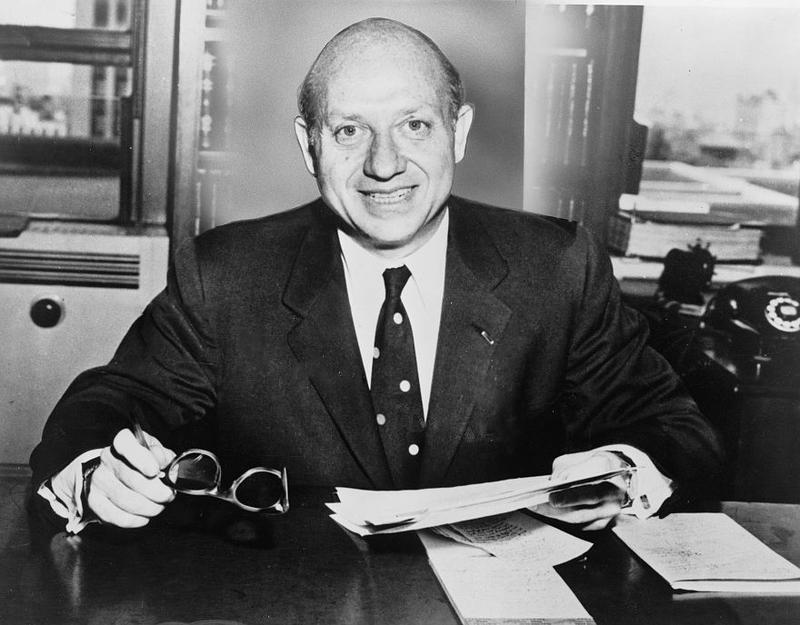 Summary
This episode is from the WNYC archives. It may contain language which is no longer politically or socially appropriate.
Marvin Sleeper hosts.

Attorney General Javits answers questions.

Panelists: Larry Barrett, Bob Feinberg, Martin Birmingham, and Ray Shroate.

Questions:

Critique of the Harriman administration thus far. He would direct the attention of the government towards health care and higher education if he were governor. More responsibility for the health of people on public welfare. Comic books and pornography. A weekly conference with the governor. Suing a judge in Saratoga County. Regulation of food. Defense pact with Israel. What can the Republican Party do to regain power? Voting machines should be obligatory.
Audio courtesy of the NYC Municipal Archives WNYC Collection
WNYC archives id: 71986
Municipal archives id: LT6653
Transcript
This is a machine-generated transcript. Text is unformatted and may contain errors.
But the Javits what kind of job do you think the harvest race that's done so far if you've been hampered in your job by the Harman administration left in the Republican Party do to get back into power in New York State at the Javits How will your well your office act on the results as that of the key fathers investigation of pornography for the answers to these and other questions listen now to campus press conference and transcribed program in which college editors interview prominent personalities in the new and here to introduce today's panel and their guests is your moderator Marvin sleeper city hall reporter for The New York Journal America Good afternoon and welcome to another dish in the campus press conference today our guest is the honorable Jack Javits attorney general of New York State Mr Javits as you probably remember was the lone Republican to win office in last November's Dubin Tauriel election here's what you might call a Republican island in a democratic state with the Javits serves as the representative in Congress from one hundred forty six to one hundred fifty four when he left Washington to enter the race for the New York state attorney general against Franklin D. Roosevelt Jr So let's find out how much the Javits is enjoying the change in political climate around our microphones to question this is Gavitt Larry Barrett of the Watchmen square bulletin Bob Feinberg of the Hunter College arrow Martin Birmingham of New York University and retro of the forum ran and the first question from Larry bad that the Javits as the only Republican in the state of ministration How would you appraise the first months of the harm of a stranger. I would like to answer the question Larry and terms of the governor's statement blunt he made his inaugural address on January first the promise that the new stated ministration would be in by quote bold adventurous I'm called so far I don't think it's been a the bowl our adventures. What steps do you think it should take that would make it all that adventurous so I think that now you're asking made to guide the administration which is govern a harmony job but it seems to me that if I were counseling the Republican Party which after all is my own political identification as to what to do in the state which would be politically bold and adventurous I would direct its attention to a health program for the people of the states I would seek expansion of opportunities for higher education and I'd like to point out that the legislature did take quite an initiative in that this year and doubling the number of states scholarships and starting a new program for nursing scholarships I'm deeply interested in going much further with educational T.V. with opportunities for young people who are studying for overseas work in our New York colleges and universities and with enlarged opportunities in the profession also I want our states to move very much more strongly into the area of the child thing and keeping business in New York giving legal and technical assistance for business I've been the seeking an amendment to our state and a monopoly laws to enable us to deal with paid advertising I would hope very much that we move forward vigorously in that direction I think we ought to go further with the facilitating of administration in the courts and carrying out the recommendation of the tweet Commission which was organized ungovernability administration and then we've got an enormous job to do in the areas of juvenile delinquency and youth crime and which the governor made a good many recommendations some of which have been complied with but we have a great deal more to do in that field a lot to do in agriculture and in many other areas but it's little indication of my thinking but some of the pen details what type of a health problem are you in favor of. Well in the first place we should tie in in our own State of the health of those who are unemployed are in the gents are agents with the various state systems which help them we do not have that exercised a responsibility for the health of those people though they're on the on the rolls of the state in these various ways. For example just as many as a possibility as an example the state could pay for them and group health insurance such as in the fact for so many employees in New York City are cut even paying voluntary Blue Shield and Blue Cross plans that's sitting directly into the pattern of the medical activities which are available today that although I might just to see some kind of state help for cooperative programs broadened to include all workers in the state now that is not an uncomplicated problem because it must fit in with the health and welfare plans find many which many unions have negotiated but it is an area of activity the lines of which are generally ended well hasn't Governor Harriman sought to ameliorate part of the problem by appointing Mr Philip Kaiser his advisor on problems of the aged and calling a conference to discuss this problem and not sober Well that's not I mean you're reading a problem by appointing a follow the look analyze and calling a conference I'm not I mind you I'm not finding fault I'm not being critical it's much too early to be you asked me what I thought of happened at least that was Larry's question what I thought it happened in the first four or five months I characterized what I thought it happened and that's all I've tried to do not as a fact but Miss Kaiser has been appointed as the governor is seeking a conference on October we don't know whether that will be bold and adventurous and not all that we know is a record of a phrase five months is not bold and adventurous For example let me give you a practical example Governor doing went to town on the fact that we are. Ought to have compulsory automobile insurance everybody remembers that legislature voted them down now it would seem to me bold and adventurous to go after a thing like that with great vigor by a new governor perhaps Governor Harmon will I'm only pointing out that this is these are some of the areas in which we haven't had bold and adventurous administration well just like the Javits that he's been handed a little by a Republican controlled legislature and doing the same I wouldn't say that he's been happening more than legislatures unhampered the legislature is complaining bitterly that they tried to pass human izing the tax amendments to help the aged in the second working mothers and they vetoed it and thus they tried to pass the system for controlling employee employer welfare funds and he vetoed it the point is that we're living within a certain situation the situation of a governor and legislature a different political face other governors have made a very great record number low situation for example out for the Smiths to face exactly the same thing so the opportunity is there for Governor Harriman it's also there for the legislature the question is whether it will be realized and I'd like to make clear what I what I have in mind so far we have not had a bold adventurous stated ministrations perhaps we will perhaps we won't have such discussions we're having today can stimulate it and bring it about as we all be glad I certainly will to help them that's the right using the various investigations being undertaken. And all they are being discussed will help illustrate and there is well I think in any any investigation which on earth corruption and fraud and misgovernment is always a good thing for the people in this situation so far we've had a considerable amount of small but yet no fines and other words people have been called up to questioning them and asked the fall out question as but there actually has not been any particularly major disclosure which would that the in the categories I've described. Again there's only a relatively short time is expired and perhaps that's as much as you can expect so far with the Javits the recent key farther investigation disclosed that pornographers make over three hundred fifty million dollars a year that's a lot of money I wonder what action you intend to take about that we are in state right now in the US in that area the legislature has passed two laws which the governor has signed a veto to one passed to not even tell the two laws with respect to comic books and what they contain because he has very grave doubts and standards out of my office about constitutionality of the galaxy but he did he did sign two laws which will have a very material effect upon giving the state authority opportunity to control obscenity which is incorporated in especially in the comic books and as far as my office is concerned we shall do everything that we can to see that those laws are adequately and for us both to my office which has only in the sense a supervisory enforcement power but primarily through the and law enforcement agencies of the state and I believe the governability back to the same why that's a subject incidentally which it's in the worst manifestations of which are interstate and that far beyond the jurisdiction of state authority under federal laws against transporting the literature across state boundaries there aren't but I understand the federal laws are being designed for another day and another type of. Indecent literature or does not pinpoint exactly the way these particular operate is circumvent the law by following the letter of circumvention and other ways for example of the law said that you shouldn't transport across state lines of the mail they sent across in the car etc They found ways and means of avoiding the laws which were drafted another day for other conditions do you think the state needs a new laws and. I believe that we should see what happens with these laws which we have but we should certainly examine the the investigation of the fall of a committee with the greatest attention which we which we all will do in the state government and seek such additional legislation that we might need to buttress our own position have you found the hostility toward you in the over the years of Republican and. Democratic administrations I have heard about hostility I have here I have heard that the ex said to watch whatever he did say but it all is meaningless to me and my personal relations with the governor and the commission as a number of home are old friends of mine and it just so happens in the social sense has been excellent that I have felt no personal hostility to you and for often with the governor I haven't that's a very interesting question because by agreement between the governor and myself we now have a weekly conference which is very useful to the governor in the sense that he is that guy quited with what's going on in my office and very useful to me and you if I may Myron I'd like to make this point clear the attorney general is essentially the lawyer for the state there for the lawyer for every part of every artificial in the state the governor and all the others and I am essentially a lawyer that's what I was first defining else I have a very high regard for my professional obligations and so I wish to keep a relationship between myself and the governor in the state officials which is professional as a lawyer would to a client This is my duty we may deafened very materially on policy and we undoubtedly have and we will but this is another matter quite within the context of American public life it doesn't change the fact that in legal matters where I represent the governor and other state officials I will. Have an hour at the do an outstanding job as their lawyer and with the greatest price and friendship. Present in the dike and that I can have or I'm lost can you give us an example of why. One particular instance where you had to confer with the governor of L.A. outcome of a Yes I said only can. Involve not only the governor but the governor's counsel out of the commissioner investigation a number of employees work by the fact that the commission investigation wished them to fill out questionnaires and connection with an investigation the commissioner is pursuing the state like our afar and they brought them out of the court now no one can appear in court for the state this isn't one hundred percent true but general enough for our purposes no one kind of parent court for the state except the attorney general and so we were asked by the Commission investigation to represent him and of course we said of course we would and we did and we represented them vigorously and we think effectively and the job got done and in that respect I conferred with the governor and the governor's counsel and all the people affected That's one small instance I'm sure there'll be others as we go Well the legislature has adjourned but it is your office carrying on any investigations or pressing any cases that you can discuss at this time well my office is known publicly to be carrying on a number of matters which we inherited as well as a number of new matters among the matters we inherited were questions concerning undertakings in New York. We have just issued a modest report on the medical examiner's office and queens which which of which I'm sure you're aware of my office is carrying on a narcotics investigation which was begun on the my predecessor on the Faneuil gold stained and there are other investigations going on which carry all the way out we are for example sowing to remove a judge and Saratoga County on constitutional grounds for appeal for refusing to waive immunity before the grand jury five virtue of its acts as a district attorney which he was before he was a judge which is I which is remaining case from the so called told in Columbia County investigation. As That's the new matter as my office is placing a great concentration of a upon this great advertising problem which has which has manifested itself and the good deal of deception and radio and T.V. and presentations and I tried very hard to get from the legislature a specific law which what an able Boston deal with ten point we couldn't get but we are the Senate turned us down the state Senate I hope but it will ultimately come around but in the meantime we're using the add a monopoly provisions of the state law for that purpose and that represents a very big area of activity revenue activity in my office could you give us an example of this bait out of a YES I CAN WE have just been joined to so-called food freezer plans which were making representations to the public that they could buy food cheaper if they bought a freezer and that that just wasn't so now they couldn't be out by cheaper in addition there were questions of quality which were involved and we've been joined them from these false representations and there's been quite a clean up in that whole phrase a situation which was a very serious one same is true and storm windows which presented a very serious situation