Itzhak Perlman's Chanukah Radio Party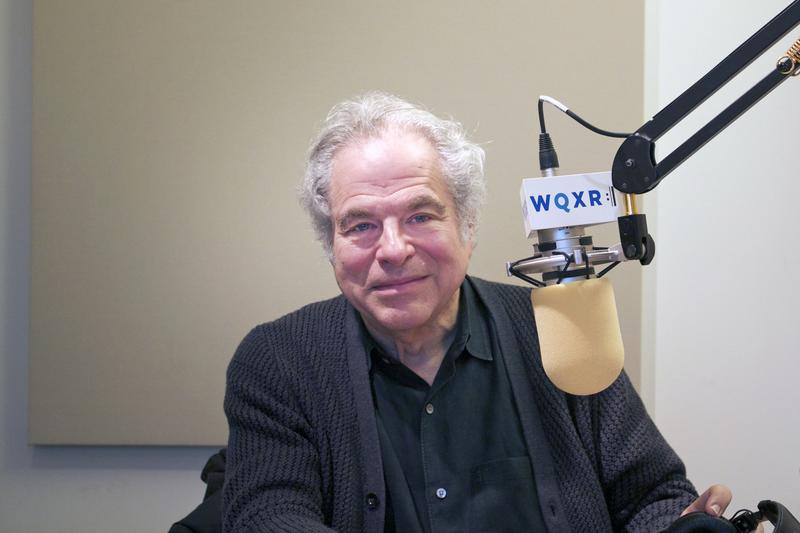 Join violinist Itzhak Perlman as he tells the story of the Jewish festival of lights, and shares his favorite recordings for the holiday – some serious, some silly. This special includes numbers from Itzhak Perlman's radio-addicted childhood in Israel, evocative songs in Yiddish and Ladino, classical music that revolves around the Maccabee heroes of the story, and Chanukah gems by American folk singers.
The master storyteller also regales you with jokes and memories, plus tales of three classic Chanukah symbols: the menorah, the latke, and, of course, the dreidel.
Listen Sunday, December 25 at 10pm on 93.9FM and NJPR

Explore all of our 2016 holiday programming here
Playlist (in order of appearance)
PART ONE
Maoz Tsur (Rock of Ages)
Traditional
Kristen Gygi, flute
Hava Narimah (Let's Raise the Banner and Torch)
Music by George Frideric Handel, words by Levin Kipnis
Cindy Paley, singer
Chanukah: A Singing Celebration
See the Conquering Hero Comes
from "Judas Maccabaeus" by George Frideric Handel
The King's Consort, Choir of New College, Oxford
Robert King, conductor
Handel: Judas Maccabaeus
Hyperion CDQ66641/2
Sound an Alarm
from "Judas Maccabaeus" by George Frideric Handel
Richard Tucker, tenor
Chanukiah Li-Yesh (I Have a Chanukiah)
Hannah Aharoni, singer
Hed Arzi 787 LP
Chanukah Blessings
Ilene Safyan, singer           
Just in Time for Chanukah           
Avi Hidlik (My Father Lit the Candles)
Geula Gill with Dov Seltzer and Group
Holiday Songs of Israel
Rounder 8017
PART TWO
The Latke Song
Written and performed by Debbie Friedman
Debbie Friedman – Live At The Del
Sounds Write Productions
Levivot (Pancakes)
Geula Gill with Dov Seltzer and Group
Holiday Songs of Israel
Rounder 8017
Hazeremos Una Merenda (Let's Make a Meal)
Phillis Elaine Clark and Cheryl Bensman Rowe, singers
The Western Wind Vocal Ensemble
The Chanukkah Story
Western Wind Records 1818CD
Ocho Kandelikas (Eight Little Candles)
Written and performed by Flory Jagoda
Kantikas Di Mi Nona
Altaras Recordings 837101132114
I Have a Little Dreydle
By Michael Gelbart
Theme played on recorder
The Chanukkah Story
Western Wind Records 1818CD
Variations on a theme from Handel's oratorio "Judas Maccabeus"
Variations 10, 11 (partial)
By Ludwig van Beethoven, WoO 45
Mischa Maisky, cello and Martha Argerich, piano
Beethoven: Cello Sonatas
DGG 453 748-2
Al Hanisim (For the Miracles) from "Hanukkah Cantata"
By David Ludwig
Tune by Dov Frimer
Choral Arts Society of Philadelphia
Matthew Glandorf, conductor
Choral Music of David Ludwig
Al Hanisim (For the Miracles)
Music by Dov Frimer, arranged by Hankus Netsky
Cantor Yitzchak Meir Helfgot, singer
Itzhak Perlman, violin
Hankus Netsky, piano
Recorded live at the National Menorah Lighting, 2010
Courtesy of American Friends of Lubavitch (Chabad)
Mi Yimalel (Who Can Retell)
Traditional
Kol Yisrael Choir
Chanukah, Oh, Chanukah from "To Celebrate a Miracle"
by Samuel Adler
University of Cincinnati College-Conservatory of Music Wind Symphony
Rodney Winther, conductor
A Hanukka Celebration
Milken Archive of American Jewish Music, Naxos 8.559410
Chanukah, Oh, Chanukah
Pete Seeger, singer and banjo
With Voices Together We Sing
Folkways FW02452 / FA 2452
O Ir Kleyne Likhtelekh (O You Little Lights)
Music by Zavel Zilberts, words by Morris Rosenfeld; arranged by Hankus Netsky
Judy Bressler, singer
Hankus Netsky, piano
Oy Chanukah!
Rounder
Nerot Chanukah (Chanukah Lights)
Hannah Aharoni, singer
Or (Light)
By Naomi Shemer
Shoshana Damari, singer
Or
Hed Artzi 15329
Light One Candle
Written and performed by Peter Yarrow
Celebrate Hanukkah
Sweet Louise Music           
Hanuka
Music by Judy Frankel, text by Lina Kohen Albukrek
Judy Frankel, singer
Celebrate Hanukkah
Sweet Louise Music           
Svivon (Spinning)
Hannah Aharoni
I Had a Little Dreidel
By Michael Gelbart
Rachel Buchman, singer, with children
Shine Little Candles: Chanukah Songs for Children
Concord Music Group
I Have a Little Dreydel
By Michael Gelbart, arranged by Matthew Lazar
Mat Zaitchick, soloist
Zamir Chorale of Boston
Joshua Jacobson, conductor
Lights: Music for Chanukah
Drei dreidele (Spin the Dreidel)
Moishe Oysher, singer
Moishe Oysher: Passover Seder, Kol Nidre & Chanukah Party
Leisure Time Music LTM-158CD
Maoz Tsur (Rock of Ages)
Traditional
Kol Yisrael Choir