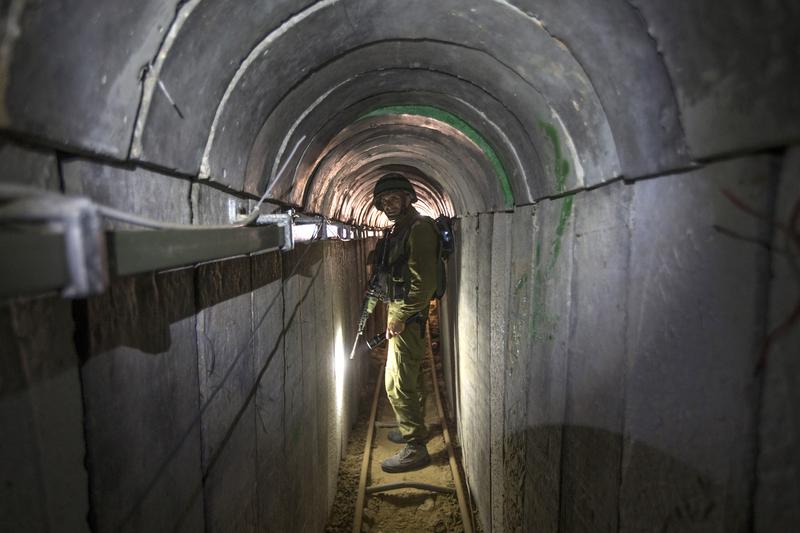 In Gaza, the weekend's pause in hostilities was replaced by one of the heaviest nights of bombardment. A fuel tank supplying the area's only power station has been hit, with reports that power to the 1.8 million people in the Gaza Strip has now been cut.
In a televised address late Monday night, Israeli Prime Minister Benjamin Netanyahu told his citizens to prepare for a long fight in Gaza. 
"Israeli citizens cannot live with the threat from rockets and from death tunnels—death from above and from below," the prime minister said. 
On Tuesday, one senior PLO official called for a 24-hour humanitarian cease-fire—something that has since been rejected by Hamas. It once again underlines the deep divisions within the Palestinian leadership, with various factions pulling in contrary directions.
What's not in dispute is the one direction Hamas seems determined to pursue—the sophisticated network of tunnels built by Hamas, a key Israeli target that is used by Hamas supporters to transport weapons and launch attacks on Israel.
Jodi Rudoren, Jerusalem Bureau Chief for our partner The New York Times, recently got a tour of these tunnels and weighs in from Jerusalem.
"We've heard about the labyrinthian network under Gaza, with lots of offshoots and shafts, and this was not like that," says Rudoren of the tunnel she visited. "This tunnel is quite a bit underground—about 46 feet down—and you have to duck to get into it, but a medium-sized person can stand. It's very, I think, professionally built, with concrete walls and a curved concrete top."
In the tunnels, as shown in the photo above, an iron rod runs along one side of the tunnel to provide electricity. Rudoren says that the metal lattice on the bottom of the tunnel is used as a carriage track to cart out sand. The Israelis have said these elements indicate an unfinished tunnel.
"There are different kinds of tunnels—there are smuggling tunnels, and there are storage and rocket manufacturing tunnels within Gaza," she says. "The ones that lead into Israeli territory are something that people have known about for a little while, and have become an increasing focus of this war."
Rudoren says that Israelis fear these tunnels because they allow militants to come into Israel to carry out attacks on soldiers or civilians.
"The real fear is they'll come to some kibbutz and spray the dining hall with machine gun fire," says Rudoren. "In one case, they found some tranquilizers and plastic handcuffs so the fear is that they tried to kidnap people."
Last night near the border, Rudoren says there was an attack by Hamas on an Israeli military post.
"They killed five Israeli soldiers, and were trying to actually take a body of one of the soldiers back through the tunnel," she says. "Soldiers at the watchtower shot at them and killed or injured one of them, and they did all get back into the tunnel but without an Israeli body."
Rudoren says that the tunnels are a valuable tool in this conflict, stirring fear in the hearts Israelis.
"For years, the primary tool from Gaza was rocket fire, and the primary impact in Israel was not really death, but this constant running into bomb-shelters and this destruction of life," she says. "They don't seem to have an answer to the tunnel threat, and it's totally freaking people out."