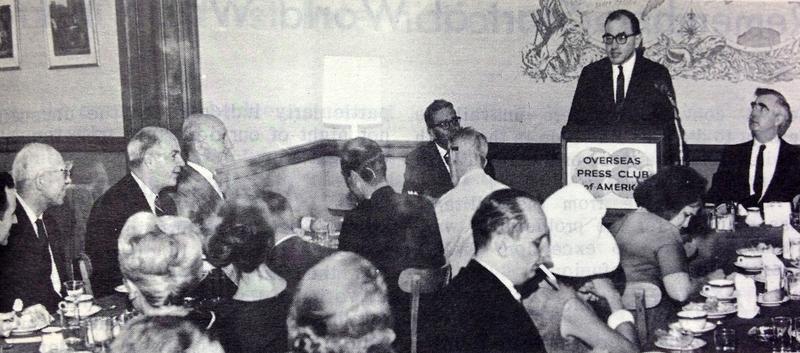 Summary
This episode is from the WNYC archives. It may contain language which is no longer politically or socially appropriate.
From the Municipal Catalog:
Israel Shenker, Moscow reporter for Time, talks about why his magazine bureau was forced to leave the U.S.S.R. He also discusses the difficulties that plague foreign correspondents living and working in the Soviet Union.
Audio courtesy of the NYC Municipal Archives WNYC Collection
WNYC archives id: 70411
Municipal archives id: T215
Transcript
This is a machine-generated transcript. Text is unformatted and may contain errors.
We have quite a few guests with us today I will not go the rounds of introducing all of us but I would like to clear who is the editor of Clarine in Buenos Iris to rise to be seen by us. We're just. We were having a two way conversation in Italian and Spanish a little while ago that more or less made out. Of Us vaguely look through a frosted glass and saw the other side but it certainly was a meeting of two newspaper men and it was a very pleasant exchange because of that it's a great very great pleasure for us today to have Israel Shanker with us and. All of us who are in the news business look to the Moscow bureaus as one of the classic challenges facing American journalism at this time I personally had a three month that taste of it. And the others who were there at the time told me that that was just about right and three months you can really get the the full experience and then it's kind of nice to go away the the pressure of the. Of I found one of the worst pressures was having my secretary who was a very devoted member the Communist Party read me the problem and his vest year in Soviet sky. Each day and droning monotone and telling me the most awful things about my country in a very matter of fact and rather sympathetic way sympathetic for those who had written that not for the for the person who was listening to it and. The added anguish for me was that I. No that I had hired my secretary from the government as a loyal supporter of the government I had never any way of knowing whether there were really interesting and good things being skipped over as that but paper was read to me that coupled with the fact that the seeing eye as the is everywhere. Proved to be quite a nervous strain for some of the correspondents this one friend of mine got it an imaginary attack of cancer and wouldn't believe that he was perfectly well until he took a trip out to Sweden and an anon Russian doctor told him that he was well the. The experience is certainly strained us and challenging and if there is any hope or ever having the understanding in one world a large part of that hope rests on the shoulders of the fifteen or sixteen American news men who are there day in and day out covering must go for us in New Israel shank his own case not only was he invited to leave abruptly but his girl was invited to be closed at the same time. That was. An unhappy element in this long story of the Soviet American journalistic relations and it's a real pleasure to have Israel's back here to tell us just what happened and what his comments are on that happening. You just heard what will probably be the only talk this week the complete steers completely free of Republican or Democratic politics. And I hope to give a second. First of all to explain to those of you who. Are fortunate enough not to read our magazine how and why I was expelled from the Soviet Union last February we did an article devoted to the Soviet economy and on the cover of that magazine was Gratian event Soviet president and now to be no longer Soviet president be replaced by me going on. And on that occasion I was called to the foreign ministry and given a printed warning which said The Star magazine had slandered the Soviet Union and slandered Soviet people was fanning the Cold War and was poisoning the atmosphere between our two countries. These charges we have course denied subsequently on that occasion I said nothing and reply to these charges because I felt that it didn't really pay to try to argue under those circumstances. I. Was then called back to the foreign ministry in May. And this was concerning an article we did which was the boat at half past the life I. Should say the love of Lenin and half to a split in the communist campus but between the Chinese and the Russians on that occasion I was told that we had been given a first warning that if time slandered Soviet people we would be thrown out of the country we had now committed that crime of slandering the Soviet people in our article on Lenin and therefore the bureau was closed and I was a believe a country within a few days. A couple of nights subsequently Just before we left the country I was called by a car on the German magazine Der Spiegel. Who was calling me from his magazines headquarters in Germany and he said where did the interview with the foreign ministry official take place and I got the foreign minister said yes but what floor and I said well it was the eighth floor and he said Well I ask you because of four years ago I was thrown out of the Soviet Union and it was eight four then two he said did he keep you standing and I said No no I was allowed to sit down it is well things have improved after all. For the approximately sixteen American cars on than to have been allowed to remain in the Soviet Union life is one series of restrictions and a permanent state that borders on depression. The first obvious restriction is that concerning travel to travel more than twenty five miles outside of Moscow you need permission of the Foreign Ministry Normally you are not granted this permission when you are granted permission it is in most cases to go to cities such as Leningrad Kiev and. Which visiting tourists are permitted to visit also but you are not permitted to travel to the great bulk of the Soviet Union. You are required to live once you are given an apartment and you are given an apartment you may not go out and look for ones were acquired to live in one of a number of apartment houses which are reserved for diplomats and correspondents. Perhaps the greatest problem of living in Moscow is the problem of reporting from there access to news R.S.S. is not at all what we would like to have it. To interview any russian your still required to get government permission there is a certain agency whose job it is to be available to you so that if you want to interview anyone and this means not only an official but anyone in an unofficial capacity as well you must call and ask permission what happens normally is that you hear nothing from this official you hear nothing for weeks unless you call back and then you are told that of course it doesn't only depend on him at the Pentagon the person you want to see but in the majority of cases you are not granted permission to interview the person you would like to interview eventually if you are given permission to interview one of the minority of people whom you refer to permission to interview you often discover that you have forgotten what it was you wanted to ask him or the story is no longer current for one reason or another the story is no longer usable. A great problem that assailed especially television people in Moscow is the order forbidding the shipment of undeveloped film the sales the car bonnet with such a degree that one or two of them are getting close to the border line. I don't know what as much as a sanity or insanity on one occasion when I drive the ship some film of a picture of a criminal who had been apprehended and was going to be charged with murdering something like six people throughout the Soviet Union I didn't have the exact feeling of his name yet so I wrote as identification for this criminal coming K O M I N G which many newspapers magazines use to indicate a word that is going to come later and when the film was inspected at the airport and when the military inspector saw that the man with identified is coming he exclaimed but this isn't coming this is so and so and then confiscated the film because I had obviously been trying to get something for. A correspondent in Moscow live under the constant threat of expulsion. There are certain to booze which can get a person expelled one would be reporting too closely on the personal life of the Soviet leaders but this is not a boo that is very. Easy to violate and as much as we basically know very little about the personal life of the Soviet leaders. There is a taboo also that extends to stories that are too speculative if you're not sure of your facts and you usually become sure of your facts by seeing them printed and probably are the best you we should be very careful about reporting things. We had a feeling in Moscow that everything that we send via the government cable office and there is no other way to send cables was being read. Most of us used to try to improvise system to get things passed the careful eyes of the foreign ministry not that they would keep things from going out but they would see that we got out if we got things into the cables that they didn't approve of and one of my colleagues on one occasion was reporting that the Parcher of the Soviet army Marshall rockets off key from Poland. And in order to get the point across about what kind of man this was he wrote in his story the Marshall ruckus of the was every bit as popular in Poland the General Sherman had been in Georgia and the point was not lost on American readers but it certainly seemed to have been lost on the Russian readers. On one occasion when I felt terribly oppressed by all the frustrations of reporting and living in the Soviet Union. I drew up a list of the difficulties I'd been having just that one week and it made it quite impressive list and I thought what I should be careful about reporting all of these things on a cable that this cable might not be very welcome when people in the foreign ministry read it so at the beginning of the cable I said that I have reported so often on the pleasures of working in the Soviet Union that I want there are people in New York we counting these pleasures again but if anybody is interested they can see Peter Matthews who keeps a dose of these cables reporting on the. Pleasures and everybody on time knows Peter Matthews is a fictional editor whom we dreamed up to be a kind of straw man for complaints if anyone calls up and says we didn't like the way you ran our ad in time last week who's responsible the answer is always Peter Matthews and when anybody tried to get Peter Matthews on the phone of course in the stream a difficult job and not perhaps there were some things that the Soviet authorities didn't read we often felt that what they didn't read they certainly overheard I remember one occasion when Governor Harriman was in Moscow last summer on the occasion of the signing of the nuclear test treaty we threw a dinner for him that was attended by all of the American cars on the Moscow. One here and then got up he began by saying Ladies and gentlemen and then he looked at the ceiling and said and Mr crucial of you were listening I went on from there I want to get agent on which a colleague of ours named Hank Walker who used to work for life and now works for the Saturday Evening Post visited Moscow had an old friend a nerving Levine who was with N.B.C. went to see Irving living at his apartment and it wasn't much of an apartment and Hank was shocked by what he saw and he's that Irving How can you possibly live in a place like this this isn't just for you you can't be satisfied with a place like this or Irving was very nervous about someone who might be overhearing that so he kept. The and when Hank Walker went on with his Irving finally explains That's Hank Walker of Life Magazine talking this is Irving Levine I love it here and the other. I don't know. How many people are inclined to wonder if expulsion accomplishes anything from the Soviet point of view. Well I'm not quite sure about the Soviet point of view but occasionally accomplishes something from the correspondence point of view accomplish something from our point of view it got us out of Moscow. And I might be tempted to say that anything that got about can be all bad. The constant concern of guard bonds living and reporting in Moscow is when can I get out get out how something of the same connotation of significance that it has in the Army has a slight difference you know that eventually will be possible for you to get out you may not know this in the Army. But I noticed in travelling through America a constant concern in many cities is for example in Los Angeles the problem of traffic how to get on the freeways and how to get off the freeways well in Moscow if you saw the car on and about the only subject which they will talk at great length is when I was unhealthy last year when I was in Sweden last year when I'm going to get help thinking again I went I'm going to get to London again. But from the Soviet point of view there is one purpose accomplished and that is that an expulsion intimidates those correspondents who remain in Moscow as is the fact whether you are determined to let it have this effect or not when Peter Johnson the bureau chief for Reuters was expelled about three or four months ago we all felt that we had to be slightly more careful about what we report it didn't mean that we were going to keep from reporting things we had but we would try to find some more dodges that would get us past the inquisitive eyes of those who were reading or the inquisitive ears of those who were listening. The question then arises what should be done about the expulsion of American cars condoms or other cars bonnets in the Soviet Union and I have one suggestion. As a suggestion in the form of a question really. For every American part on the next dollars in the Soviet Union should not one Soviet correspondent be expelled from the United States there are many who feel that we shouldn't play the Russian game my own feeling is inclined to be that we should in this instance as much as we get nothing from not playing it. Seems to me that the Russians will think twice rather than once if they know that every time an American cars abandoned that expels in the Soviet Union a Russian correspondent is going to be expelled. From Washington or from New York. Now if any of you have any questions. I would give you one word of warning and that is that serious questions and a difficult questions are very easy. I had an exchange and soon after I came back when I was talking to a group of advertisers if I can use that word. And luckily it was just before I got up to speak to the whole group and one man said to me. Tell me I hear the ice cream is good in Moscow is that right I think yes and he said How come I didn't have the vaguest idea why the ice cream was good in Moscow. And then about two minutes later he said How's the bread and I said well the black bread is fine but the white bread is very good lately and he said why the black bread black so I'm sure there are people here who know the answers I know the answers to both questions but I absolutely knew nothing about them so both of us are so if you have any serious questions do I have many difficult questions about Sino Soviet this dude who's going to replace from a shop you know the thing that nobody knows the answer to I'm your man but he wanted me a simple question I'm not the person who sho