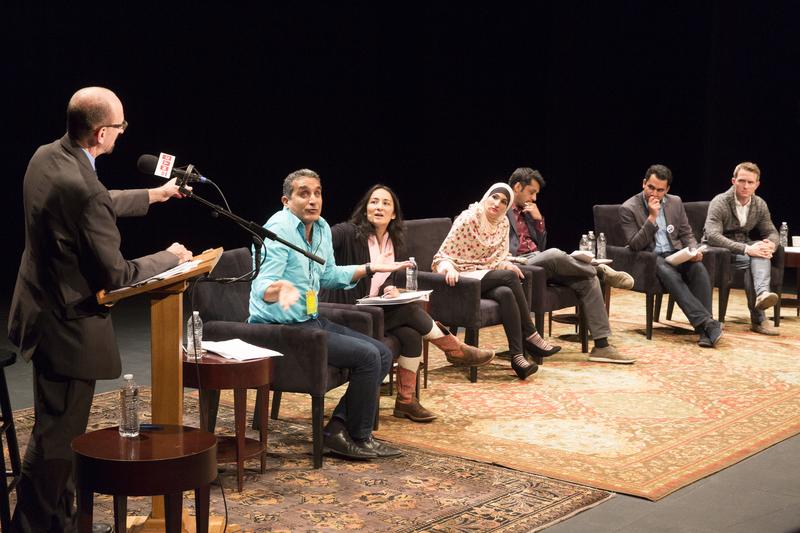 Who speaks for Islam? Is 'Islamophobia' a uniquely present-day problem? Does it even exist?
Six individuals from across the political, religious, and cultural spectrum convened at BAM's Harvey Theater in May as part of RadioLoveFest to address these issues. The conversation covered broad terrain, with arguments including the Westboro Baptist Church, the NYPD, Ann Coulter, the Egyptian government, and even Yoda.
Despite the huge topic, the aim was simple. As the evening's host Brian Lehrer explained at the outset, "No one here wants terrorism, and no one here wants bigotry. Let's have a dialogue about how we can fight the one without enabling the other."
Hear this special on WNYC:
Tuesday, July 28 at 2pm and 8pm on 93.9FM
Panelists included:
Wajahat Ali—co-host of The Stream on Al Jazeera America; author of "Fear Inc.: Roots of the Islamophobia Network in America"
Douglas Murray—associate editor of The Spectator magazine; author most recently of Islamophilia
Faisal Saeed Al Mutar—Iraqi-born writer and human rights activist 
Asra Nomani—author of "Standing Alone: An American Woman's Struggle for the Soul of Islam" 
Linda Sarsour—Brooklyn-born executive director of the Arab American Association of New York
Bassem Youssef—host of Al-Bernameg, the first televised political satire show in the Middle East
Audience members got a chance to speak with panelists during the event. Listen to the full Q&A: