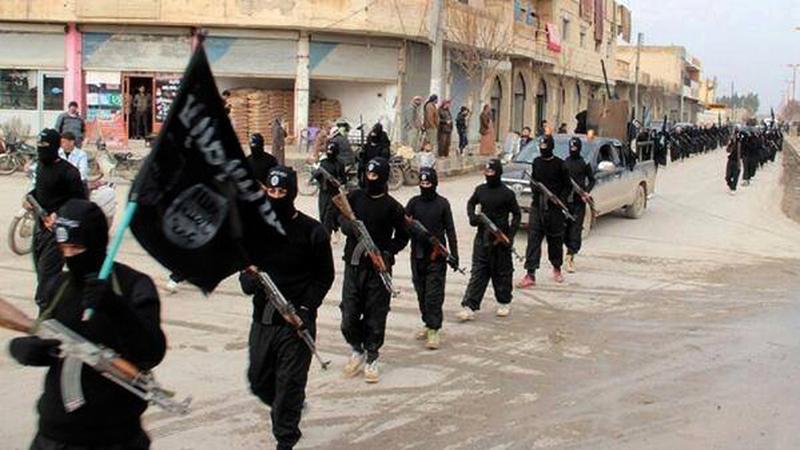 Summary
ISIS built its following largely online, using social media to distribute beheading videos and screeds about a Western war against Islam and portray a utopian life in its territory. But according to a new report by The Combating Terrorism Center at West Point, even as the presidential candidates continue to portray ISIS as an imminent threat, the group is actually losing territory and seeing its recruitment slow dramatically--and their propaganda is shifting in turn. Charlie Winter, Senior Research Fellow at The International Centre for the Study of Radicalisation and Political Violence, has been tracking ISIS propaganda for years. He talks with Bob about what the slowdown indicates about the future of the caliphate.
Songs:
"The Penguin" by Raymond Scott
"You're Gonna Cry" by Binky Griptite And The Mellomatics
Transcript
BROOKE GLADSTONE: From WNYC in New York, this is On the Media. I'm Brooke Gladstone.
BOB GARFIELD: And I'm Bob Garfield. Okay, because we must, the week in Trump.
[CLIPS]:
FEMALE CORRESPONDENT: We begin with Donald Trump accused of groping one woman and kissing another without consent.
MALE CORRESPONDENT: A Palm Beach post out of Florida quoted a woman yesterday who says that she was groped by Donald Trump 13 years ago at Trump's Mar-a-Lago estate.
MALE CORRESPONDENT: One story after another, after another, after another…
[END CLIP]
BOB GARFIELD: Trump's explanation, of course, a conspiracy of Democrats, Republicans, the press and the breath mint industry to deny him his throne.
[CLIPS]:
DONALD TRUMP: Slander and libel that was just last night thrown at me by the Clinton machine and The New York Times and other media outlets, as part of a concerted, coordinated and vicious attack.
BOB GARFIELD: Never fear though.
DONALD TRUMP: I take all of these slings and arrows gladly for you.
BOB GARFIELD: That's right, conflating Christ and Hamlet, he's being crucified for our sins, while talking himself into political suicide. What he's not doing very successfully is changing the subject.
[CLIP]:
DONALD TRUMP: But it's locker room talk and it's one of those things. I will knock the hell out of ISIS, we're gonna defeat ISIS. ISIS…
[END CLIP]
BOB GARFIELD: That was at Sunday's presidential debate, where Trump attempted to divert voters' attention to a looming existential threat. But "Jesus Hamlet Trump" may fare no better as Cassandra. This week emerged a new study by The Combating Terrorism Center at West Point, suggesting, based on, of all things, propaganda output, that ISIS is a terror army damaged and in disarray.
CHARLIE WINTER: Back in December, 2015, we were looking at 60 individual unique photographs circulated, on average, every day, but it's closer to about 20 or 25 unique images, which is still a lot but, in the grand scheme of ISIS's propaganda productivity, it's really collapsed over the last few three months.
BOB GARFIELD: Charlie Winter follows ISIS closely as a Senior Research Fellow at The International Centre for the Study of Radicalisation and Political Violence.
CHARLIE WINTER: I see this slowdown as the result of three factors. So first, there's the fact that so much territory is being lost. With the loss of territory, not only is there less stuff about which to make propaganda, but also fewer places within which to post-produce it. Second is the cyber war. So I'm talking about social media corporations being better at suspending disseminator accounts and proselytizers for ISIS, but also the efforts of the likes of the Pentagon, the unique aim of actually trying to combat ISIS's abilities to engage with a much wider global audience online.
The last thing is, of course, targeted air strikes. Now, we've had some very high-profile figures within ISIS that have been killed in recent months, the likes of Abu Mohammed al-Adnani, its spokesman, and Wa'il al-Fayad, its information minister.
There are sure to have been many more deaths behind the scenes which will have really severely degraded the human capital in its media operations.
BOB GARFIELD: Whenever I see Pentagon proclamations that some important figure has been taken off the battlefield, I always wonder, well, it's an organization, there is someone below him who will now take over those duties. Will this death necessarily have any effect?
CHARLIE WINTER: I think it's the loss of the middlemen, the individuals lower down the ISIS propaganda ladder. These are the individuals who are doing the photographing, the filming and, of course, the kind of rudimentary post-production before anything actually gets disseminated. I think that it's losses within this demographic that is causing perhaps the greatest supply side difficulties in actually getting the propaganda out there.
On top of that, there is the issue that it's very likely that there's a lot of propaganda that we don't ever see online that is reserved for its off-line showing in Iraq and Syria in the so-called "caliphate" heartlands, but I think that online certainly there is no two ways about it, the productivity has collapsed.
BOB GARFIELD: ISIS videos first grabbed our attention by depicting just the most grisly executions of Westerners, including journalists. There is a sort of subgenre of that that has now found its way into the stream, and that is the execution of infidels from within.
CHARLIE WINTER: I'm someone that has systematically researched ISIS propaganda for a few years now and in the course of that time I've seen lots of really horrible stuff, but two of the videos that were released in the last month were of astonishing levels of brutality. And the focus of these videos is about telling a story of capturing spies, essentially, informants, people who are said to be feeding information to the coalition and its allies and then killing them in an utterly abhorrent manner.
Now this, in my opinion, betrays an increasing sense of paranoia within the organization. It's on the back foot, it's being defensive and is trying to say, yes, we may have had lots of people, senior people, be killed in recent weeks, but we're still on top of things and you will get caught. And I think it is indicative of a level of precariousness in ISIS's heartlands that it hasn't had before.
BOB GARFIELD: Even if the ISIS organizationally is, as you say, on the – its back foot and even if its, if its recruitment is declining and even if it is losing territory, that doesn't mean the threat is evaporating, does it?
CHARLIE WINTER: Absolutely not, sadly. I fear that as the ISIS insurgency in Iraq and Syria comes under more pressure, the ISIS terrorist organization will become more prone to lashing out in order to buoy up morale. I think it will do all it can to maintain this kind of outsized presence in the media, this outsized ability to weaponize reporting about it. And, as it loses the ability to brag about its effective military efforts, then it will look to terrorism as a better means of sustaining this idea of momentum.
BOB GARFIELD: Donald Trump has characterized ISIS as an existential threat to our society and Hillary Clinton has responded that that kind of talk just inflates ISIS. It also feeds into their own internal narrative of a war against Islam and, she says, helps ISIS in its recruiting, that they're using Trump's words to gin up interest in fighting the West. You know, I wonder if there's any evidence for Clinton's assertion that Trump's rhetoric has been weaponized by ISIS?
CHARLIE WINTER: Unofficially, there have been a few instances in which Trump has appeared in pro-ISIS propaganda. In terms of official ISIS propaganda though, there hasn't been one mention of him. He's not appeared a single time. And that is quite incredible, really. That someone who so perfectly encapsulates ISIS's view of the world has been routinely ignored in any of its propaganda rates is very significant, indeed, because this isn't happening by accident. There's no question in my mind that the things that Trump has said are being used by ISIS in order to garner support for sustained support or coerce acquiescence.
I think that the reason that we haven't seen anything online so far is that they are waiting. They're biding their time. They don't want to want to do anything that could make them look stupid, on the one hand, and, and also, I mean, it seems kind of crazy to say it but I think that they do want a Trump presidency because he is an individual that confirms the suspicions they have about the world.
[MUSIC UP & UNDER]
BOB GARFIELD: Charlie, thank you very much.
CHARLIE WINTER: Thank you.
BOB GARFIELD: Charlie Winter is a Senior Research Fellow at the International Centre for the Study of Radicalisation and Political Violence.
BROOKE GLADSTONE: Coming up, how two networks battled for news dominance under the Berlin Wall.
BOB GARFIELD: This is On the Media.