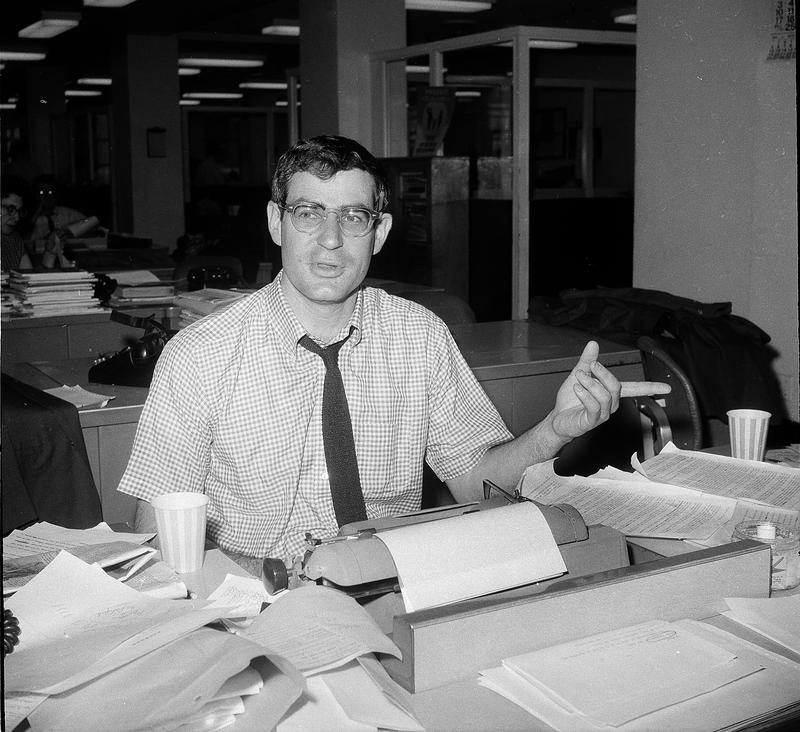 Summary
This episode is from the WNYC archives. It may contain language which is no longer politically or socially appropriate.
Host introduces Kuhn.

Kuhn speaks about her experience in Taiwan and the people there; title of speech: "Reporting on Taiwan." Changes that have occurred within the soul of the people. Today everybody is working, including the women. New agriculture, agrarian reform. A story about the Mayor of Hangzhou, who showed the people they could diversify crops. Efficiency in China's agriculture. Taiwan sends agriculture teams, made of professors and few practical farmers, that can make rice grow in desert lands of Africa, set an example for communists who cannot make enough food for their own people. Compulsory education in Taiwan. A story of an American family in Taiwan. Life on the island of Kimoi, including transportation and agriculture. Psychological warfare, propaganda against the US in the form of negative images of President Kennedy and soldiers. Children are taught that their clothes must last 9 years. "I hope we will continue to stand fast and not give up at the moment when we are winning."

Host introduces Halberstam, who is 29 at the time.

Halberstam speech: "Reporting on Vietnam," covers specifically the reporter's experience in Vietnam. Conflicts between US reports reporting on conflict and US reporters reporting on mission. The US's broad-based attempt to buck up the regime in Vietnam. "Cautious optimism": we are winning. Another reporter finds it difficult to reconcile the official optimism with what they were seeing. The military situation wasn't as good as they wanted it to be. He finds it difficult to be optimistic because of what he's seeing there: disturbing trends developing militarily and politically. Press controversy long before the Buddhist controversy. General Wheeler wanted to talk to them about the controversy. His impression is that they were consistent with their goals, to tell the American people the truth, though they couldn't reconcile what they saw with what they heard.

A question-and-answer session follows. Topics include religious persecution in Vietnam; a UN assertion that Buddhist monks and students were not dead, as reported; current status of life in Vietnam; what did Halberstam do on days of Revolution?; US authorities' interference in the press in Vietnam; reunification of North and South Vietnam; the profession. Questions are difficult to hear.
Audio courtesy of the NYC Municipal Archives WNYC Collection
WNYC archives id: 70306
Municipal archives id: T270
Transcript
This is a machine-generated transcript. Text is unformatted and may contain errors.
Both of our guests are a native New Yorker Sirene Carmelita Oh and traces are a family tree back three generations in Greenwich Village where she still lives O.P.C. founder member she was bitten by the rioting bark at the age of twelve in a parochial school in New York City she won a citywide writing contest for parochial school she's pleaded with me not to give the title of her essay but it's too good to conceal she won the prize for an essay inspired all of the importance of virtual to a happy life. At the age of twenty after Marmont college and Columbia University her first job was with the Syracuse herald of that of the New York news and then let em Paris the Paris edition on the Chicago Tribune on womens out of then came assignments all over Europe and out to Shanghai for a job on the China Press and to get her diploma faded yellow parchment as old China hand in China she met her husband the late bird Altshuler former Chicago News Miami. Their daughter Renee is now a successful novelist in China are she covered two civil wars she helped organize the women's voluntary motor canteen service during the nineteen twenty five Shanghai riots and in one nine hundred forty seven she'd gone to war to pop and sign Taishan and the China Burma in the. Ribbon for her wartime reporting from the Pacific. She has contributed the two cosmopolitan Readers Digest parade Catholic digest American Legion and other magazines she's written lectured in Europe Mexico Central and South America her book assigned to adventure has gone through six American editions in two British and is still alive and the center landing a foundation gave her its journalism award for her penetrating series of articles on Finland in recent years she's been widely read as a free time and we call him less for a king feature set again and the title of her column is it's my opinion Irene you're just back from two months in the orient the covering hot spots like Tokyo and Hong Kong and Taiwan and tell us Irene about all these places and any other place what's your opinion. Thank. You thank you all very much indeed it's nice to be home always areas I'll never forget how or for this but I'm going to make capital out of it because since I did and I say on the importance of virtue to a happy life I guess the rest of my life I must to remember right because I've been so lucky. I'm sorry I have been with me today a gift for the office he has Press Club which was handed to me by sponsor of the A.P. and Taipei and the new cars the new Foreign Correspondents Club this is a little lovely little brass bell which I'm going to give to where you know will ring on all of us and it's in the form of the it's and beautiful brass and there's the it's in the form of the Temple of Heaven. Peking there's the inscription the foreign correspondents from other Taipei and I will have it as soon as it arrives and present you with great pleasure Joe for the club. I yes I know that time is short and I'm going to do this and get right into the picture I'm going to concentrate on Taiwan because as. Howlers told you I'm an old China hand and this is my second home and I want to wear tell you about the miracle on Taiwan. I was there eleven years ago when the nationalist government had set up shop again very briefly on at that time the people were very depressed and I'm happy and without much hope eleven years later the situation is entirely changed there is happiness there is. Communication intellectual and physical of all kinds and there is a great feeling of hope are the people are no longer saying if we go back to the mainland it's when we go back to the mainland and during me during my stay there there was a you know spontaneous eruption of signs in all of the shop when it was all over Taipei one day back to the mainland which has become a slogan. The interesting thing to me about Taiwan is the. Number of changes that have occurred inside the people within the soul of the people you might say. The trying to use a human beings like the rest of us and subject to the same kind of weaknesses that we all have. And they were not always said the kind of people they are in Taiwan today they have been perfectly by sacrifice and they are all working hard and really shopping this isn't particularly true of the women who choose to be in the old days that women did not work that is to say the women of the middle and upper classes but today everybody is working. Very happy to have jobs and all contributing to it and this is having a remarkably good effect on the younger generation in the matter of reforms you've all heard of the Are You will remember the slogan of the communist was that agrarian reform Well it's an ironical circumstance that the true agrarian reform has taken place on Taiwan. Whereas the economic good the agricultural disasters have followed on the mainland by the end of this past year one nine hundred sixty three all the farmers on Taiwan had to acquire the rights and property and fully own their own land there are three crops in the south annually two in the north. The they are new things being planted in addition to Rice and the usual crops there are new things as a strawberry farm that is flourishing on the top of the mountain side it's being seriously it was the idea of a man who was an intellectual and who probably ten years ago never had a hole in his hand and probably wouldn't know what it was if you handed it to him this man the former mayor of time trial and a man who was responsible for a good deal of the currency reform on Taiwan went up the mountain with his wife who was a perfectly beautiful woman who was the prima donna of the Peking Opera they went up the mountainside with their three small children and with his mother in law and I meant to say that that's quite a burden to take up the mountain. When they got to the top of this mountain which is near Grouse Mountain and not too far from the city about an hour it was a year. There was nothing there absolutely nothing at all. The man brought up the only things he needed to supply is everything even to a nail the nails for the house he and his wife and children and mother in law moved into with piggery where they stayed for six months and during that time he began to make his plans and to build a temporary house today he has acreage all over the mountainside planted in strawberries and no peas which you all know snow peas that he's raising are going to be frozen in Senator this country rather soon the meantime the strawberries are going all over the Orient competing with the Japanese use in Hong Kong and from the the great the great crop he is making strawberry jam and making it in a very very fine plant the most interesting thing about the plant to me and about this man is that he has imported a nurse and trainers to make sure that all hygiene and sanitary standards are kept and maintained and it is it not only is it his idea to make a living from self and they and I and a good business for himself but he has one he wants to show the Chinese farmers on the mountain that they can do better for themselves and that they can raise other things besides the rice which they have been limited to and that the main thing is to follow the new methods the new are good cultural methods. To speak English speaking for the new art and cultural methods Taiwan has reached the point of efficiency such a point of Officials say that it is able to send I'm a cultural teams around the world when I am and there have been teams in Africa and Libya and in Liberia these teams have been so successful that they have been able to make my scroll one doesn't land where French and American experts have failed most interesting I think is the fact that these teams are composed of agricultural graduates and a couple of. Professors scientific men at the top but the rest of them a practical pharmacist when they went to Africa they brought with them not only expert knowledge but it is I have to practice real brotherhood they treated the Africans as equals and this has been some successful that the communists have emulated them and made an end of it to do the same thing it's ironic I think that the Communists who cannot raise enough food on the mainland to feed their people and where there has been poverty and famine it for many years are now sending out agricultural teams to Africa copying the Taiwanese However the interesting thing there I think is that this was told me by a member of parliament from Southern Rhodesia whom I met in order to live on the way back and what encountered many of these red teams that they are going just going through the motions of cultivating the line and what they're really doing of course is endeavoring to subvert the population they are there and they feel that they have an advantage because they are over the Russians that is because they can and they are against the whites quite successfully because naturally the Chinese communists are making a big thing of the Taliban you know the color line. So far as education goes in Taiwan there was compulsory education from the age of six up to junior high school and then it becomes competitive and the struggle for an education is simply inspiring when you see it the kids will do anything and work all day and work all night it's nothing for nothing at all for them to leave the house at seven thirty and work until nine thirty at night an American family of my friends of mine the father is a young officer in the Air Force in counterintelligence. They handsome man I think the colonel will be interested in this it's a very good thing for the Air Force the way these and for America for for America this is a handsome man with a beautiful wife and six handsome kids all the kids are in Chinese school the mother and father speak fluent Mandarin the young man went to Yale before he was sent out on this mission and his wife who had six children then worked at night from his books and studied and learned Mandarin so that when they arrived there they could all see the to the to World of the mother the father could speak read and write Mandarin and all the six children speak it one of the most. One of the oddest aspects of this I think is the two older children so fluent that they form a little bit behind in their English and so the mother is had to engage a tutor to keep them up with the keep up their English the tutor is a Chinese use who studied at the National Taiwan university under a year of very learned. This is really reversing the thing so that the Merican children are learning their English from and trying to use free speech perfect English. The interesting other interesting thing about that I think is that I asked them why they were sending their children to a Chinese school they said that it was a marvelous opportunity for them to become absolutely bilingual and that beyond that they thought that the discipline that the Chinese school would be very good for their souls and I can tell you that it is I've never seen six better behaved more agreeable children and the matter of one other thing I want to point out and that is that on the island of Quemoy John Mann where I spend a day this is another miracle this is the fortified island with you all remember it was shelled into ruins it wasn't a tree left it wasn't a particle of green today twenty million eleven years later twenty million trees have been planted on the island they are filled with a network a roadway used conceal the trackers conceal the traffic from any overhead spying Tommy those planes the Islander still show regularly but rather dispiritedly by the communists just keep it up by supposed to keep their hand in but the Islanders Malvinas there would really need to pee more as they want on the top where life goes on in a in a fine way with nine schools and one high school for the nine thousand children and young people represent twenty percent of the civilian population of forty five thousand are they are raising horses. Pigs or sorts of products or products and. In general are rushing on the year came or underneath the surface as a great network a vast network of tunnels I was in the new tunnel from one end to the other you sending two hundred forty very high tread steps to the bowels of the earth and after going through were a little bit more. Walking a little bit from the end of the steps I emerged in a into a enormous room great vaulted room forty feet high capable of seating twelve hundred men this is a room that is used for briefing it's a motor purpose room briefing that it can take not only twelve hundred seated but probably double that number and in an emergency of course it could be used for a great underground hospital which would serve the needs of the entire island. Mayor Christopher San Francisco was with me the day that I went there and as we puffed our way down these two hundred forty steps we both looked at each other and he's not twenty and I'm not twenty and I said How the hell do you think we're ever going to get up and we thought well we don't we we'll we'll find out some way to get up but when we got to the bottom of this it all than I anticipated and after we were taken through when shown some of the aspects of life down there and storage and the rest of it we were led around to an exit and here we emerged into the bright sunlight and that was a jeep waiting to take us over to the psychological warfare room I have to say one other thing in the minute that's left to me and I was that the psychological warfare was of extraordinary character the comic there's a lot of over there shells and they shells. And shrapnel frequently Yeah inflicts more damage but not much anymore but inside is all sorts of propaganda most of it directed at us I was shocked at that time we had not lost President Kennedy but I was shocked to see the vicious way in which he's been a trade in the propaganda that was coming over from the comet as main line on cards and brochures and the rest of it he was portrayed as a as an ugly monster the American the All American servicemen look for trade a slice of A is. Man drunk all the time and when they were drunk they were chasing girls and while I know that service men like to trace girls I don't think it really is a twenty four hour occupation. Maybe the red shirts and the as. They have interesting thing about the propaganda coming over. Is that. I'm going back rather is that the Chinese. Taiwan and I'm Quemoy. Have known for a long time that they had the people with them they are sending over and power issues so much use toys for the children also candles all sorts of things ordinary things that people haven't seen for years. Once in a while they will also send over some clothing because once in a while they take in a fisherman who is an escapee or who has just drifted there and after it's a surprise it's a fisherman who's just drifted over th