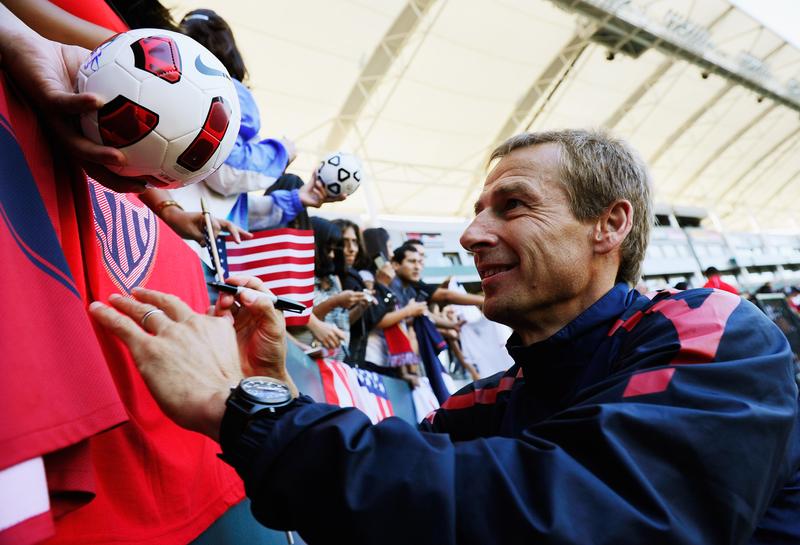 We're just days away from the start of the 2014 World Cup. Team USA Coach Jurgen Klinsmann is a man used to winning things, and as coach of the men's U.S. national squad this summer, he has his sights on the ultimate prize in soccer.
But how much do we know about a coach who is so much better known in Europe than in the country he now calls home?
He recently sat down the BBC's Peter Bowes to discuss his own legacy as an athlete and his vision for the U.S. team.
"[Klinsmann] is arguably one of the world's best players of all time, and certainly a huge name in the sport as a player-turned-manager/coach," says Bowes. "His heyday as a player was in the 70s to late 90s, and he really did play for some of the biggest clubs in Europe."
Klinsmann has played professional soccer for the German team VfB Stuttgart, Italy's team Inter Milan, and the English team Tottenham Hotspur, among others. Bowes says that before Klinsmann became the coach of Team USA he coached the German national team.
"He has plenty of World Cup experience, notably helping the German national team to victory back in 1990," says Bowes. "It's certainly prepared him in a way—it's made him the coach that he is, certainly building on his great career as a player. I think as he very quickly realized, if he didn't realize it already having traveled extensively, sport in the United States is different. That includes soccer, or stroke football as we refer to it constantly."
Bowes says that while Klinsmann has a wealth of experience, in some ways it does not matter what his pedigree is—players must gain his respect as a coach.
"I think the most credibility that you earn with a player is to help him in the present, and for his new future, with the right information and the right tone in order to take his career in his own hands and make those steps," Klinsmann told Bowes. "I'm a big believer, and maybe it's the influence of the American side of it, in empowerment."
Unlike other American coaches, Klinsmann has a more laid back approach, despite his stoic German temperament—something that Bowes says Klinsmann believes in.
"It's very opposite to the other American sports—baseball, football, even basketball where you can call timeouts and always stop and explain things," says Klinsmann. "I think, over time, a real big player learns to take the coach's messages the right way, learns to read the messages, and learns to take it for him in order to improve. If you have 20 or 25 players on a roster, there's no coach in the world that has the right tone in the world for everyone of those 25—it doesn't exist."
In the United States, Americans love play-books, super-star athletes and set plays, a route that Klinsmann seemingly does not want to follow.
"Following American football with its amazing technology backbone of breaking down every play, giving play-books out to players when they come in the college system and during their first year or their rookie year they have to study about 100 or 120 plays, it's unthinkable in football, that we would do that in soccer," says Klinsmann. "You give them 20 different corner kick variations and they have to learn it inside out and learn it by name? Try that—you'll lose your team after two weeks of work."
When it comes to advancing in the World Cup, Klinsmann says he is hopeful that Team USA has a shot.
"We understand that it's going to be difficult, but nothing's impossible," says Klinsmann.