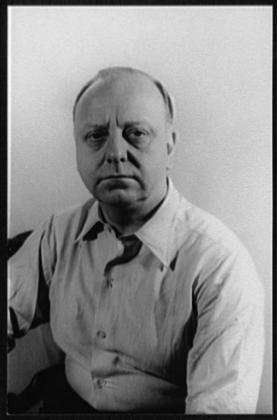 This episode is from the WNYC archives. It may contain language which is no longer politically or socially appropriate.
Interviewer is Warren Bower, Director of the Writing Center at NYU. Guest is Virgil Thomson. Discussion of Thomson's book: The Art of Judging Music. One knows definitely what Thomson thinks and feels about the music he has heard. There are no uncertainties in his reports. Furthermore they are written with distinction. He is also widely known as a composer.

Virgil speaks about the necessary skills for music criticism, namely, the ability to write and some subject specialty. Beyond training as a writer, musical study and practice is necessary. I don't take much stock in the opinions of people about things they don't know how to do. Harvard University staged a three-day symposium on music criticism and invited him to speak on the subject. Symposium was invitation only and attended by professional musicians, scholars, critics from everywhere. The power of the music critic. A favorable review of an artist will predispose management toward him and vice versa. It's just one of the accidents of the profession. But the deliberate use of any such power by a music critic is not a very good idea. Your first responsibility is to the public, to your readers. It's better to tell them what it was like. They can infer what you think about how good or bad it is. The description of what it was like is not so personal and that's real information. The power of influence. Prefers to use the more neutral term "effect" instead. It's a music critic's job to inform the public. If a singer's debut is not favorably received, it's his choice as to whether he engages in another line of work or keeps on with hopes of improvement. What can the music critic do to build up public taste? Explain to your readers the way your tastes work and your mind works about music.

Mostly we've discussed the brief essay that gives the book its title. Book consists of reprinting of columns from the Herald Tribune, daily and weekend. It's not a book about the rest of the country; it's a book about New York. I live and work in New York. This is chiefly a picture of New York musical life plus certain travels of a New York critic...throughout America and Europe.

For more on Virgil Thomson, visit http://www.wnyc.org/blogs/neh-preservation-project/2013/jan/09/virgil-thomson/.
Audio courtesy of the NYC Municipal Archives WNYC Collection
WNYC archives id: 8385
Municipal archives id: LT827