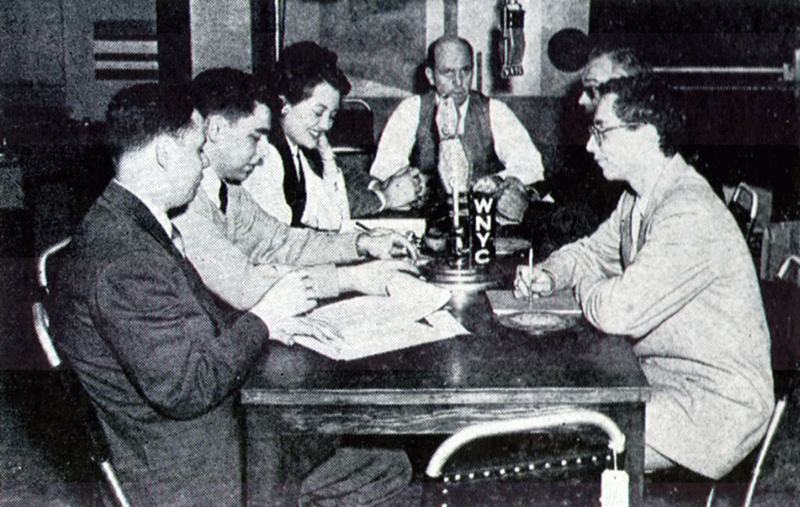 Summary
This episode is from the WNYC archives. It may contain language which is no longer politically or socially appropriate.
Interview with Hewitt (misspelled in Municipal Archives catalog as Hielot), in charge of Nike Missile Unit defending New York City.

Frank Titus moderates.

Panelists: Jim Cardinal of Fordham Law School and Michael B. Law of the NYU Square Journal.

Questions:

Names of each kind of missile and their specialties. The role of the Army in missile defense. Evaluation of Soviet Union's capabilities. Operation Home Town. Some sites in the city are on more advanced warnings than others. Communication with NASA. Establishing priorities.
Audio courtesy of the NYC Municipal Archives WNYC Collection
WNYC archives id: 9245
Transcript
This is a machine-generated transcript. Text is unformatted and may contain errors.
Is our missile defense system adequate to cope with a surprise attack by enemy missiles can guess work to protect the United States should jurisdiction over missiles and missile defense be centralized in one branch of the armed forces can get off the launch pads or the I just have these and other questions listened to your city stations capice press conference in this transcribed discussion the editors of college newspapers question a prominent person out of the in the new rank titers W.A.Y.Z. news editor and reporters are moderator to introduce the panel and tonight's guest here is Mr Titus Good evening tonight campus press conference interviews Brigadier General Robert Hewitt commander of the thirty second Artillery Brigade of the Air Defense Command General here which is in charge of the Nike missile units defending New York City from surprise attack the members of our college news panel asking the questions origin cardinal of Fordham Law School and Michael B. wall of the N.Y.U. square Journal our topics missiles and missile defense. The never quite dormant issue of the status of America's missile program broke into the news again last week the head of the Strategic Air Command General Thomas Power proposed a twenty four hour around the clock alert for his strategic bombers to guard this country against surprise attack to some extent he was supported in principle by Air Force secretary Dudley Sharp who said the general power had put forth a sensible solution to the future threat of Soviet missile power Mr Schorr parted with power through his use of the word future the earth secretary added We are moving toward the possibility of an airborne alert but it is difficult to say when then sharp openly disagreed with Powers apparently pessimistic appraisal of United States defenses when he said I think if we do the things we planned to do we will not be in any danger and his news conference on Wednesday President Eisenhower rejected general powers alert plan with the comment to many generals have all sorts of ideas the president said that the president the United States program is eminently capable of the tearing enemy attack he said that he's amazed by talk of catching up with Russia that what is needed is a deterrent because no additional power is warranted once our missile strength is adequate for compelling the respect of the opponent. In a democratic society such as ours the questions comments agreements and disagreements will continue as Americans we are hopeful of a future plans disappointed over previous plans gone awry but perhaps what matters most to us is what do we have right now to Goddess against attack to retaliate against an accomplished attack to make any thought of such an attack die aborning General Robert I hear what tonight's cap as press conference just commands the Nike missile units protecting New York City from aircraft attack the Nike family was designed to seek out and destroy enemy aircraft approaching American cities the weapon with evolutionary improvements is an important one in our defense arsenal we hope to learn more about this defense tool the seating here is Michael B. wall with the first question of the three types of rockets in the one thousand family which one is standard at this present time for the defense. No one is standard in our defenses today we have both the Nike Ajax and the Nike Hercules and the Hercules is more advanced that Hercules is a more advanced missile and IKEA Ajax and the Nike Zeus will follow the Hercules and I was even more advanced than the Nike Hercules. Is going to against what kind of attack planes only or this can also missiles. That raises a question of speed the enemy attack whether it be by a missile our aircraft the enemy. Weapon has a certain speed the defending weapon must have a speed capable of matching that the present time the Nike Hercules can attack any aircraft that is operationally known to be in the possession of the enemy at the present time how about missiles. Generally missiles will have a speed in excess of that which the Nike Hercules can attain However the real atom missile missile is the Nike Zeus which will be able to cope with the speed of any missile we foresee in the near future in other words until the we have the ninety's new set up around New York City New York City is vulnerable to missile attack Well that depends on what muscles the enemy has intercontinental ballistic missiles we don't know the speed of those little whether he has them operationally today well take the traditional I.C.B.M. fifteen thousand miles an hour at least five thousand mile range probably more the Nike Zeus the Nike Hercules cannot defend against that is I correct could probably not successfully knock down a missile of that speed and when will the Nike Zeus be operational. In other words from what date perhaps a nine hundred sixty two will we able to thwart I.C.B.M. attack of the type that I've just described. Generally in the next few years but as you know the Nike Zeus is only in the test stage at the present time and money has not been allocated as yet by the Congress for full production of the Nike Zeus in the new defense budget does it ministration call for such money. To my knowledge there is no money in the presently proposed budget for the production of Nike's use but for further testing and development of the zoos without going into production well do you think this is a wise thing to do would you rather see money for production rather not comment on that. And could you give us a date according to present plans when the ninety's it was will be in production I cannot until the message goes into production and money is provided for that production and until that time. New York City has no real defense against the I.C.B.M. is that correct. I repeat again it depends on the missile that the enemy is capable of launching an attack Jim cardinal Fordham Law School general generally is our missile defense system adequate to cope with a surprise attack by enemy missiles and I think that's related to the last question that was asked as I stated a Nike Hercules can successfully attack any operational aircraft known today. The exact speed and I mean missiles that may be launched today. Has not been fully ascertained. General how is your command kept in combat trim for example Werman Do you practice shoot. From an agreement made to end the Nike units were first established in the New York City area which was about nine hundred fifty four it was announced that no units would be fired from existing sites. To obviate that and to give these units practice each year a small group of men from each Nike site go to Fort Bliss Texas where they fire missiles on the range there they are under continuous training at the site throughout the year and the culmination of that training is the firing of missiles at the range at Fort Bliss Texas so is this adequate to maintain battle efficiency so we feel it is coupled with the training that's carried on throughout the year as you may know. We have a certain portion of the units defending New York City on a twenty four hour seven day a week alert status. A portion of those are continuously on alert and that training is carried out throughout the year. General if you will from an informational and perhaps educational call if you can you tell us a few of the characteristics insofar as you are able to release it of the Nike that makes it suitable as a near defense weapon. Since both the Nike Ajax and the Nike Hercules are present in the New York area of defense. You might be interested in ACE comparison of the two mess halls. The Nike Ajax The earlier and somewhat smaller missile is generally about thirty three feet in length it has a diameter of twelve inches and weighs about two thousand pounds with its booster. The improved Nike Hercules which has a greater range. Of measures some forty feet in length but they diameter of thirty two inches and weighs ten thousand pounds within the realms of security General can you give us more or less about an I picture like what could be Ajax knock out something that we could see how many medium sized bombers or anything like that are you going to reveal that. Well generally a Ajax missile which has fragmentation warhead can destroy a single aircraft with a direct hit. The improved Nike Hercules which has a new killer capability can destroy a formation of bombers with a single hit. Thank you General Michael B. Will General hear what should the Soviet Union wish to attack the United States its first target what series of targets would probably not be the major cities as such but our launching pads whereby we could launch missiles toward the Soviet Union not only launch anti-missile missiles but missiles to at least the ground of the Soviet territory. Can we. Is this within your command do you protect our missile sites were tell me how often cite sites yes there are no. Less all sites in my area command however with an Arad the United States Army Air Defense Command as a whole certain units are protecting some of our retaliatory forces Well General here what general powers of the Strategic Air Command declares declared several times recently that the Soviet Union with only one hundred fifty I'll be EMS and one hundred fifty I.C.B.M.'s could virtually destroy our entire nuclear deterrent force. If you correct. The proof of the putting I can only say is when it actually occurs. Well is that's not much of an answer because it could happen tomorrow couldn't it in other words your admitting it could happen while you are trying to get a categorical answer and which there are a lot of imponderables. If the forces were airborne I would not think that they could destroy all of them. The question of surprise is a relative question you may have a little surprise or you may have more surprise to say categorically that today any attack by I.C.M. I.C.B.M. would automatically destroy all of our battalion to a forces I do not feel is necessarily correct. When you say that the way to avoid this would be to have bomb was in the air at all times I would rather let ours answer that question well General since the change in command of the head of the Defense Department since Gen Gates and Secretary Gates is replaced Secretary Michael Rowley have you been aware of any great change of policy not as far as my command is concerned well in December secretary McElroy shortly before he resigned or left office said that he would propose and the I would ministration would propose that we keep bombs in the air at all times now with Secretary Gates and we find that we're not doing that is any reason for this change I have no reason to be able to answer that since bombers are in my command Jim cardinal general there is been continual controversy between the various branches of the armed services concerning overlapping jurisdiction in the missile field and your opinion is there any justification for the army being in the picture at all shouldn't perhaps the whole aspect of missiles be turned over to the Air Force I feel that the Army has a very justifiable position in the missile field. As has been remarked on several instances it is well to have several agencies participating in an activity. As to the ultimate operational control of the messages it can be argued both ways at the present time the North American Air Defense Command which includes forces from both the United States and Canada and all three services of the United States the Army the Air Force and the Navy is proving a very effective command and at the present time I see no reason to make any change in designating a single service to operate the air defense side of the national picture of cert would centralization of the. Of the missile command perhaps lead to economies and military expenditures. As far as the air defense missile command is at present centralized Gen I believe you were asked a question a moment ago something that amounts to is New York City adequately protected against air attack and I believe you. I'd like to put this in a little bit of form. Is there any other city in the world that are protected well must die so hard to ascertain those relative terms we have other cities for instance any United States that we consider are as well protected as New York as far as their defense is concerned but New York is not second rate to any city in the United States I would say that New York is not second rate than any other city in the United States Michael B. Well do you think it's particularly healthy for the United States debated the fence on guesswork as to what the Soviet Union thinks it might do not rather than what it can do. Well if you are asking the question as to. Intentions versus capabilities as a means of intention a means of intelligence estimates that has been a long controversy among military men for some time they are advocates of estimating the enemy's ability or capability and there are those who advocate estimating his intentions for many many years the system utilized by the military services of the United States has been to deal with anime capabilities which is proved in the past a very sound way of forming intelligence estimates and now we are continuing to operate under that procedure. As far as I know we are there is some question been raised recently as to whether intense intelligence estimates were based on intentions but I have no way of knowing which method was used when it seemed general that during the last few years we've been downgrading the Soviet program more and more at first the first estimates that the Soviet Union would have five hundred I.C.B.M.'s in one nine hundred sixty the second estimate was that the Soviets would have five hundred I.C.B.M.'s in one nine hundred sixty one and now we have a third estimate why what evidence do we have that they're not building as much as they thought they could then I'm afraid I have no information to give you a specific answer on that question. Well. If we can stay on the same. Topic. Mike you another question no I think this is an answer John I'd like to ask you as recruitment going recruitment is going well at the present time our command is well up to strength here recently we have. Had a program of recruiting men from the local area it is been given the name Operation home town several groups of about totaling about three hundred men have been recruited in the New York area and are now on duty in the sites in my command around New York City they are proving very fine young soldiers and we are glad to have them in the organization they are given opportunities for further schooling and advancement in fact just a few days ago I approved a request of one of the young man who was enlisted about a year ago to attend the officer candidate school where is the success of a complete that course will be commission an o