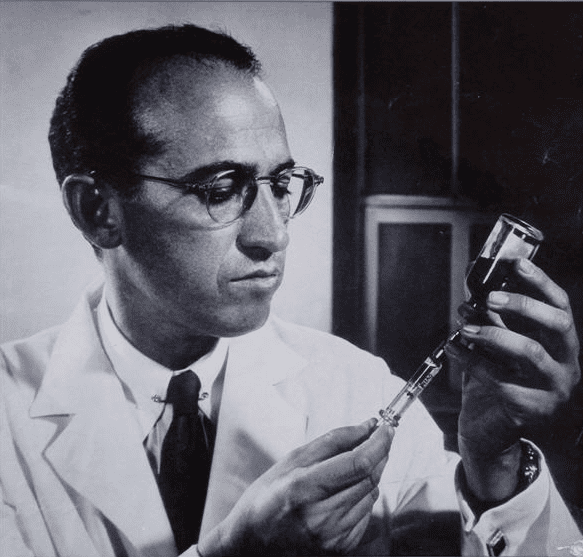 This episode is from the WNYC archives. It may contain language which is no longer politically or socially appropriate.
Two lectures on public health: "Epidemiology in prevention of Poliomyelitis" Dr. Jonas Salk slide lecture on polio vaccine. Followed by a Q&A with Dr. Jonas Salk. A bit technical but tries to make it comprehensible to those who don't have knowledge of immunology. "Techniques of Official Public Health Administration and Voluntary Health Agencies"


"Epidemiology in prevention of Poliomyelitis" by Dr. Jonas Salk, Dr. Johannes Franzen, Dr. Hart E. Van Reippert, Thomas M. Rivers

Hosted by Dr. Hart E. Van Reipert

Two main parts of Salk lecture: principles in the preparation of a non-infectious vaccine and to illustrate immunological principles in the use of the vaccine. Virus inactivation. Data from two manufacturing laboratories differ slightly. Indicates the necessity for control factors. Immunologic response of humans and of animals. In different countries, the number of individuals who possess antibody varies. In underprivileged areas more people have antibody at an early age and in areas with better hygienic conditions, fewer have less antibody. After vaccination, people had demonstrable antibody. How we standardize vaccines. What happens when you inject animals that received varying levels of vaccination with living virus. Booster response. Vaccine potency and influence of time of third dose. Vaccine given at 0, 2 and 4 weeks, found the third dose did not produce much effect. But when given as much as 7 months later, third dose produced a more significant effect. Talks about variations between three types of vaccine. Antibody response to vaccination and infection. Natural infection does produce more antibody than primary vaccination.

Dr. Corns (?) comments on the background of the study undertaken to evaluate the Salk vaccine.

Dr. Johannes Franzen, Director of the National Health Service of Denmark, speaks about the polio epidemic in Denmark.

Thomas M. Rivers is also a member of the panel.

Q&A: risk of viruses monkeys have getting in to the Polio vaccine; Formaldehyde used in labs; effects of carbohydrate products and candy on possibility of getting Polio; will inoculation suppress infection; Rhesus antigen



"Techniques of Official Public Health Administration and Voluntary Health Agencies" by Dr. George Bayer, Dr. Leona Baumgartner, Dr. E. Gurney-Clark, Dr. Nathaniel H. Cooper, Dr. Hayden (Haven?) Emerson, Dr. Herman E. Hillebeaux, Dr. William C. Spring, Jr.

Chaired by George Bayer.

Dr. Baumgartener, Health Commissioner of New York City, begins by discussing the work of the Health Department, including restaurant inspections, education and training for food handlers and health care workers.

Dr. Hillebeaux, new York State Health Commissioner, discusses details of American public health administration.

Unnamed speaker discusses the importance of venereal disease control.

Dr. Nathaniel H. Cooper, director of the Health and Welfare Council, discusses collaboration between voluntary agencies and official government agencies at the local level.

Dr. William C. Strong, Jr., professor of Public Health Practice at Columbia, summarizes the seminar.
Audio courtesy of the NYC Municipal Archives WNYC Collection
WNYC archives id: 8332
Municipal archives id: LT5636