Inspired by Baltimore, Protests Spill into Manhattan Streets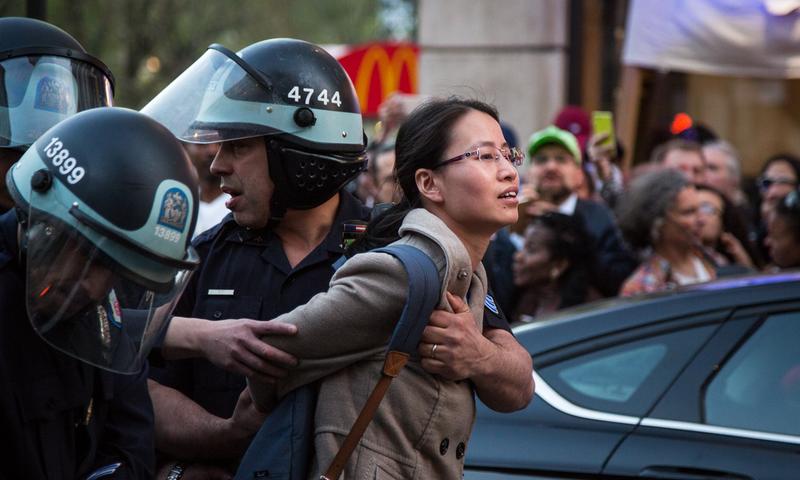 Several hundred people gathered in New York on Wednesday to protest the death of Freddie Gray, a Baltimore man who was critically injured in police custody, and scores of protesters were arrested as the demonstrations dispersed to other parts of the city.
Protesters first rallied in Manhattan's Union Square, where they chanted "no justice, no peace" and "hands up, don't shoot," a reference to the police killing of Michael Brown in Ferguson, Missouri, last year. Police officers watched.
Trina Brown and her two children traveled from their home in Rockland County to join the protest. Brown said she's been affected by recent news about black men dying at the hands of police, and she wanted her children to witness the demonstrations.
"The relationship between the police and the community of color... this is something that's been going on for decades now," she said.
A police helicopter hovered overhead, and a police loudspeaker warned the protesters that they would be arrested if they marched in the street.
A group of protesters spilled into the street, disrupting traffic. Dozens of police officers moved in with plastic handcuffs and began making arrests while officers with batons pushed the crowd back onto the sidewalk.
Some of the protesters were lifted off the ground and carried to a waiting police van, reminiscent of what police officers did earlier this month to Gray, who suffered a fatal spine injury in their custody and died days later.
A line of police officers stood along the edge of the sidewalk as protesters shouted "The whole damn system is guilty as hell. Indict. Convict. Send those killer cops to jail."
Comrade Shahid said he showed up Wednesday because he believes "the police have become out of control."
"If you kill somebody, it's murder. If the police kill you, it's nothing," Shahid said. "It's making this country's youth anarchists.
Janice Erlbaum of Manhattan said she has been moved by the response among young people to deaths like Gray's.
"Voices are finally being heard that have been suppressed for so long," she said. "I am the biggest cynic and pessimist in the world, but I feel like there's no going back. You cannot stuff this genie back in the bottle. Word is out. People are not having it anymore."
Later, smaller groups of protesters split off. One group marched north to Times Square, where it held a die-in by lying on the ground. Another group marched to the entrance of the Holland Tunnel, where it was stopped by police. Yet another was on Houston Street, where traffic is both directions was halted as police and protesters shouted at each other, and several more arrests were made.
Gray's arrest was recorded on cellphone videos by bystanders. His death has led to protests, rioting and looting in Baltimore.
Baltimore police said they chased Gray when he fled at the sight of an officer in a drug-infested neighborhood this month. Officers pinned him to the sidewalk and then lifted him and took him, his legs dragging on the ground, to a police van.
Gray, who asked repeatedly for medical help during the half-hour ride to a police station, died a week later.
Police say Gray died of a "significant spinal injury." An attorney for Gray's family says his spine was "80 percent severed in the neck area."