The Takeaway
U.S. Paralympic Sled Hockey Team Ready to Take Home Gold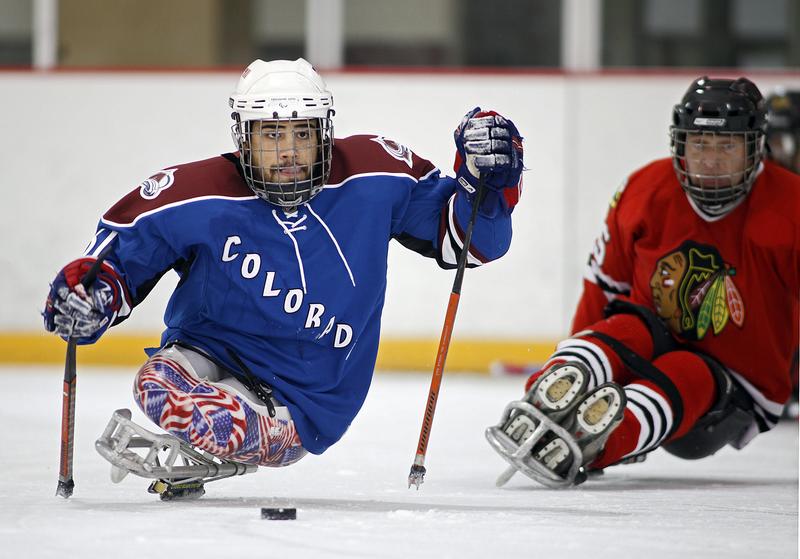 It is finally a joyous day for the Americans in the U.S.-Canada hockey rivalry: The U.S. Paralympic sled hockey team defeated the Canadians 3 to 0 in yesterday's semifinals.
Team USA's preparation and grit has certainly paid off. The Americans will face off against Russia for the gold medal in Saturday's Paralympics—it should be a heated match in the midst of the tense geopolitical standoff between the two countries over Ukraine. 
Politics aside, the Paralympic sled hockey players bring a fierce athleticism to the ice, with flips and turns that seem to defy nature. Nikko Landeros is a key player for the U.S. He became a bilateral amputee after being hit by a car while changing a tire as a junior in high school, and he says he's ready to bring home the gold.
"I got in a bad accident when I was younger, but I played football, wrestled, played hockey most of my life—you've just gotta go with what you've got," says Landeros.
Though Landeros is a double amputee, some Paralympic athletes have one or both legs and may be suffering from a spinal cord injury or another ailment. Landeros feels he has the upper hand in the game.
"I think it's advantage for people with no legs," says the sled hockey athlete. "It's an advantage in lots of ways—for turning really fast, my upper body strength really helped me with speed. I'm a bigger guy, so I like to hit. Some of the guys are a little smaller that have no legs, but they still hit really hard. I like to bang out there and scoring goals is a great feeling as well."
Sled hockey players must be conscious of both their propulsion and the location of the puck—in many cases players must turn and shoot at the same time, meaning they're both pushing themselves along the ice with one arm while using another to shoot or pass.
"That was the most difficult part for me to learn," says Landeros.
Though the balance of propulsion and shooting is something able-bodied hockey players don't need to worry about, Landeros says that sled hockey and the traditional sport are extremely similar.
"Hockey is hockey—it's the exact same rules," he says. "We can't fight—it's international—the only change in it is t-boning, which is when you get hit with the sled directly at a 90 degree angle. That's the only change in the game."
*Update 03/17/14: The U.S. Paralympic sled hockey team won gold against Russia on Saturday. Click here for details.