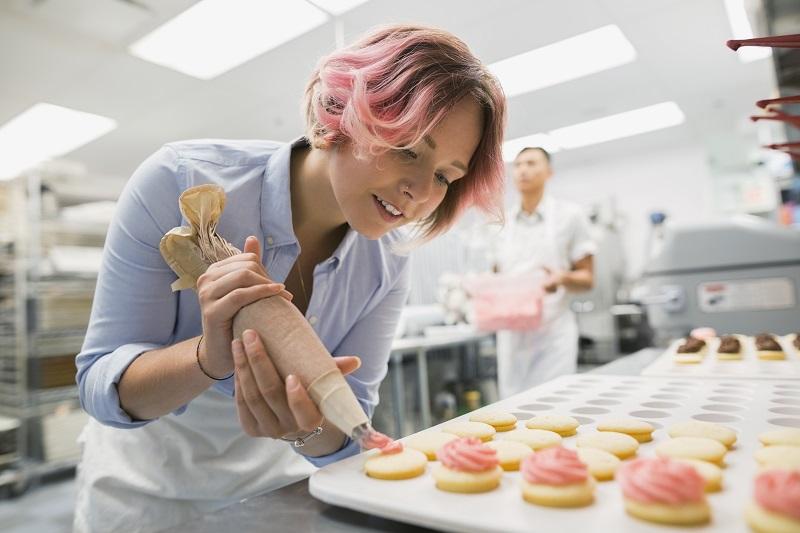 Food Fridays returns with two local chefs who take us inside the catering world: Mary Cleaver of The Cleaver Company, which specializes in farm-to-table dining, and Lisa Adams, a personal chef and caterer who also runs the All Good Things blog. We'll hear personal stories from both chefs and get an inside look at food preparation, managing orders, kitchens and delivery. 
Recipes
Mary Cleaver's Jambalaya
Serves 8 - 10
This is one of my favorite family gathering dishes. Ever since I was first introduced to the Cajun cuisine I have been in love with it. In fact, one January on the 10th anniversary of our initial meeting my husband and I eloped to New Orleans and were married in City Hall. We celebrated with 4 days of oysters, champagne, barbequed shrimp, gumbo, and music.
This recipe easily scales up. Think about how many pieces of chicken you might need for the group you are cooking for. You can always add more thighs, for example. Dark meat is preferable in this dish as it has to be in the oven for an hour or so to cook the rice. In New Orleans you would have peeled wild shrimp with this, and you can do so by adding it to the pot just when it comes out of the oven. Return the lid to the pot and steam it for a few minutes before sprinkling with the last of the parsley and serving.
Ingredients and Prep
1 Chicken, approx 4lbs., preferably pasture raised, cut in to 8 pieces.
Save the back for stock, or incorporate it into the dish as it will add flavor. You can ask your butcher to do this for you, and/or purchase chicken already in parts.
1 Tbl of coarse salt
1 Tbl black pepper
Olive Oil to thinly coat the pot (optional)
3 cups chopped onions
2 cups chopped bell pepper
2 cups sliced celery
1 bunch scallions, sliced
6 cloves of garlic, minced
1/3 cup of chopped parsley
3 cups short grain brown rice – sweet brown sushi rice if available
2 lbs tomatoes, peeled, seeded and chopped or 28 oz can organic fire roasted tomatoes, drained
1 – 2 lbs. andouille sausage, sliced in ½ to ¾ in pieces
1 Tbl Salt
6 - 8 cups chicken stock
Cooking
Heat Oven to 375
Season the chicken pieces generously with the salt and black pepper.
Heat an 'oven to table' cast iron enamel casserole with a tightly fitting lid on the burner, and if you like, lined with a thin coating of olive oil. When hot add the chicken pieces in batches beginning with the dark meat and brown each piece nicely on both sides. Remove each piece as it is ready and set aside. This will render some fat from the skin in which to cook the vegetables.
Once all the chicken is browned add the onions, peppers and celery (known as the Trinity of Cajun cuisine) to the chicken fat, lower heat and cover pot to sweat the vegetables, stirring occasionally. Add the scallions, garlic and half of the parsley. Raise the heat and add the rice, stirring well. Add the tomatoes and sausage to the pot and stir. Add the chicken, salt and chicken stock. The liquid should cover the solids by an inch or so. When it comes to a boil, reduce cover and bake in the oven for 50 minutes or so then take it out, carefully lift the lid to avoid the steam, and taste the rice to see if it is done. All the liquid should be absorbed and the rice gooey but still with a bit of tooth. If it is not done, cook a bit longer. Remove from oven, sprinkle with additional parsley and serve family style in the pot or on a buffet.
Mary Cleaver's Seasonal Fruit Cobbler with Infused Whipped Cream

Serves 6 - 8
4 cups Rhubarb, washed and sliced in pieces
4 cups Strawberries, stemmed
Summer
2 Lbs Peaches or other stone fruit, peeled and sliced
4 cups Blueberries, washed and stemmed
F all/Winter
12 Large Apples, approx 4lbs, such as Northern Spy and Cortland mix, peeled and
rough cut into ½ inch pieces.
Seasoning
1 tsp Cinnamon
1 tsp Lemon Zest
1 tsp Grated Fresh Ginger
1 TBL All Purpose Flour
1 TBL Maple Syrup
Cobbler Topping
2c Flour
¾ c Sugar
1t Baking Powder
½ t Salt
2 Eggs, lightly beaten
3oz Melted Butter
1c Heavy Cream, whipped. You might flavor the cream by infusing it with an herb
that pairs with the fruit such as Ginger with Rhubarb and Strawberries, Lemon Verbena
with the Peaches and Blueberries, Star Anise with Apples. To infuse the cream heat it
gently until warm to the touch with the herb/spice in it, steep while cooling, strain, then
chill completely before whipping to soft peaks in a chilled bowl with a chilled whisk.

Preheat Oven to 375
Prepare the fruit. Toss it in a mixing bowl with the cinnamon, lemon zest, grated ginger
flour and maple syrup. Place in a baking dish large enough to amply hold the fruit so that
it mounds slightly higher than the lip of the dish in order to facilitate proper browning.
In a separate bowl mix the dry ingredients together - flour, sugar, baking powder, salt,
cinnamon. Make a well in the center and break in the eggs. Beat the eggs briskly with a
fork to scramble then gradually incorporate the dry mix while stirring in a wider and
wider circle incorporating the dry mix. Crumble the topping over the fruit, distributing it
evenly. There can still be some loose flour which will fall into the fruit and absorb some
of the juices while baking. Drizzle the melted butter all over the topping and bake at 375
for approximately 40/45 minutes until the cobbler is bubbling and the topping is nicely
browned
Lisa Adams' Warm Kale Salad with Cranberries Over Goat Cheese Toast
1 loaf artisan bread, sliced into 8 slices**
1 tablespoon olive oil, plus more for toasting bread
1 bunch Tuscan kale, de-ribbed, and finely chopped
salt and black pepper
cracked red pepper
1 teaspoon apple cider vinegar
1 tablespoon chopped dried cranberries
1 tablespoon toasted pumpkin seeds
2 ounces soft goat cheese
Preheat oven to 350 degrees. Drizzle olive oil over bread slices, flip and drizzle oil on other side as well. Arrange slices on a cookie sheet, toast in oven for 5 minutes, turn and toast for 5 more minutes. While bread is in the oven, in a large skillet over medium flame, heat the oil, add the kale. Season with salt and pepper. Stir and cook until just wilted, 3 minutes. Add vinegar, cranberries, and pumpkin seeds. Remove bread from oven, spread with goat cheese, top with warm kale salad.
**You can use a baguette and make smaller crostini size toasts for an easy, but festive hors d'oeuvres.