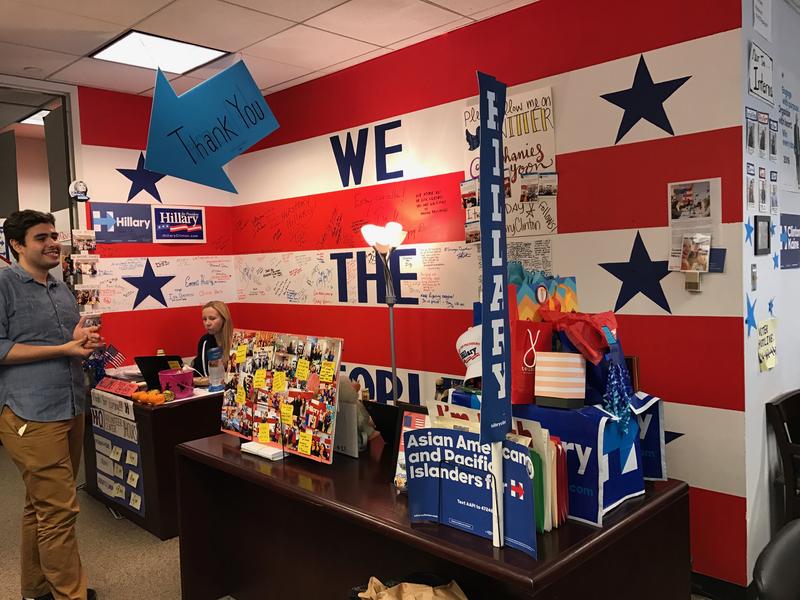 Click on the 'Listen' button above to hear this segment.
This Tuesday, a week before Election Day, The Takeaway toured the Hillary Clinton's campaign headquarters in Brooklyn, led by Amanda Finney, a digital correspondence assistant for the campaign.
Across the river, about a 40 minute subway ride away from Trump Tower, Clinton HQ spans the 10th and 11th floors of a skyscraper in Brooklyn Heights.
Over 500 young campaign workers, mostly in their 20s, roam the halls. There are open spaces, bean bags, and laptops everywhere, and large Hillary graphics adorn the walls. 
While the 11th floor houses the entrance, the 10th floor is closer to the center of power. Clinton veteran John Podesta can be seen in a hoodie while consulting a computer screen. Huma Abedin herself is hard at work across the room, but gets a little farther away when she sees our microphones. The communications team who dictate every movement of the HRC campaign roam these halls in their sweatshirt uniforms, complete with playful tension, you might call it.
After the tour, we head into one of the many conference rooms to sit down with four senior staffers.
First up is Elan Kriegel, director of analytics, who has been called Clinton's "invisible guiding hand." At any moment in the campaign, Kriegel and his team of 60 are running nearly 400,000 simulations to help maximize Clinton's message, a message crafted by Maya Harris, senior domestic policy adviser, who discusses what it's like to create policy in a non-policy-dictated election. 
We also sit down with longtime campaign veteran Addisu Demissie, who is the national voter outreach and mobilization director — he essentially oversees all aspects of the Clinton ground game. 
For these staffers, the emotions of the election are kept under wraps in the final days. But with a reminder of just what is at stake, emotions readily surface, as we hear in a final tearful conversation with Osi Imeokparia, chief product officer. 
Click on the 'Listen' button above to hear the full tour, and check out some photos from the Clinton camp's Brooklyn office below.