The Takeaway
60 Years After 'Brown,' What Still Divides America's Classrooms?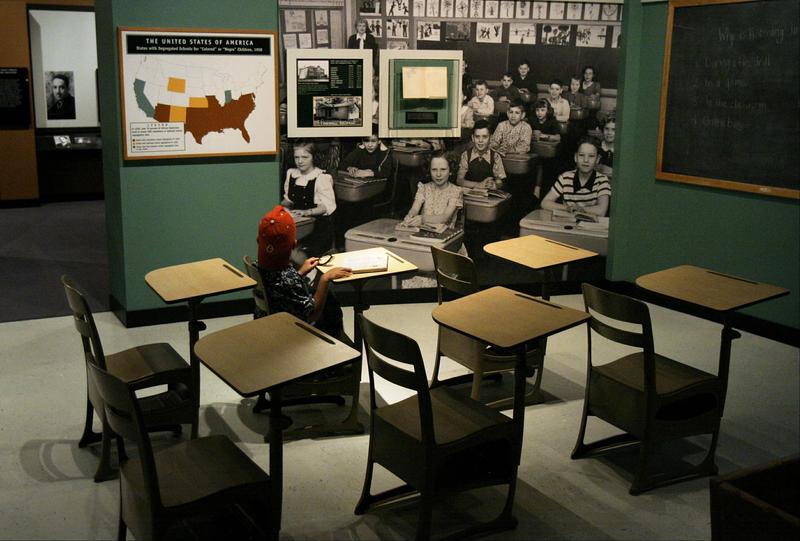 Linda Brown was a third grader in Topkea, Kansas when the local NAACP recruited her family to join a class action suit against the local board of education. Tomorrow marks 60 years since the landmark Supreme Court decision in her case, Brown v. Board of Education.
"We conclude that in the field of public education the doctrine of 'separate but equal' has no place," the justices declared in their unanimous opinion.
But decades after that unanimous decision, the quality of U.S. public schools still varies from neighborhood to neighborhood, and local geography often depends on class and, sometimes, on race. 
In honor of the Brown v. Board of Education anniversary, The Takeaway wanted to see what it's like inside the classroom today, and about the realities of public education in under-resourced schools that may not be segregated by law, but are far from the integrated ideal.
Joy De Palm is a sixth grade language arts and social studies teacher at the Boston Teachers Union School in Boston, Massachusetts. Joy and Beth Berkey, a seventh grade language arts teacher at James Martin Middle School in Charlotte, North Carolina, both teach in low-income areas. A majority of their students are African-American or Latino. 
Joy and Beth discuss the reality of race in their classrooms, and what their students lack in classrooms that remain unintegrated. 
"A lot of students don't understand what racism is, what prejudice is, and the difference between the two—there are a lot of questions and a lot of unknowns," says De Palm. "My main goal is to make them aware that it is systemic, and that it's not a one-on-one interaction, and that that's different."
Berkey says that the dichotomy in her school is similar.
"A lot of students don't understand what racism really is, and they definitely use the term in a way that it shouldn't be used—if somebody calls somebody else by their race, they think that person is being racist," says Berkey. "The other thing is that students don't realized that this only happened 60 years ago—they think that it happened a very, very long time ago because they don't have that conception of the time yet."
Even though Brown vs. Board of Education seems so distant, Berkey says that her students still feel like racism is an issue, and that they are at a disadvantage.
"The school that I teach at is definitely still somewhat segregated," says Berkey. "It is about 70 percent African-American and then about 25 percent Hispanic. There's a little bit of diversity there, but not much. It really does have an effect on the kids because they are so unaware of what else is out there in the world, and there's so much less that they've experienced that a lot of kids that live in other parts of the country do get to experience. It's definitely still apparent today."
Berkey says that students feel that they do not have the same opportunities as other students at different schools.
"We have to do our best as teachers to hold them to those high expectations so that they don't feel that way," adds Berkey.
Similarly, De Palm says that her school still lingers in the shadow of segregation. 
"On paper, the school building seems diverse but certain parts of the building have more black and brown faces than others," says De Palm. "For my students, it's not until they step out of the school that they realize that there's something different. We've had students go into a program called Metco where they attended school in the suburbs. The disparity in the funding at these schools—it's amazing."
De Palm says students ask her why suburban schools have more educational tools, like a music or art studio. She says she knows why her Boston city school might lack certain resources—due to a lack of equity and access. 
"It's a multifaceted issue, and what you do with this information once you get it—once you know that, in some cases, the cards are stacked against you, it's not a pass to give up," she says. "My goal is to create a safe space for students to create that counter narrative."
For De Palm's own family, these challenges are not so different. She is an African-American woman and says that her 5-year-old son inspires her professional life.
"I feel the same way about him as I do about my students," she says. "A lot of times when I'm faced with a dilemma about how hard I should go with my students, I always think about what would I want someone to do for my son. Would I want them to put limitations on him and tell him he can't do something, or he can't be something? Or would I want to guide them through the steps and let them make the decision on their own?"
Both women say there is still a great deal to be done 60 years after Brown v. Board of Education—something that Berkey says even her students recognize. 
"They are very aware," she says. "Something that was really heartbreaking for me this year was during our unit on diversity, I had a student actually say that Hispanic and African-American kids can't do anything else besides become drug dealers. To hear that was really shocking, to really know that they actually think that way. Through the lessons that I did, I really tried to teach that they can't let those things stand in their way."
De Palm thinks that children like Berkey's students believe false messages about their potential due to larger, more engrained cultural problems.
"Somewhere in society, this message is being sent to our children that children of color are inferior in terms of their intellectual ability," says De Palm. "If they're finding this out at two, and I'm getting them at 11 or 12, that's over a decade of damage that has been done that I have to start to chip away at."
Listen to the full interview to hear listeners from around the country share their memories of school desegregation, and what still needs to be done about America's classrooms.