Why Inmates Can't Afford to Make Calls from Jails in New Jersey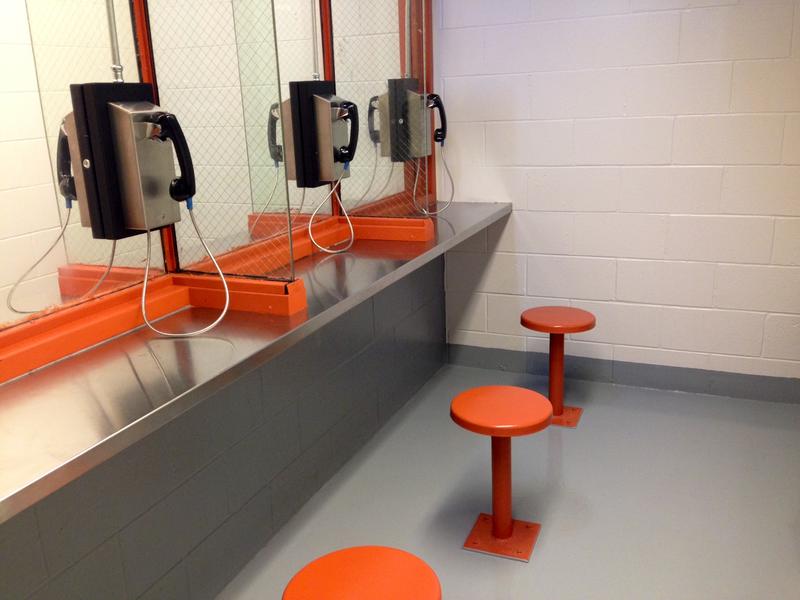 In the maximum security unit at Hunterdon County Correctional Facility in Flemington, N.J., a handful of inmates in orange jumpsuits are in a small room outside of their cells. There are benches, a TV, and two phones.
A sergeant at the jail, Matt Walker, says inmates serving time for non-violent crimes can earn some money to pay for phone calls. "They get $1.00 a day for each day they work in the kitchen, $0.50 for laundry," he said.
Some can go out into the community to pick up trash, but that doesn't pay. "Outside, they get fresh air," Walker said.
Making a 15-minute phone call here can cost inmates up to $8.50. 
Making the same call from a prison in New York state costs less than a dollar — $0.96. 
Advocates filed a petition urging the state to place caps on phone rates. They say high rates in the Garden State are preventing inmates from speaking to their families and their lawyers — and if New York can offer calls at less than five cents per minute, New Jersey should be able to, too.
Research suggests inmates who have strong ties to the outside are less likely to go back to jail after they get out, advocates say. And reducing recidivism lowers costs to the state.
Last week, the state's Board of Public Utilities agreed to take a closer look at inmate phone services in county jails.
How a County Commission Drives up the Costs in NJ
New York and New Jersey use the same inmate phone service provider — Global Tel Link.
But calls are more expensive in New Jersey because the state allows counties to accept a commission, said New York University Law Professor Alina Das. 
Counties choose from one of six phone plans with varying per-minute rates and varying commissions. "Counties have opted for the highest set of those options," Das said. "For them, the incentive is to have high phone rates because then they get more money," she said.
Counties are choosing plans where they collect 50 to 70 percent of the profit made on every call an inmate makes.
According to the petition filed by advocacy groups, Atlantic, Burlington, Hunterdon, Mercer, Ocean, Union and Warren counties have the highest phone rates in the state — between $5.50 and $8.50 for a 15-minute call, depending on the area code.
Hudson, Camden, Cumberland, Middlesex, Monmouth, Morris and Somerset have the second highest inmate phone rates at $4.75 to $7.75.
What a Phone Call Means to Those Inside
Papa Fay, an immigrant from Senegal, spent two-and-a-half years in an immigrant detention center housed at the Bergen County Jail.
His friends and family couldn't afford to pay for phone calls. He said he went four months without speaking to anyone from the outside.
"It was terrible," Faye said. "I felt like talking to myself sometimes just to be able to get things out, get frustrations out."
Months later, Faye found an organization he could call for free. Volunteers would be there to pick up the phones.
"I would talk to total random strangers about how I was feeling," he said. "I had to talk. I had to feel like somebody on the other end cared about me."
Faye is out now fighting an asylum case. He said the phone calls got him through it.
"If you can call somebody you can feel that person from the end of the line, and you can feel the love of that person," he said. "That's mental support. And I think that is very important."
In some counties, like Bergen, commissions made from calls go to inmate welfare programs, like job training and education.
In many others counties the commission goes to the the general fund – to offset the costs of running the jails.
Hunterdon made $46,000 in commission from the phone calls of about 80 inmates last year, according to the County.
"We do not see the money, said John Palmeto, the warden at the Hunterdon County jail. "The money does not come directly back to us." 
State prisons made close to $4 million in commission from inmate calls last year, according to a New Jersey Department of Treasury spokesperson.
After a new Federal Communications Commission law that required state prisons to charge below $0.25 per minute, New Jersey eliminated commissions on inmate phone services in state prisons. 
Advocates want to see phone rates go down in county jails, too. They say eliminating the commission could drive down the rates.