Criminal Charges in Bridgegate Case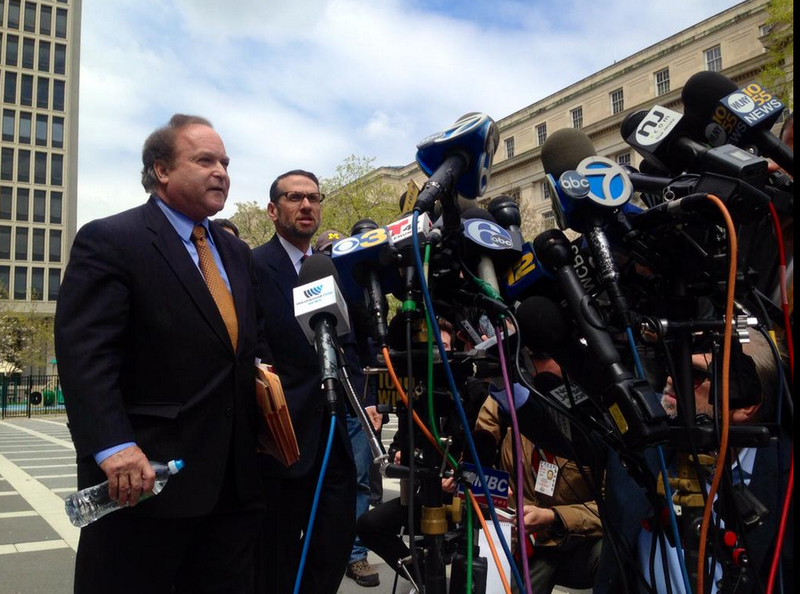 David Wildstein, the former Port Authority official and ally of New Jersey Gov. Chris Christie who ordered the George Washington Bridge lane closures, has pled guilty to two counts of conspiracy and was released on a $100,000 bond.
Wildstein told the judge he conspired with Bridget Anne Kelly and Bill Baroni to close the lanes in order to punish the mayor of Fort Lee for not endorsing the re-election of Christie. He also said the three of them concocted a cover story: It was all part of a traffic study. 
Kelly and Baroni have also been charged with crimes including conspiracy and fraud in indictments made public Friday. Essentially, all three defendants were accused of misusing public resources for political gain.
Read the full indictment against Wildstein here.
Read the full indictment against Kelly and Baroni here.
There was no mention of the governor during the court hearing, during which Wildstein answered several questions from the judge. After the court appearance, Wildstein's lawyer spoke with reporters. When asked whether Christie knew about the lane closures, Alan Zegas said he was not at liberty to discuss the details of the case. But he said he was not backing off of a statement he made last January that "evidence exists" that Christie knew about the lane closures at the time they were happening.
However, it doesn't seem that Christie is currently going to be indicted. U.S. Attorney Paul Fishman said at a news conference, "Based on the evidence currently available to us, we're not going to charge anyone else in this scheme." 
Christie said in a tweet, "Today's charges make clear that what I've said from day one is true," that "I had no knowledge or involvement in the planning or execution of this act."
Christie says he only learned about the intentional traffic jam afterwards, and he believed it was due to a traffic study.
Some of Christie's critics have suggested that even if he had no direct role in the traffic jam, his brusque — some say bullying — political style created a climate that led members of his administration to think they could get away with such tactics.
Asked about that, Fishman said: "I won't comment on culture."
The case stems from a four-day traffic jam at the George Washington Bridge in September 2013, just two months before Christie won the decisive reelection he hoped would serve as a slingshot to a leading place in the 2016 Republican presidential race. It snarled traffic for hours and unleashed a scandal that has dragged down the governor's presidential ambitions, mired his administration in sniping with a Democrat-controlled Legislature and continues to threaten some of Christie's closest associates with criminal exposure.
The jam, which was caused by an abrupt shift of lane patterns, was ordered by Wildstein, and kept secret from Fort Lee officials, the police, the public, and the executive director of the Port Authority of New Jersey and New Jersey, Pat Foye, an appointee of New York Gov. Andrew Cuomo, who shares control of the Port Authority with Christie. 
In a news conference after the court hearing Friday, U.S. Attorney Paul Fishman, referring to the indictment, said Wildstein, Kelly and Baroni misused government resources.
"They agreed to and did use the resources of the Port Authority, public resources, to carry out a vendetta and exact political retribution against a public official who would not endorse the candidate of their choice," he said. "They manufactured and perpetuated a bogus cover story to cover their tracks, and they callously victimized the people of Fort Lee, who were just trying to get to school, go to work, or travel wherever else they needed to go."
On Friday, Baroni's lawyer, Michael Baldassare, said that Baroni would be fully exonerated and that Wildstein is a habitual liar who told Baroni that the traffic jam was part of a legitimate traffic study. Kelly was planning a news conference later Friday.
Investigations by New Jersey legislators and disclosures from an inquiry ordered by Christie have showed that the traffic jam was put into action by Wildstein, on the immediate instructions of the governor's then-deputy chief of staff Bridget Anne Kelly.
Since Christie's election in 2009, his political operatives and governmental appointees had been working to build his support among Democrats in hopes of burnishing a reputation as a leader who got things done with bipartisan support. In particular, Christie's team focused on offering carrots and sticks to Democratic mayors to secure their endorsements for his reelection.  
The Mayor of Fort Lee, Mark Sokolich, had been showered with attention from the Port Authority, which had been tasked with courting a set of Democratic mayors in jurisdictions under its umbrella. Sokolich had received free buses to the Edgewater ferry, a personal tour of the then-closed World Trade Center site, and 11 artifacts, such as burnt steel, from the World Trade Center. (That rivaled only the number of artifacts given by the Port Authority to the FDNY.)  When Sokolich still hadn't endorsed Christie two months before Election Day in 2013, the lane closures began.
At the time, the closures were explained by Port officials as part of a "traffic study."
But within a week after the jam, which caught school buses and commuters in hours-long tie-ups, the Wall Street Journal began publishing a series of reports that raised questions about the bridge closures and Wildstein's role. In early October, the Journal disclosed a sharply-worded internal email that Foye had sent on the fifth morning of the closures, ordering them to stop. In it, Foye called the closures "hasty and ill-advised" and concluded they had broken both federal and state laws..
Documents that emerged in the ensuing investigations revealed increasing alarm inside the Christie administration over the fall-out from what came to be called Bridgegate. Even as Wildstein was warning that high-level officials had authorized the lane closures, top Christie aides were coordinating a press response, secretly editing public testimony and deleting text messages, while publicly presenting an air of calm. 
By early December 2013, Port Authority officials were publicly testifying that the closures were directed by Wildstein, in contravention of the usual Port Authority protocol – that they were "odd," "unprecedented," "aberrational" and "illegal."  The state Assembly threatened subpoenas. Wildstein released almost a thousand pages of documents to the Assembly. Among them was the email to him from Kelly that read:  "Time for some traffic problems in Fort Lee."
A day after the email was publicly released; U.S. Attorney Fishman opened the investigation that has brought Wildstein to the Newark federal courthouse this morning. 
With reports from the Associated Press.