Indians Overseas Divided by Election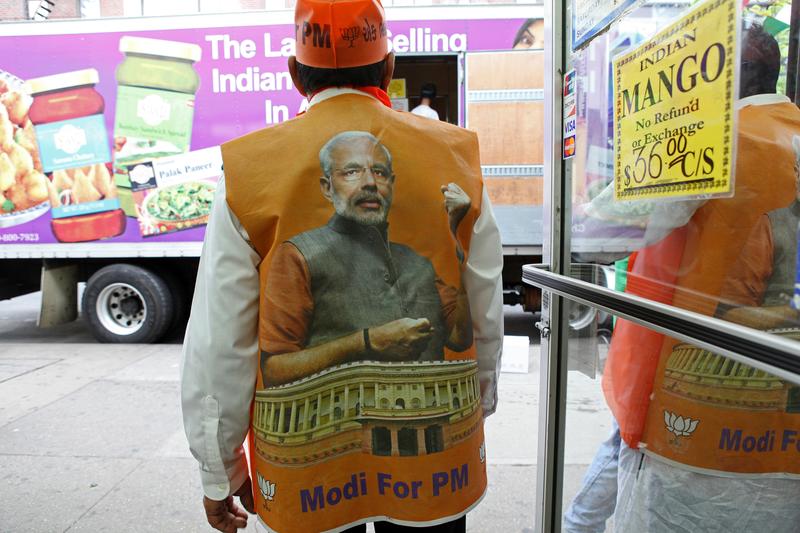 There are more than half a million Indians living in the Tri-state Area, many of whom were keeping a close eye on India's election results. In Jackson Heights, Queens some were cheering Narenda Modi's win — though others were despairing.
At the Patel Brothers grocery store on 74th Street, Mahendra Jadeja wore a Modi mask and handed out free Indian sweets. He called the election results "fantastic," and only wished he could've been in India to celebrate. Many customers thanked him for the treat, and agreed, it was an historic win.
The manager of Patel Brothers, Hirubhaiaten Patel, is from Gujarat, Modi's home province and has been a supporter of Modi for a long time. Patel is pleased his party is now in power. "He's not one Modi, he's like 1,000 Modi, he's a powerful guy," Patel said. "He's a very strong guy and can do so many things for the country."
Mahendra Jadeja passing out free Indian sweets outside of the Patel Brothers grocery store in Jackson Heights, Queens. (Stephen Nessen)
Not everyone stopped to take the free sweets.
"I don't want to celebrate your election, because so many people are going to suffer because of him," Aisha Bhatti shouted at the revelers. She's Muslim and wears a black niqab. She waved her hand dismissively at Jadeja and others wearing orange vests with Modi's face plastered on the back. She said many Muslims are afraid of Modi, "because they see him as a nationalist, they seem him as someone that's massacred Muslims in the past, they see him as someone who is against Muslims."
But 30-year-old Sunny Sharma was more fatalistic about Modi's past and possible involvement in the 2001 killing of thousands of Muslims in Gujarat. "These kinds of things happen if you look at the history of India, it happens," he said. "You have to be a little optimistic, it's your country, but at the end of the day, nothing will change."