The Takeaway
India's Controversial Leader Gets Rock Star Treatment in U.S.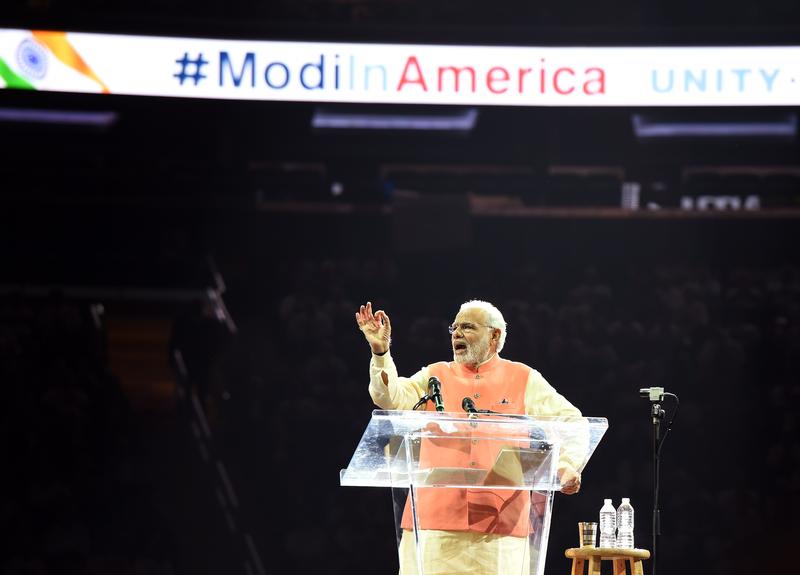 This weekend, an  international celebrity—a global star with a Twitter following of more than 6.6 million—took the stage at Madison Square Garden to the sound of a cheering, sold-out crowd.
It wasn't Lady Gaga or Paul McCartney.  It was the Prime Minister of India, Narendra Modi. He took to one of the world's most iconic stages to kick off a five-day visit to the U.S.
It's a victory lap of sorts for the country's new leader. While in the United States, he'll be meeting with New York Mayor Bill de Blasio and former New York Mayor Michael Bloomberg. 
His schedule also includes a United Nations General Assembly address, breakfast with executives from Google, Pepsi, MasterCard, IBM, Boeing and others, a jaunt through Central Park, plus dinner with President Obama, meetings with House Speaker John Boehner, and more. 
But it's an awkward trip, too. For nearly a decade, Modi was banned from setting foot in the country for his alleged involvement in violent, anti-Muslim riots in the state of Gujarat, where he was chief minister in 2002.
And while the Obama Administration does it's best to welcome the new prime minister, other branches of the government are sending different signals. 
Last week, a federal court in New York issued a summons for Modi to respond to a lawsuit that accuses him of human rights abuses in connection the 2002 Gujarat riots. 
Arvind Rajagopal, sociologist and media theorist at New York University, explains how Modi has managed to craft a public-image that's so popular among Indian-Americans abroad, despite his controversial track record on human rights issues.