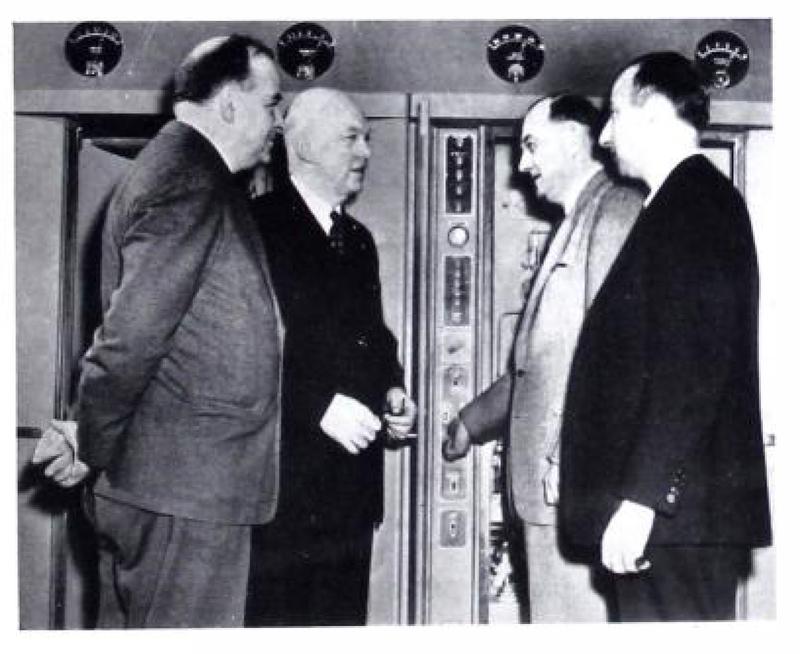 This episode is from the WNYC archives. It may contain language which is no longer politically or socially appropriate.
Also Cassette -

This item is dated 1948-09-15. However, the September-October 1966 Masterwork bulletin has the following item written by Station Director Seymour Siegel:

On 1948-02-11, the then Deputy Mayor John Bennett in the presence of Major Edwin Armstrong, the inventor of FM broadcasting, Frederick Lack, the Vice President of the Western Electric Company and other guests, pushed the red button which activated a new 10,000 watt transmitter. In conjunction with a Six Bay Cloverleaf antenna, 597 feet above the ground on top the Municipal Building, WNYC-FM launched an 18 kilowatt signal across the City. For the first time, your municipal station enjoyed as much power as any other FM station in the metropolitan area. Known as the 'high fidelity voice of New York City,' WNYC FM began 24-hour-a-day operations in 1957. An upsurge in FM listening brought an overwhelming response to the many live concerts and other musical programs presented by the Municipal Broadcasting System."

A New York Times article, "WNYC opens new FM transmitter, back on air after an absence since Jan. 11," 1948-02-12, says:

"Deputy Mayor John J. Bennett officially opened WNYC-FM's new ten-kilowatt transmitter yesterday at ceremonies in the station's Municipal Building headquarters. At 4:15 pm he flipped the switch which restored the city's FM outlet to the air after an absence since Jan. 11.

"Major Edwin H. Armstrong, inventor of frequency modulation, expressed gratification over the installation of new, higher powered FM equipment by the Municipal Broadcasting System, which he regarded as a forward step for the newer system of broadcasting.

"Seymour N. Siegel, director of the Municipal Broadcasting System, explained that the FM station's new transmitter, coupled with a 'cloverleaf' antenna atop the Municipal Building, develops a radiated power of twenty kilowatts. The outlet, he said, will be on the air daily from 7 am until midnight on 93.9 megacycles, channel 230."

Thomas Cowan reporting the events at the inauguration of the new 20 kW FM transmitter.
1st speaker: Seymour N. Siegel, Director of Communications of the City of New York.
2nd speaker: Major Edwin Armstrong, inventor of FM (frequency modulation).
3rd speaker: Frederick R. Lack, V.P. and Manager for Radio at Western Electric.
Important for the cultural advancement, including many broadcasts of fine music. Together with the cloverleaf antenna assures the citizens quality coverage for station's fine programming.
4th speaker: Deputy Mayor Col. John J. Bennett. This inauguration occurs on the 50th anniversary of the consolidation of New York City.
Photographers get ready and Deputy Mayor Bennett throws the switch.
Thomas Cowan: Radio has a responsibility to inform, instruct, and enlighten. City will be better able to serve the people in an emergency. Ends: "Now WNYC-FM is yours for service."
Audio courtesy of the NYC Municipal Archives WNYC Collection
WNYC archives id: 2974
Municipal archives id: LT940