At Inaugural, Christie Ignores Scandal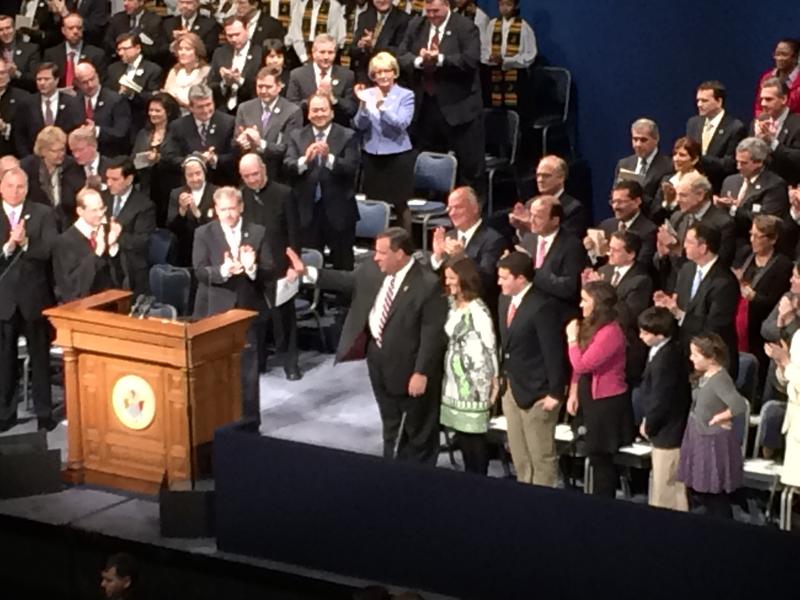 Canons fired outside under a heavy snow, and Chris Christie was sworn in to a second term as governor of New Jersey at the Trenton War Memorial even as scandal continued to consume his administration and throw his once-bright political future into question.
Christie loyalists believe Christie's second term, which he won in convincing fashion over Democrat Barbara Buono, could end with a successful bid for the White House. 
But his opponents, including an increasing number of New Jersey Democrats, hope it ends abruptly – in impeachment or resignation over the so-called bridgegate scandal that has become national news over the last two weeks.
Christie was welcomed with warm, sustained, minutes-long applause from a crowd that was smaller than expected, given the weather. His inaugural party Tuesday night at Ellis Island was also cancelled as a snowstorm escalated.
Christie's speech was not specific but aspirational, peppered with the bipartisanship theme that was the theme of his re-election campaign – and the traditional conservative principles that he could use in a campaign for the Republican nomination for president.
"Every person, no matter what challenge they are facing, must believe that they have inside of them all of the God-given ability needed to be happy. They will not believe that if all they hear is that life is unfair and that only government can fix that unfairness," he said.
Christie even seemed to knock new New York Mayor Bill DeBlasio: Economic growth "will not happen by following the path that some of our neighbors seem prepared to pursue. For those who prefer economic growth and opportunity to government redistribution and higher taxes, I say this: come to New Jersey. You will be welcome here."
Christie mentioned Sandy, the storm that catapulted that helped him win a second term with record numbers. He even referenced that political strength displayed in his re-election, as if sending a message to critics who would like to frame him as weak amid scandal.
"It was not a vocal plurality like four years ago," he said. "No, this time, it was the largest and loudest voice of affirmation that the people of our state have given to any direction in three decades."