Review: 'In Transit' Is a Love Letter to the Newcomers' New York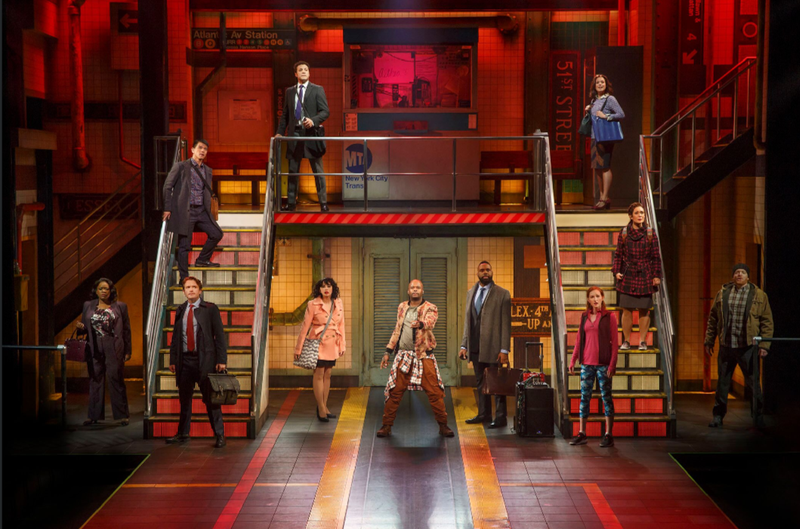 If you live in New York and you're not a billionaire (and sometimes even if you are), you ride the subway. Tourists think that the steps rising from the TKTS booth at Broadway and 47th Street are the center of the city's public square, but really, everyone meets underground. It's the place you run into friends, flirt with the guy sitting next to you, and see the everyday workers and strivers who make the city run.
The creative team behind Broadway's "In Transit," which won a Drama Desk Award when it was Off-Broadway in 2010, knows this, which is why they decided the social scene underground would be an ideal setting for a cheerful musical which is far sunnier than the actual subway.
And the four of them met in an acapella group, so it's no surprise that every sound in this production (the train, various beeps and whirrs, all the instrumentation) is made by the human voice. Even when they're backstage changing, many of the cast of 11 are still singing.
The point is a rah-rah one — we're all instruments in the amazing, living musical that is New York!
That's a sweet thought, and this is a sweet, earnest musical. We follow several characters as they hop off and on the subway seeking fame, love and financial security. (The fantastic set — a train runs up the middle — is by Donyale Werle.) There's an actress (Margo Seibert) looking to make it on Broadway; a guy (James Snyder) interviewing for jobs after being laid off; and a man (Justin Guarini) who needs to tell his mother he's gay before his fiancé will tie the knot. 
Those aren't fresh topics (especially the gay storyline, which feels very 1998) and the show barely dips into them. But "In Transit" is charming, fun, and well-staged, with a few clever inside jokes (Pizza rat! Dr. Zizmor!). I suspect that newish, 20-something arrivals will find their lives reflected back in a hopeful mirror. It's the perfect show to see when the weather, your tiny apartment, and the weird smells at your subway station have got you down.
Book, music and lyrics by Kristen Anderson Lopez, James-Allen Ford, Russ Kaplan and Sara Wordsworth. Directed and choreographed by Kathleen Marshall.
At Circle in the Square; open run.