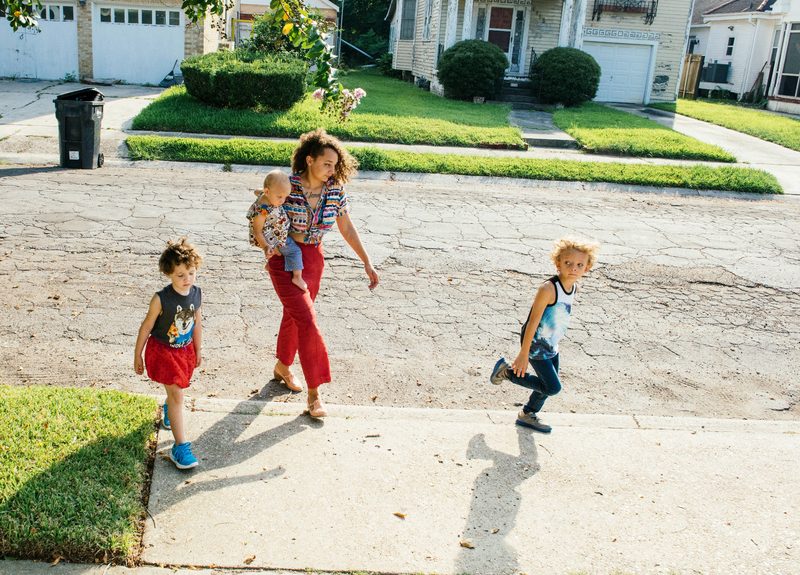 I want to introduce you to five people from New Orleans.
They all lived in the city when Hurricane Katrina hit. And they all live there now. As the 10-year anniversary of the storm approaches, we're taking a close-up look at what's happened in their lives since.
One New Orleans resident that I spoke with, Terri Coleman, described Katrina as "erasing the world." Big Freedia, widely credited with popularizing New Orleans bounce music post-Katrina, remembers it as "a survival time." And Simone Bruni, New Orleans' "Demo Diva," called it "a rebirth."
There's no single story about the storm, or about how people have fared in its wake. That's why we're sharing five very different stories with you. In our series "In New Orleans," you'll hear not just about the hurricane and its immediate aftermath, but also about what else has happened in the lives of these five New Orleanians during the ten years since: finishing graduate school, finalizing adoptions, running for public office, falling in love, and mourning a mother.
---
A decade after Hurricane Katrina, Terri Coleman is teaching a summer class to incoming students at Dillard University – a historically black college in New Orleans. But 10 years ago, when she was about the same age as her students, she was not the kind of kid to get a jump on freshman year with a summer class. "I did a lot of drinking. I did a lot of drugs. I did a lot of watching reruns of Family Guy all day long while super stoned," Terri tells me. In the aftermath of the storm, the landscape of New Orleans complimented Terri's lackadaisical lifestyle. "The storm allow[ed] my kind of weird adolescent destruction to be socially structured and socially acceptable in some way," she says. Now married with three children and a graduate degree, Terri recently moved back to her old neighborhood after a few years out of state. She talks to me about her mixed emotions regarding what's been lost in the post-Katrina rebuilding of New Orleans. Click here to see more pictures and to download this story.
---
Simone Bruni never imagined she'd run a demolition company. "I grew up in a very traditional Latin home," she tells me. "My mom did not work. I wanted her life. I wanted to be a stay at home mom." But ten years ago, Simone was 32 years old and single, working in the hospitality industry. Six weeks after the storm, she got official word that she was laid off. "No one knew what to do. I did nothing," she recalls. But when waves of aid workers showed up to help with storm cleanup, she saw an opportunity. "I realized the first step to coming home was demolition," she says. Inspired by her background in hospitality, and armed with skills in marketing, Simone started Demo Diva, a demolition company geared towards women. "I had everything painted hot pink," she laughs. "I said, 'I'm in this and I'm coming out strong.'" Click here to see more pictures and to download this story. 
---
Right before Hurricane Katrina hit, Big Freedia, one of New Orleans' biggest bounce music stars, had just come out of hiding. A shooting left her with a bullet lodged in her forearm. She was frightened and unwilling to leave her house for six months. After finally mustering the courage to start performing again, Big Freedia also moved into a new apartment – and then, Hurricane Katrina hit. Big Freedia tells me about growing up gay as a church choir member, coming out to her mother at 13, and leaving New Orleans after Katrina and bringing bounce music with her. But it wasn't long before she was back home. "A lot was happening after Katrina. I mean money was slinging everywhere," Freedia says. "You know everybody has FEMA checks, girl!" And, as Freedia told me, "There's no place like home." Click here to see more pictures and to download this story. 
---
Ten years ago when Katrina hit, Dr. Kiersta Kurtz-Burke didn't evacuate. Instead, she stayed inside New Orleans' Charity Hospital, where she worked for six days. There was no power, and it seemed like no one was coming to rescue them. Before they were finally evacuated, Kiersta – who was part of the last group of people to leave – helped clean up the hospital for when the staff returned. "We didn't want it to look messy," she tells me. "We were naive." Charity never reopened after Hurricane Katrina, and Kiersta never got to properly thank the people who she worked side by side with during the storm. She talks to me about the tediousness of rebuilding after destruction. But she stayed. "We just got too weird for any place else other than New Orleans," she says. She and her husband are now raising two kids in the city. Click here to see more pictures and to download this story. 
---
Dr. Jeffrey Rouse is New Orleans' coroner, but ten years ago he was studying the brains of people with PTSD, preparing for a life in academia. When the storm hit, he evacuated his family to Houston. A moment he caught on television brought him straight back. "I can distinctly remember being glued to the television and seeing a police officer that I knew on camera, crying," he recalls. "And that was not this guy's temperament." Armed with his background in psychiatry and his own personal weapon, Rouse hitched a ride back into the city with a reporter and set up a makeshift clinic to provide medical care to first responders. The experience was pivotal in his decision to run for coroner in 2014, which he calls "the most bizarre job interview a human being can ever go through." Click here to see more pictures and to download this story. And click here to read our text version of this story for The Atlantic.