In Central Harlem, Breaking into the Middle Class Isn't Easy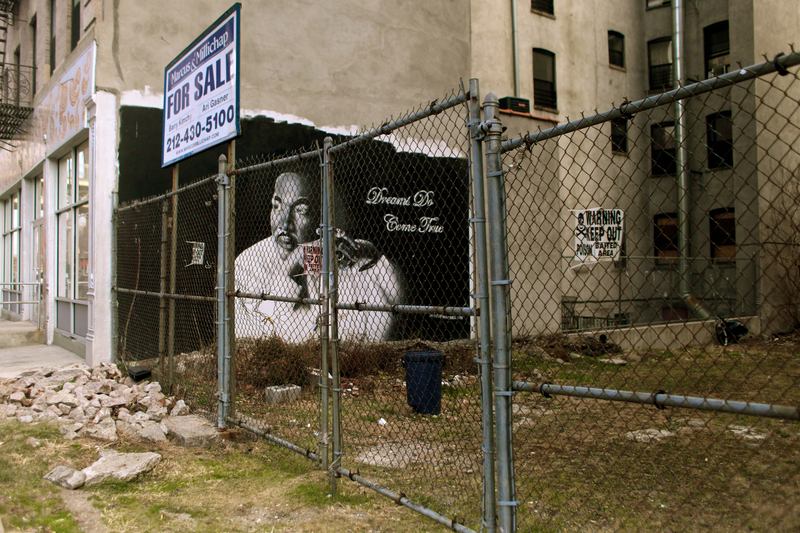 Lots of New York City neighborhoods resemble living organisms — constantly changing. As newcomers move in, neighborhoods take shape. People move on, and places transform. This is Central Harlem now — like Lower Harlem a decade ago, the neighborhood near 147th Street and Bradhurst Avenue is in transition, undergoing gentrification.
According to the latest U.S. Census figures, Census Tract 259 in Central Harlem is one of five areas identified as closely matching New York City's median income, $51,865. Half of the households here make more than that; half make less. About a a third of the people in the area receive food stamps.
Residents are drawn to Jackie Robinson Park, a long, narrow stretch of trees and rocky cliffs that flows 10 blocks to the north. The park was developed more than a century ago as a playground. Now it boasts a pool and rec center that offers a cool respite in summer, with plenty of space for dog walking year round.
"When we moved here my Mom was like, you're going to live in Harlem? " said resident Kate Durham, walking her dog Texas one recent afternoon.
Like many people, Durham's mother thinks of Harlem as a dangerous place.
"I feel totally safe," added Durham.
She's getting her Masters at Columbia Teachers College, and moved to 150th Street and Bradhurst Avenue with her boyfriend in 2012. 
"I think there are pockets of people who make more than $51,865, maybe not much more, but more, and pockets of people here who make less," said Durham.
The area has undergone tremendous change over the last decade, with the population almost doubling since 1980.
"This was a very poor neighborhood, as recently as 2000, the neighborhood's median income was half that of the city, so the fact that it's now at the median income for the city is really a remarkable change," said Vicki Been, Boxer Family Professor of Law, and Director, Furman Center for Real Estate and Urban Policy at New York University.
A block east, away from the park, Frederick Douglas Boulevard is a commercial strip where people visit the barber shop, do their laundry, or pick up takeout from a favorite spot.
"Now the middle class is moving in so it's kind of pushing us out, and the rent is getting higher," said Charles Gabriel, owner of Charles' Country Pan Fried Chicken.
Gabriel has been serving up southern specialty food here for about 20 years. He is wary of the changes, and worries that his regulars, many who live in the nearby Polo Grounds Housing Project, will be unable to afford to live here in a few years.
"I'm low income, living paycheck to paycheck," said Sharon Allen, a customer grabbing food at Charles' Chicken.
For many here, middle class splurges, like going out to dinner, are unfamiliar.
"My rent is my splurge," said Sharon Allen.
"A splurge? Like, what you mean?" said Polo Grounds resident Jason Eberhart who was standing outside watching traffic go by.
He lives on disability. His idea of feeling like he's made it is finally having his own apartment. That happened when his mother passed away and he took over hers.
"I try to stay positive," added Eberhart.