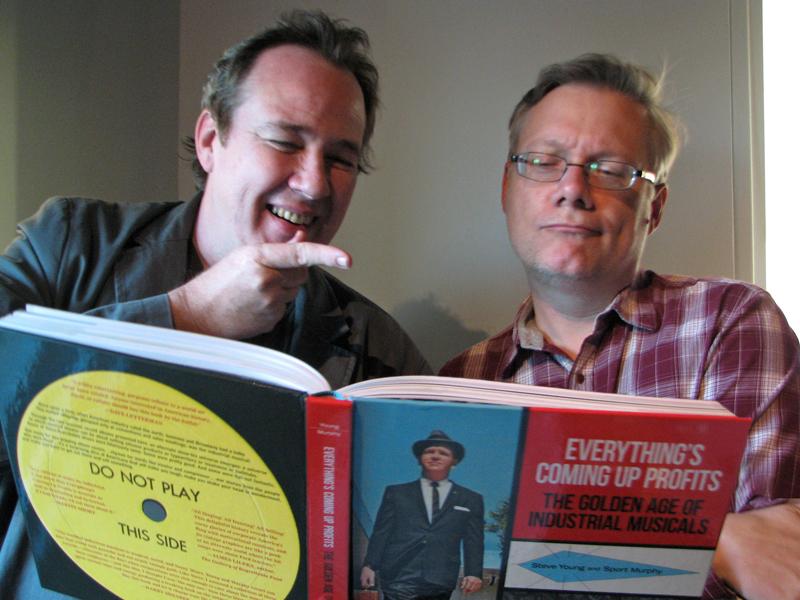 Here's an in-depth look at--and listen to--a bizarre and obscure bit of American history: Industrial Musicals. These come from the 1950s through the 1980s, a time when corporations wooed, soothed, and inspired their workforces with staged, costumed musicals featuring bouncy, razzle-dazzle songs about selling, buying, silicone, tractors, bathroom fixtures, air conditioners, or whatever was most germane. Some of these musicals were composed and performed by top Broadway talent, and resulted in "souvenir" record albums. 
Steve Young, a writer for The Late Show with David Letterman, and musician/writer/artist Sport Murphy have been marveling at and collecting Industrial Musical LPs for years, and now they've created a lavish, humorous coffee table book titled Everything's Coming Up Profits: The Golden Age of Industrial Musicals. David Garland welcomes Young and Murphy to the WNYC Studio to talk about and play examples of this genre which though it may seem like an artifact from an alternate reality, or a strange hoax, is, in fact, fact.
This show first aired on November 3, 2013. Since the original broadcast, composer Michael Brown (referred to in the program) died at age 93. There's a link to his obituary below.
A rare Industrial Musical video: "The Answer," a General Electric silicones song from 1973