Impending Blizzard Could Bring 18 Inches of Snow to New York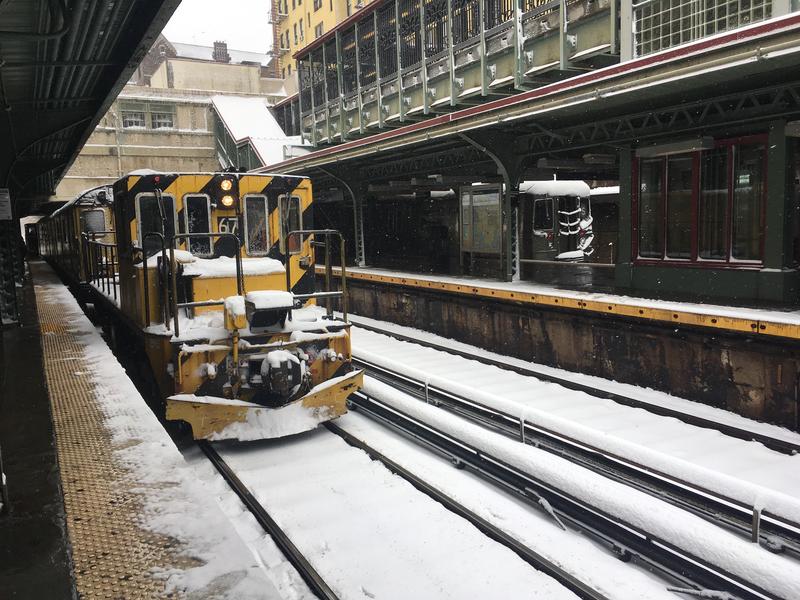 A powerful nor'easter could bring blizzard conditions and more than a foot of snow from the mid-Atlantic to parts of the Northeast, and officials warned of potential beach erosion, possible coastal flooding and power outages from the late-season snowstorm.
The National Weather Service issued a blizzard warning from late Monday night through Tuesday evening for New York City and parts of northern New Jersey and southern Connecticut, while winter storm warnings and watches were issued for the remainder of the Northeast.
Meteorologists said the storm could dump 12 to 20 inches of snow on New York City and pack wind gusts up to 55 mph.
Governor Andrew Cuomo said above-ground subway service will be suspended at 4 a.m. Tuesday morning. The governor said there's not currently a plan to stop service underground. He said a decision about possible changes to Long Island Rail Road service would be made around 4:30 a.m., but that service is expected to be "significantly impacted."
2017 Winterguide Subway Map by Sean Eric Carlson on Scribd
NJ Transit will suspend bus service at midnight. It plans to run trains on the weekend schedule Tuesday on all but the Raritan Valley line. 
Mayor Bill de Blasio said Monday that New York City schools would be closed Tuesday, and he urged residents to avoid unnecessary travel and help keep the roads clear for sanitation crews and first responders.
"We're preparing for a significant storm on Tuesday, and New Yorkers should also prepare for snow and dangerous road conditions," de Blasio said.
On Monday morning, shoppers were busily filling their carts with groceries. Chelsea resident Elaine Avdallas was at Trader Joe's, picking up staples like eggs and milk. She said after her shopping trip, she planned to go home, drink something warm, and wait for the snow. 
"I'll see how adventurous I am, maybe I'll actually go outside and play a little in the snow, maybe," she said. "I'm not that young anymore, but it's a possibility, snow always makes everybody feel kind of like a kid anyway."
A few blocks away, on 23rd Street, Sean Chapter, of Tom's River, New Jersey, had a shovel slung over his shoulder.
He said he decided to buy a metal one, after his last shovel fell apart. But he's not sure what all the fuss is about.
"We live in the northeast, we get snow," he said. "I don't know what all the panic is about, but, I'll shovel, and everything will be fine, hopefully."
The weather about-face comes a week after the region saw temperatures climb into the 60s.
Light snow is expected to begin late Monday night and intensify overnight into early Tuesday morning. The heaviest snowfall is expected Tuesday morning through the afternoon, with snowfall rates of as much as 2 to 4 inches per hour.

"This would certainly be the biggest snowstorm of the 2017 winter season in New York City," said Faye Barthold, a weather service meteorologist based on Long Island.
Boston also could get 12 to 18 inches, with isolated amounts of up to 2 feet across northeastern Massachusetts.
In Philadelphia, crews began treating some area roadways on Sunday. The city could see 6 to 12 inches of snow. The weather service said there is a chance the snow could change over to a wintry mix or rain for a time Tuesday morning, which could limit total snowfall amounts.
Farther south, in the nation's capital, where the National Cherry Blossom Festival is scheduled to start Wednesday, snow accumulations of 6 to 8 inches are expected. Also, the forecast calls for 12 to 18 inches of snow in Hagerstown and Westminster, Maryland, while Baltimore is expected to get 8 to 12 inches. In Delaware, Wilmington could see 11 inches.
As the East prepped, the storm marched through the Midwest, forcing a number of flight cancellations and dropping measureable snowfall on some sections for the first time in months. In Chicago, the forecast called for 3 to 6 inches of snow, the city's first significant snowfall since mid-December.
Southern portions of Minnesota have been hit hard, with more than 9 inches of snow in some areas. In Michigan, up to 4 inches of snow was predicted as utility crews worked to restore power to those still without electricity following high winds that hit the state on Wednesday.
With additional reporting by Annmarie Fertoli