Immigrant Rights Take on New Urgency Post-Election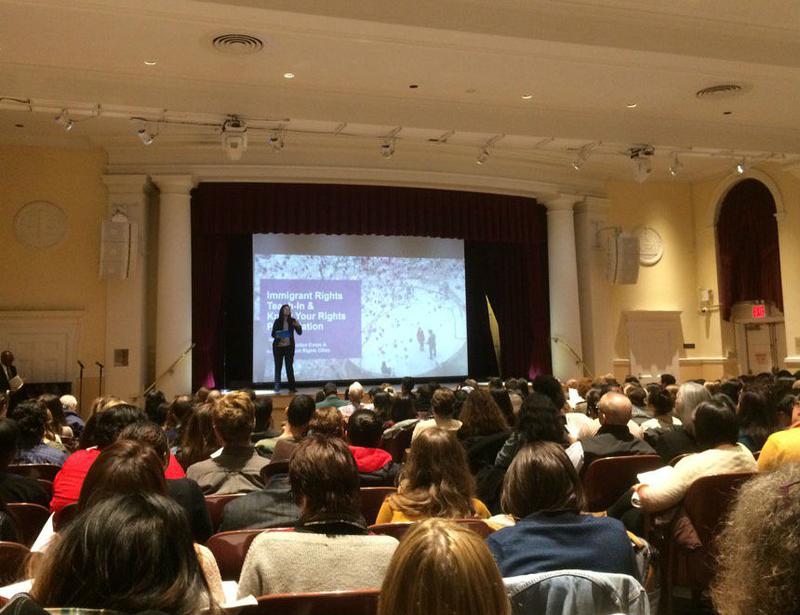 In a city where about 40 percent of all residents were born in another country, many communities continue to be frightened and concerned about Donald Trump's pledge to deport more immigrants without legal status.
Groups that work with immigrants have responded by holding forums and workshops on the rights of immigrants. New York University's School of Law hosted one on November 28th in response to the election that drew about 650 people, according to organizers. They filled the auditorium and an overflow room. Attendees included law students, college and graduate students, high school teachers and members of community organizations. 
WNYC's Jami Floyd interviewed WNYC reporter Beth Fertig about the event. She said the audience listened to short presentations by lawyers and representatives from several local groups that work with immigrants. The speakers went over the different crimes for which immigrants can be deported, and what to do if agents knock on your door (ask to see a warrant).
But there is still some confusion about what a Trump administration would do. As a candidate, he initially said he wanted to deport all 11 immigrants in the U.S. without legal status. Since the election, however, he has said he would focus on two to three million immigrants who have been convicted of crimes — a figure that would include those who are here legally. 
Organizations that sent speakers to the recent teach-in included: the NYU Immigrant Rights Clinic, Families for Freedom, Immigrant Defense Project, Brooklyn Defender Services and the Arab American Association of New York.
Many more workshops are expected around the city in the coming weeks, all in response to the election, by the Legal Aid Society, Legal Services of New York City and Make the Road New York. Columbia University is hosting a teach-in on December 6th.