Immigrant Rights March Takes Manhattan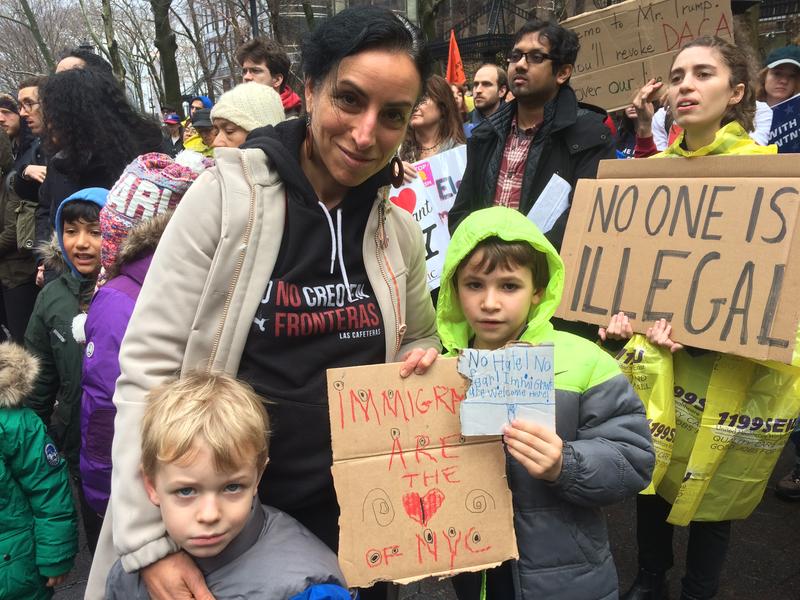 Several hundred people turned out in a drizzle on Sunday to voice their support for immigrant rights in the weeks before Donald Trump becomes president.
Among them was Shihomi Tonogawa, who works at the New York Asian Women's Center and advocates for immigrants who have been trafficked for sex or cheap labor. "Our clients are so scared right now because of the political change that's about to happen," she said. "I'm here to support their liberty to live here and their willingness to fight for their justice."

Tonogawa said many of her clients are applying for asylum to the United States, which could become more difficult to obtain under the Trump Administration.
Members from 80 immigrant advocacy groups took part in the march, which began at Dag Hammarskjold Plaza near the United Nations and ended behind police barricades at Trump Tower, where the crowd chanted defiant slogans, such as, "We're here to stay. We won't go away. No matter what they say."
Columbia student Elena Klein said she was marching as a native born citizen on behalf of those whose family members are not. "One of my classmates, her parents are not citizens and so, if they were to get deported, no one would be there to take care of her and her younger sisters," Klein said. "Her family would just be left with nothing."

A local subplot involves ID NYC, which was initiated, in part, to give immigrants easier access to government and financial services. This Wednesday, an appellate court is scheduled to hear a lawsuit brought by two Republican lawmakers that would forbid New York City from destroying its database with information on the more than 900,000 people who've already filled out forms to obtain the ID cards.
City Council President Melissa Mark-Viverito was at the rally and told WNYC that keeping those records intact could put a lot of people at risk under a Trump presidency. "We have no interest in sharing that information with anyone and we are looking to destroy the database," she said.

The plaintiffs in the ID NYC lawsuit said the city should not destroy data that law enforcement could use to track criminals or terrorists.