If a Tree Dies in the City, Will Anyone Notice?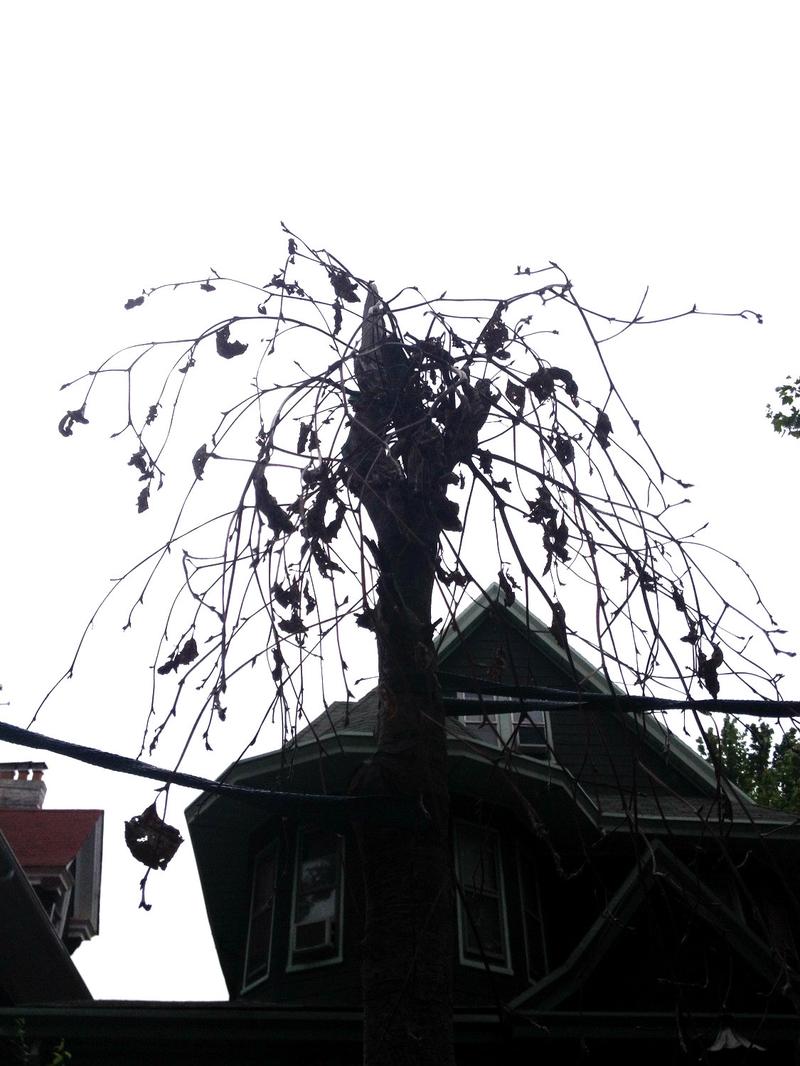 About two years ago, Maria Newsom rejoiced when nine trees from the city's million trees initiative landed along Coney Island Avenue, a barren four-lane road that runs between Kensington and Ditmas Park, Brooklyn. Then, after a long, hot summer, she walked her kids down the street on the first day of school in September and saw seven of them had shriveled up and died.
"It was heartbreaking," she recalled. "I thought, this is really not the kind of message I want to send my children or any of the children in our school: That nature doesn't survive, and isn't cared for."
The dead trees symbolized the difficult circumstances facing many urban trees. But they also inspired Newsom to resolve to water the trees once they were replaced the following spring. And that's what she's done, taking five-gallon plastic buckets out with her two sons once a week during hot months, filling them up from a spigot in the school yard, and dumping them on the saplings.
"I told a guy on the water truck, 'You know what, we're going to come out and water this summer,'" Newsom recalled. "And he looked me in the eye, and said, 'Thank you so much,' because he knew."
Seven years after then-Mayor Michael Bloomberg launched MillionTreesNYC, the city has planted more than 800,000 trees. (About a sixth of them are on the street. The rest are in parks and private yards.) The Parks Department expects to plant the millionth tree by the end of next year, two years ahead of schedule.
But while the trees' mortality rate is not unusually high compared to other cities, the Parks Department encourages New Yorkers to do their part to take care of them. According to the department, the two-year mortality rate was 6.7 percent for street trees planted in 2009. That rate – 3.4 percent annualized — puts New York favorably in the company of Denver (2.4 percent, according to an internal audit); West Oakland (3.7 percent, according to a published study); and Los Angeles (4.4 percent, according to a yet-to-be-published study by the National Forest Service). WNYC obtained more recent data, of trees planted in the spring of 2011, and determined a higher mortality rate: 12.1 percent over two years, or 6.2 percent annualized. (That cohort was the only complete data set obtained through a Freedom of Information Request.)
Some neighborhoods saw even higher mortality rates, such as Greenpoint-Williamsburg (22.3 percent) and Sheepshead Bay (21 percent), both in Brooklyn. Staten Island and the Rockaways also show high death rates, though those areas were subject to the saltwater from Sandy's storm surge in October 2012.
"Mortality rates fluctuate from year to year, depending on a variety of factors ranging from development to vandalism to environmental factors," Tara Kiernan, a spokeswoman for the New York City Parks Department, said in an email.
But forestry researchers said that even if the 2011 rate persisted over several years, it would not be alarming, given the challenges trees face in urban settings. "That is on the high rate of normal, but it is not shocking," said Lara Roman, a research ecologist at the U.S. Forest Service in Philadelphia, who has studied tree mortality rates around the country.
Another researcher, Robert Young, an assistant professor at the School of Architecture at the University of Texas at Austin, said New York City had "the Cadillac" of tree planting programs, because of how Bloomberg borrowed money to pay to plant trees. That helped the city develop long-term relationships with the nurseries that grew the trees and improve the quality of the stock it purchased. But Young said the city should also put emphasis on caring for the trees once they are planted.  
"They built the acquisition of trees into the capital budget, but not the stewardship of trees," Young said. "When you build something, you have to take care of it."
Some places have gone to great lengths to care for trees. Canopy, a nonprofit organization in California, planted 1,000 trees along a highway in the low-income San Francisco suburb of East Palo Alto beginning in 2007. The group picked drought-resistant species and installed an in-ground irrigation system to keep them hydrated. Within three years of planting, only 2 percent of them had died, according to Executive Director Catherine Martineau. 
"Our project demonstrates what you can get if you put all of the chances on your side," Martineau said. "But I can't say it's necessarily scalable, because the cost and volunteer effort and staff work is not negligible." 
The Parks Department said the landscaping companies that plant the trees provide ample care. By contract, the companies have to replace any tree that dies within the first two years and are expected to do regular watering. The city has also taken other steps in recent years to improve longevity, such as enlarging tree pits (the concrete squares cut into sidewalks that allow roots to soak up water) and installing tree guards in highly trafficked areas.  
A series of young trees along Coney Island Avenue in Brooklyn died from thirst two summers ago. Since they have been replaced, Maria Newsom and her sons Theodore and William have been watering them during dry months.  
In addition, the Parks Department is expanding its efforts to recruit people like Maria Newsom to care for street trees. The city's own research suggests that trees live longer in settings where neighbors are more likely to take care of them. Roman, the forest service researcher, found that in Sacramento, young trees did better outside homes with stable ownership compared to trees on properties that were bought and sold.
In April, New York City's million trees program launched its first Spring Stewardship day, which brought out hundreds of volunteers to events around the five boroughs. The Parks department previously launched tree care workshops and an adopt-a-tree program.
"Anybody is able to take care of the trees," said Shalini Beath, the deputy director of the million trees program. "Whether it's watering, whether it's picking up litter, whether it's  notifying any issues with that tree by calling 311."