The Takeaway
Ice Warriors Chronicles U.S. Sled Hockey Team's Journey To Sochi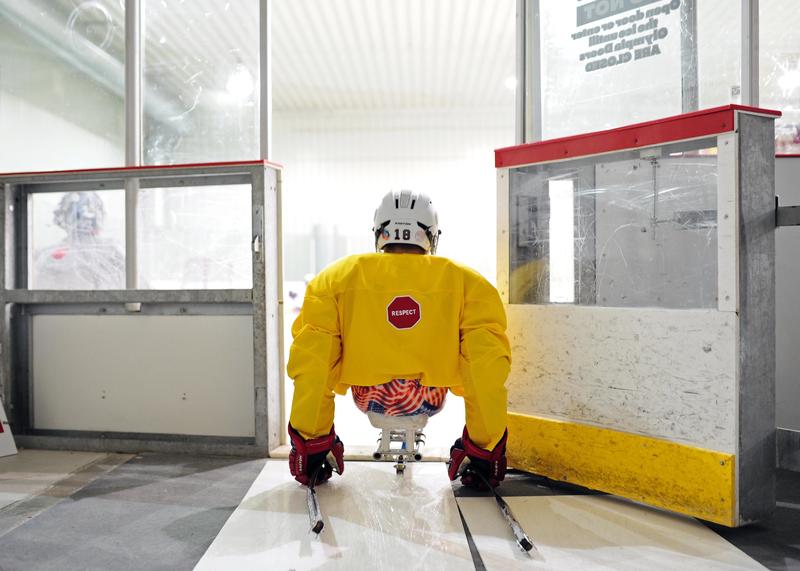 Sled hockey is a lot like regular ice hockey, but with a few key differences. Instead of one hockey stick, players use two. Instead of skates, players use sleds. And instead of standing on two legs, the athletes who play sled hockey do not have the ability to stand at all.
After losing the 2013 World Championship to the their most vicious competitor—Canada—nothing could be sweeter to the U.S. Paralympic Sled Hockey Team than revenge. The team will have their chance to face-off against their Canadian rivals and reclaim their Paralympic gold medal when they head to the Paralympic Games in Sochi in March.
The new WGBH-PBS documentary, Ice Warriors: U.S. Sled Hockey, follows the U.S. Sled Hockey team as they train and prepare for the 2014 Paralypic Winter Games in Sochi, Russia. You can catch the film tonight at 10/9C on PBS (check local listings).
Taylor Chace, a member of the U.S. Paralympic Sled Hockey Team profiled in the documentary Ice Warriors, and Judith Vecchione, executive producer of Ice Warriors: USA Sled Hockey, discuss the sport and how the team is preparing for the Paralympic Winter Games in Sochi.
Vecchione says that sled hockey holds the same qualities of traditional hockey with a few differences.
"It feels to me very much like hockey," she says. "The players are strapped into sleds, they're sitting on these two narrow blades and they have these sticks that have both the shooting ends and the picks that the players use to propel themselves down the ice. But it's the same game—you're protecting the goalie, you're defending against their offensive moves and you're thinking about the passing from player to player. In fact that's one of the things that's really different—the sled hockey players shoot with both hands and they have two sticks, not one. It feels the same in its emotion and skill level, but it feels very different in these specific little areas."
Vecchione adds that the stakes can sometimes be even higher for sled hockey because of the positioning of the players. Sled hockey athletes are on the ice in a seated position—bringing players eye level with hockey sticks, the sleds and even flying hockey pucks.
Chace says that he came to sled hockey through traditional hockey, which he played as a young child until the age of 16. During a charity game he took a very hard hit, and the impact caused an incomplete spinal cord injury and partial paralysis of his legs. As he worked on learning to walk again, he thought his days of competitive sports were over. Then he learned about an adaptive sports, and today he is one of the most experienced members of the 2014 U.S. Paralympic Sled Hockey Team.
"I never imagined myself in this situation," he says. "Through rehabilitation I found the sport of sled hockey. I have so many things to be thankful for in my life, and one of them is being a part of Team USA now. It all happened through, really, a tragic accident, like [it did for] all of my teammates. But somehow we came out of it wearing a USA jersey."
Chace says that the NFL has been very supportive of the U.S. Paralympic Sled Hockey Team.
"You've got to remember that we're all on the same team," he says. "Paralympics, Olympics, all of that kind of stuff doesn't matter—in the end we all represent USA and we're all hockey players in the end. That's all that matters."