I Married the Gay Father of My Child
Wednesday, June 04, 2014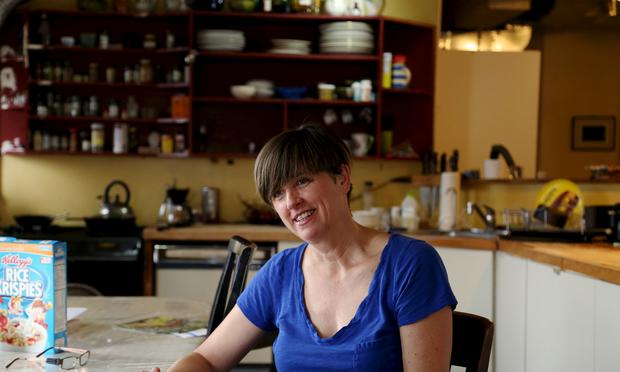 (Amy Pearl)
New York-based performance artist Lucy Sexton was never one for convention. So it shouldn't come as a surprise that when it came to having a family, she found a way to make it happen on her own terms. When she found herself childless, divorced, and pushing 40, she decided to have a child with a friend, Stephen Daldry, the openly gay British director.
But what started as a planned transaction grew into a close relationship, and then a marriage. Add to this arrangement another mother and daughter who share Sexton's loft, along with a few other adults. To Sexton, who grew up one of six in Brooklyn, this complicated crew is family. "That structure is there for a reason," she says of marriage. "I think for me, [we are] more stable because the commitment is so much about the family, and the primary piece of it is not a romantic situation."
I spoke with Sexton about the choices that got her to this point, what she tells her daughters, and what she learned about parenting from her Irish Catholic mother. 
INTERVIEW HIGHLIGHTS
Deciding to get pregnant first, married second:
We were trying to have a kid together. We wound up getting married. We really wanted a family together. And that went from being sort of, 'Yeah we're friends and I know you want this Lucy so I'll help you out,' to really both of us being a unit....Then it's also health insurance.
How she explains their household to her daughters:
One interesting thing is that you do have to be conscious and intentional about who you are telling them is family. Because we have lots of grownups who also have other relationships, and then I also live in the loft with other roommates, and in one sense they're all part of an extended family and have been and it's been incredibly valuable. On the other hand, they need to know who's never leaving.
Lucy performing on WNYC's Kings County with Kurt Andersen in 2012. Photo by Josh Rogosin.
Committing to marriage like a true Catholic:
I would absolutely would say there is a lifetime commitment to it, a deep love commitment to it, a sacred commitment to it, there's nothing more sacred than making a commitment to raise children together. And that is a primal, deep, human activity. The more we can surround it with sacred support the better.
She's not the only one with an 'unconventional' household:
Probably the most unconventional [among my siblings], but still, there's an unmarried couple with two kids and they haven't married yet. They didn't live together for a while....My sister had two [kids], a baby and a toddler, when her husband died, so she was single for a while and then she married somebody else that had kids so they have the blended family thing....You just don't know how life is going to go. So you keep making it up as you go along. So in that sense, I don't feel like I'm that weird in my family.
Read a full transcript of the interview.
And to see a bit of what Lucy does when she's not running a household, here she is performing with her Dancenoise duo at The Pyramid Club in the mid-1980's:
She's not alone in figuring out ways to have children and raise kids. Fertility challenges, adoption, LGBT families dealing with the law, multiple parents after divorce and remarriages, and even the basics of creating routine for kids when you, the parents, are busy making money to support them. We're collecting stories about all this — leave a comment below, or tell us in an email how you've built family in your life. We're at deathsexmoney@wnyc.org.
Music Playlist

Take a Ride - Death, Sex & Money Theme

Artist:

The Reverend John Delore and Steve Lewis