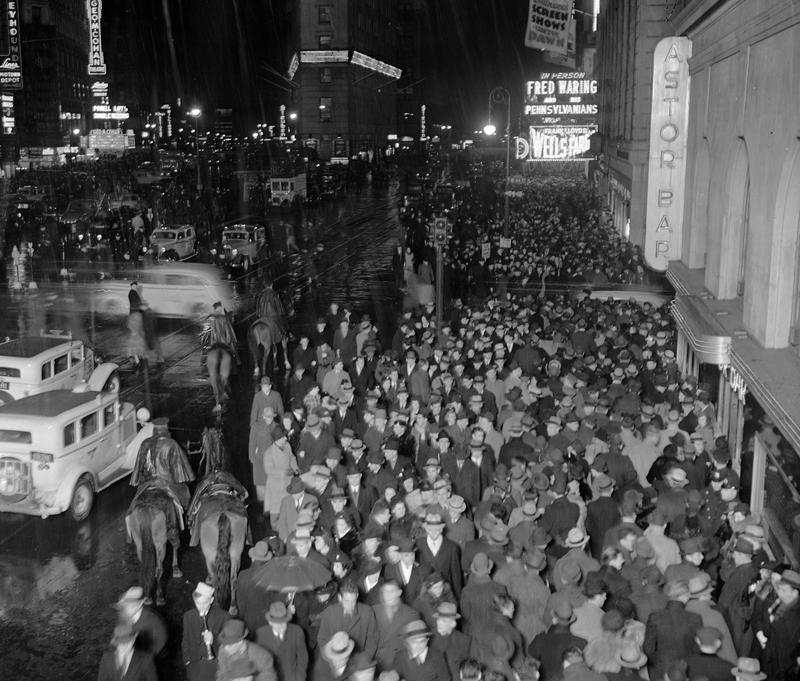 This program, broadcast on New Year's Day, 1950, "the pivot point of the American century," offers the views of several prominent citizens, each representing a different segment of American society, on what the next fifty years will bring.
Politics comes first, with Senator Robert Taft saying that the world situation depends "on the Russian state of mind." As for domestic policy, he predicts congress with reject "handouts" and nationalized healthcare. He rails against rising deficits and extravagant spending. But in a reminder of how times have changed, the Republican leader calls for civil rights legislation, a rejection of the poll tax, and stronger anti-lynching laws. Representing the Democrats, Senator Claude Pepper is vague, invoking religion more than policy. He does touch on what would later become his signature area of expertise: "illness, disability, and old age." Senator Margaret Chase Smith's comments, read by an announcer, call for more women in government and urges her Republican party to "humanize itself," fighting the notion that it is "the exclusive club party of wealthy wearers of furs, orchids, and top hats." Henry J. Kaiser, the industrialist, gives a pep talk on how big business will continue to raise the American standard of living. To ensure this, he wants "tax incentives" (tax cuts) for corporations. CIO leader Philip Murray, his labor counterpart, claims "what is good for labor is good for all the people." He calls for the Taft-Hartley Act (which restricted the power of unions) to be repealed. Paul Hoffman, who is administering the Marshall Plan, a US aid program devoted to rebuilding Europe, urges for the program to be reauthorized for another two years. Bing Crosby weighs in on the prospects for the entertainment industry. In his trademark relaxed style, he forecasts Hollywood "doing battle with that happy little newcomer, television." With the increased exposure this new medium brings, in the future artists must "appear half as much and be twice as good." Finally, speaking to the spiritual side of our nature, Bishop Fulton J. Sheen predicts a wiser and happier people as the new half-century brings a deeper understanding of love. "It takes not two but three to make love; you and me and God."
Robert A. Taft (1889-1953) was known as Mr. Republican both for his staunch partisanship and his political forebears (he was the son of President and Chief Justice William Howard Taft.) A perennial failed candidate for president, he is remembered as an effective legislator and for his willingness to espouse unpopular views, such as his condemnation of the Nuremberg Trials as "victor's justice." As the Encyclopedia Britannica reports:
A steadfast isolationist, Taft opposed U.S. post-World War II involvement in world affairs through such international organizations as the North Atlantic Treaty Organization (NATO), founded in 1949. Rather, he joined former president Herbert Hoover in calling for "fortress America" and the "principle of the free hand." It was on these grounds that Taft was most determinedly opposed for the nomination to the presidency. Already a favourite-son candidate at every national convention since 1936, he came to the 1948 convention with considerable nationwide support but lost to the well-organized forces of the internationalist Thomas E. Dewey. Again in 1952 the nomination was denied him by the strong internationalist coalition, which rallied around the popular wartime general Dwight D. Eisenhower. After his party's victory at the polls Taft became majority leader and Eisenhower's chief adviser in the Senate.
Bing Crosby (1903-1977) typified the laid-back, jazz-influenced style of singing that dominated the American music charts until the advent of rock'n roll. He was also a successful film actor and, later, television personality. As allmusic.com explains:
Crosby was, without doubt, the most popular and influential media star of the first half of the 20th century. …Unlike the many vocal artists before him, Crosby grew up with radio, and his intimate bedside manner was a style perfectly suited to emphasize the strengths of a medium transmitted directly into the home. He was also helped by the emerging microphone technology: scientists had perfected the electrically amplified recording process scant months before Crosby debuted on record, and in contrast to earlier vocalists, who were forced to strain their voices into the upper register to make an impression on mechanically recorded tracks, Crosby's warm, manly baritone crooned contentedly without a thought of excess.
Fulton J. Sheen (1895-1979) was an extraordinarily popular figure on both radio and television. The Notable Names Database relates how in the 1950's:
Sheen argued passionately against Communism, racism, and banning prayer in public schools, and supported corporal punishment and Francisco Franco's fascist insurgency in Spain. When his fame and outspoken statements against the Vietnam war were seen as challenging the church hierarchy, Cardinal Francis Spellman "exiled" Sheen, making him Bishop of Rochester, New York. At Rochester, though, Sheen raised further hackles by repeatedly criticizing the city's largest employer, Kodak, for racist hiring practices. In his long career he collected millions of dollars in donations, established the Sheen Ecumenical Housing Foundation, and supported numerous Catholic charities, while keeping enough for himself to live a "champagne lifestyle" in his majestic Washington DC home. He died of heart failure in 1979, and was reportedly found in a kneeling position in his own private chapel.